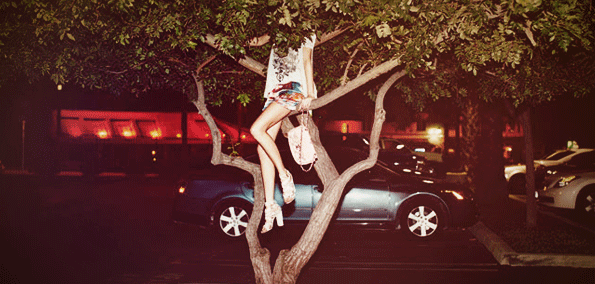 Tree is one of Chicago hip hop's unsung heroes; while he has garnered nothing but critical acclaim and praise in almost every editorial he is mentioned in, he still hasn't had the big mainstream break that many of his counterparts are capitalizing on now. His two Sunday School mixtapes offered a new sound that was not only unique for the Windy City, but also for rap in general. Dubbed soultrap, Tree mastered the art of quickly grabbing soul or r&b samples off of youtube, adding a healthy dose of booming percussion, and finally smothering the entire concoction in his hazy southern drawl, with an insane amount of adlibs, resulting in an experience that has one foot rooted in the old school and the other firmly planted in the new. His innovative hybrid sound may be the reason for his lack of broader success, but it keeps his music distinct and intriguing.
[soundcloud url="https://api.soundcloud.com/tracks/144880669" params="color=ff5500&auto_play=false&hide_related=false&show_artwork=true" width="100%" height="166" iframe="true" /]
Typically, Tree handles both the emceeing and production for his music; however in a new series, entitled TreeSwag, the rapper will include tracks where he solely contributes behind the boards. The first release from this project, features fellow Chicagoan Chris Crack on the microphone. "Cuts" still maintains the soulful, dusty trap flavor that makes Tree so great, but obviously lacks the incredible amount of adlibs.
Crack chooses to ride the beat in a fashion that is thankfully similar to MCTree, even though his voice is much higher. He rhymes are filled with braggadocio of the finest kind: blunt and explicit. One of the first lines on the track is "Hurry up bitch/ I want  my count before I go in you mouth," if you are looking for some deep rhymes, look elsewhere. Although, if you are looking for a good time and to feel like a boss, you have found the right place. Hopefully this isn't the last time we hear form young Crack. 
"Cuts" is just the first of a series of TreeSwag tracks that should be dropping fairly soon, you should keep an eye on Tree's soundcloud to make sure you don't miss any. If you have the chance, revisiting his previous two mixtapes would provide you with a substantial amount of new and quality music to enjoy.