Every year, the month of March means one thing in the dance music community: lots and lots of music. With parties going on at all hours of the day at every venue and every crevice of the city and the ultimate finale in the form of Ultra Music Festival, the Winter Music Conference is a annual once in a lifetime experience for artists, entrepreneurs, media and fans alike. As the conference, Miami Music Week and the festival approach with parties erupting in every crevice of the city at all hours of the day, just as many musical releases pour down on us week to week every March. Accompanying those be seen and heard releases are those compilations meant to set the scene for the week in Miami and act as the soundtrack to the experience. Those too have arrived in droves, and we've sorted through them to find the best of the best to help you define March 2014.
Ultra Music Festival 2014
Ultra Records

UL4937

 The ultimate name in the Winter Music Conference game, Ultra Music Festival is where the best of the best gravitate. Featuring artists who are both headliners and those you'll hear on the radio, this compilation includes the newest big tracks we've heard this year. Tickets are still available for the festival here, where you'll hear more than just Hardwell, but see the likes of Carl Cox, Tiesto, Eric Prydz as HOLO and Armin van Buuren.
Armada Miami 2014
Armada Music

ARDI3449A
ARDI3449B
No festival season would be complete without the artists that work with one of the biggest labels in the dance music world: Armada Music. This year the team has outdone themselves working to emulate the mulitple different sounds reperesented by the label into a few compilations. There's the deep edition, the uplifting editoins, and as you'll see later in this list, releases on many of its subsidiary labels. Featuring the best in trance, progressive, electro and house, this is certainly a well rounded collection.
Defected in the House Miami 2014
Defected
ITH55D2
Defected is known to us for defining what's next in the deep disco genres of dance music, digging into the underground to find the best. For their Miami collection, they've named their stars: Andrea Oliva, Paulo Rocco and NiCe7 and created an experience around those sounds and new talent, journeying from the deep to the dubby.
Miami Sessions 2014
Ministry of Sound (UK)
MOS161DEBPT
The UK's Ministry of Sound is another major player in the dance music arena, and has taken a bit of a different approach to their Miami soundtrack. Instead of a label showcase, Ministry of Sound has created the atmosphere intended, an experience through listening, based purely on taste and tastemakers featured on the compilation. While all technically "house" songs, each track is a unique point of view from artists like Arty, Monkey Safari and Huxley.
Anjunadeep in Miami 2014
Anjunadeep
ANJCDCO142D
Though the festivals might look like they say otherwise with their massive line ups, ambient music is always at the heart of dance music. And no Miami Music Week would be complete with the sounds of
Anjunadeep
poolside or beach side. But this mix isn't just ambient, it's uplifting into some scintillating progressive from artists like 
DAVI
 and groovy bass-filled tracks like 
MK.
Hosting a party showcasing the likes of Beckwith and Kidnap Kid, Anjunadeep will also be poolside on March 29th. All
I can say is: can't wait to listen to this when adjusting back to real life and relaxation post-Miami.
Toolroom Miami 2014
Toolroom Records
TOOL28002Z
After celebrating a huge ten years on the books, Mark Knight's Toolroom Records continues on its iconic journey through releasing a massive collection of music on its Toolroom Miami 2014 compilation. Beginning with a brand new remix from Knight himself and heading on through new exclusives and favorites from the year like those of Groovebox, Prok & Fitch and DJ PP all in 69 tracks - a perfect precursor to their annual Toolroom Knights party.
Anjunabeats in Miami 2014
Anjunabeats
ANJCDCO141D
The UK's
Anjunabeats
needs no introduction. Its leaders, the men of 
Above & Beyond
, have cultivated such a unique sound that artists develop their style solely to join the label. And of course, the Anjuna family is a dominating name to see in Miami throughout the week,
with mulitple parties 
 featuring its artists, the week wouldn't be complete without a soundtrack with them on it. Featuring regulars and their definitive beachy trance and progressive from throughout the past year, this is a necessity.
Miami 2014 - Mixed by MYNC, Carnage, Sunnery James & Ryan Marciano, Wayne & Woods
Cr2 Records
ITC2LD050BP
 MYNC's Cr2 Records has really made a name for itself in uplifting, melodic dance floor tracks. And this year, the Miami compilation representing the outlet is made for just that: blasting out some speakers. With almost 70 tracks included, everything seems like it's ready for festival play through the range of electro, house and definitive house from every country from Sweden to The Netherlands to Colombia representative. Mixed by four of its favorite residents, this is one to get everyone amped for the trip.
Nicky Romero Presents Miami 2014
Protocol Recordings
PR001CDMIX
It's apparent from this comiplation that Nicky Romero knows what Miami is all about. Putting together an album made up of entirely exclusive tracks and remixes especially made for the occasion, his Protocol Recordings release is festival and beach ready, and ready to be listened to as he mixed it or with the tracks drawn out individually.
Zulu Miami 2014
Zulu Records
ZULU031
Before the grinding electro and face melting bass came the original house music: disco. And the resident label taking care of that niche continuously to that day, Zulu Records, has released a soundtrack that will last us through Ibiza season, not just until the end of March. A range of disco, tribal, tech and house, this groovy compilation is deep and engrossing with appearances from My Digital Enemy, Jay C and Peter Brown.
Miami Sessions 2014
Milk & Sugar
MSRCD033
Another unique look at the many iterations and genres within house music, Milk & Sugar has set out to deliver us a double CD full of sunshine and the trends that are "what's next" for 2014 in their Miami soundtrack. With appearances from Nora en Pure and Hot Since 82, these 39 tracks head to the deeper side of the club (or the beach, in this case).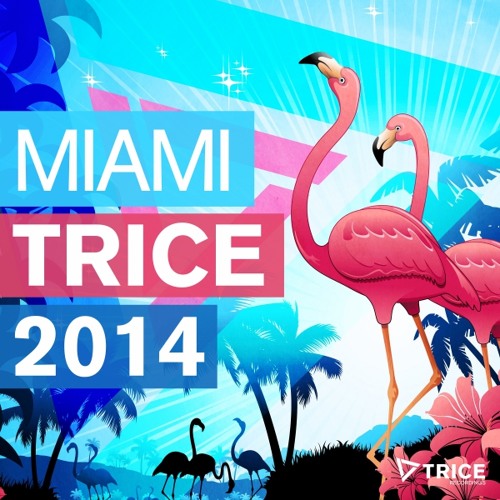 Miami Trice 2014
Trice Recordings
DPE753
Armada outlet Trice Recordings kicks off its Miami series with a major declaration of its innovative voice in 2014. Taking up and comers and showcasing their superstar power is Trice's strong point, and they've done it again here with artists who really run the gamut, are talented but that you might not have heard of. And now that we've heard of them, we're psyched to hear more. 
Deeperfect Miami 2014 - Mixed by Hollen
Deeperfect Records
DPE753
The only Italian label on our list, Deeperfect's Miami selection is most certainly last but not least. Mixed by their pick for the next generation, Hollen, the compilation addresses multiple forms of house music with a European twist and additional appearances from Groovebox, Tomy Wahl, Paul Rodner and more from other techno and tech house greats that represent the label so well.