And on the 10th Day of Christmas Santa gave to thee, a future bass mix from the homegirl Sasha Marie.  
This mix is best served with a tall order of Hot Buttered Rum. With the cold outside, soothe your soul with 1 stick of butter, 2/3 of a cup of Dark spiced run (or more if you're feeling adventurous), 2/3 a cup of light brown sugar, a splash of ground cinnamon, ground nutmeg, and ground cloves. Combine all ingredients and pour about 4 cups of boiling water over the mix and once the butter melts you'll be well on your way to feeling warm and toasty. 
Check out Sasha's mix and her little interview where she sits down with Santa to get in the holiday spirit.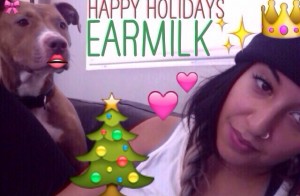 Santa: Have you been naughty or nice this year?
Sasha Marie: I'd say both!
S: What rooms would you add to your ginger bread house?
SM: A room made of Oreo's and Milk Dud's. 
S: Who do you want to be caught under the mistle toe with?
SM: awe.
S: Screw, Marry, Kill: Rudolph, Vixen, Dasher? 
woah woah woah 
S: What's on your Holiday list?
SM: One more turntable and a mixer.
S: Favorite Holiday jam? 
SM: The whole 8 Days of Christmas album by Destiny's Child.
S: Favorite Holiday Tradition?
SM: Drinking hot chocolate (Abuelitas) and watching Christmas movies!
S: What are you grateful for in 2013?
SM: I am incredibly grateful for my friends and family who have been there for me throughout my own personal journey this year. Thankful for my job with Magic-Flight and my fam over there as well as the Soulection team… I love them all so much!
S: What do you look forward to in 2014?
SM: Playing more shows! I really want to grow as a DJ. Also, meeting more artists, releasing my own tracks and collaborating with others that inspire me. I just want to remain inspired and be able to inspire others.
S: Are you making any New Years resolutions? 
SM: I definitely want to release my own tracks that I've been working on this year.
S: Where will you be when the clock strikes midnight? 
SM: Hopefully in San Francisco or Los Angeles with my fam!