When thinking back on 2013 and considering those new artists who really caught my attention. Nom De Strip easily makes it into the top of my list. Also known as Chris Elliott, the Scottish artist got his big break from Deadmau5 and the Maustrap label with his "Channel 42" remix. This year the Rising Music star attracted attention with his Clouds EPs, original collaborations, and inventive remixes, establishing his own signature blend of dance-heavy electro.
Today's track furthers his reputation as a genre-blending artist, as "I Can't Believe" grows into a solid electro house tune that calls you to the dance floor. Gritty vocal refrains layer over continuous mids, all coupled with a swinging bassline, which combine to make an infectious soundscape that will fit in any high-energy set. Grab the download today and check Chris out at his upcoming shows in Florida, Texas, and Saskatoon.
[soundcloud url="https://api.soundcloud.com/tracks/124642718%3Fsecret_token%3Ds-sMegn" params="" width=" 100%" height="166" iframe="true" /]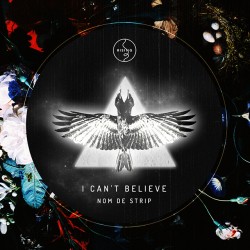 Nom De Strip
"I Can't Believe"