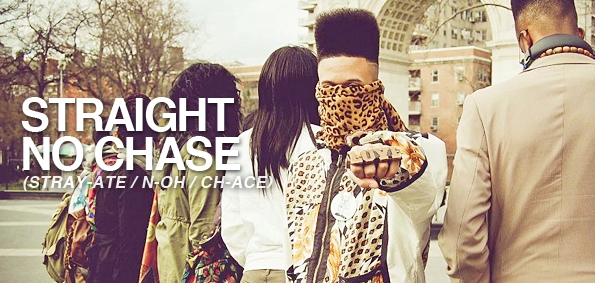 Welcome back for this week's edition of Straight No Chase, your one-stop shop source for all things hip-hop here on EARMILK. This comprehensive weekly feature aims to share hip-hop based content we may have missed during the past week, while also highlighting memorable content we did cover. In addition to the recap of our best hip-hop posts, SNC also includes a Video of the Week, Project of the Week, and staff-selected noteworthy upcoming releases.
As any hip-hop head worth their salt knows, these days music floods the blogosphere by the millisecond. Consequently, the landscape of hip-hop is forever changing. There are countless rappers, both established and up-and-coming, as well as renowned and budding producers and beatsmiths dropping their fair share of dope music for the listening masses. It is our mission to mine the interweb for both audio and visual gems, delivering them straight to you for your auditory consumption. But enough with the jaw jacking: let's cut straight to the chase
---
STRAIGHT KILLER, NO FILLER
Wil Akogu - "Nothing Really New"
[soundcloudurl="https://api.soundcloud.com/tracks/122819426"params="color=ff6600&auto_play=false&show_artwork=true" width="100%" height="166" iframe="true" /]
To kick off SNC, we've got a track from young up-and-coming artist Wil Akogu. At a mere 17, he's got an impressive style and flow that is years beyond his age. "Nothing Really New" is about his quick rise in the Chicago scene, and it's clear why. His songs are catchy yet filled with substance, and it seems he's found a great balance between having a message and entertaining a party, not an easy feat. He's part of the Deadstock Music Collective, and is planning to release a mixtape, MVP (Most Valuable Poet) in early 2014. There's something still very youthful about him, so it may be a couple more years until we hear about him on a larger platform, but we've definitely got it in our mind to keep an eye out for his name in the blogosphere.
ThisisDA - "Unstoppable"
[soundcloudurl="https://api.soundcloud.com/tracks/121892490"params="color=ff6600&auto_play=false&show_artwork=true" width="100%" height="166" iframe="true" /]
Going across the pond to another world, we've got ThisisDA. Only barely covering a minute and a half, the track is short and simple, but utterly perfect. Over a smooth production, the artist goes into details of the unexplored world of an alcoholic girlfriend. It's emotional and raw, and it's from an interesting perspective. Check it!
Rippy Austin - "No Return" Original + Remix
California has been on a sort of high streak lately, with the rise of Kendrick Lamar and the rest of TDE. Ab-Soul's been on a great tour with members of Pro Era and Schoolboy Q's getting ready for his album. Besides that collective however, there are a few up-and-coming artists to take notice of, and Rippy Austin happens to be one of them. An overall artist with talents in design, production,and lyricism, Rippy is a talent to take notice of. He's got an incredibly flow that vibes with the California style. He goes hard in these tracks, but still keeps a cool laidback LA feel that was perfect for this week's column. It is Winter in the Northern Hemisphere, but in California, there's always a summer-vibe, and Rippy Austin was able to share some of it to the rest of the internet. Big ups to this man. We're patiently waiting for his next project to drop, slated for early 2014.
J NICS - "Hitman" (Prod. Numonics)
Alright, time to get the party started though. Over here we've got J NICS, who actually caught my eye for a different music video. However, a quick look on Soundcloud and I've found that he's got a whole set of tracks that would turn any party up.
Joey Bada$$ x J Dilla - "Two Lips"
Now, if you're in any way invested in Hip Hop, I doubt you haven't heard of this one already, but somehow EARMILK managed to let it go through our fingertips. Joey Bada$$ is much revered and J Dilla is basically cast in stone as a legend. I know, I'm being captain obvious here. Anyways, the two placed together is pure gold, and it only poses the question- what kind of magic could those two come up with if J Dilla was still alive today? Much respect to Joey for doing his thing here. Killing it, as always.
Black Zheep - "How It Go" (Prod. Hi$to) (#Psyched and Slowed)
(Original Version)
Finally, here's the track "How It Go," both in its original and screwed form. Hi$to first caught my eye for producing interesting forms of trap and hip hop music, creating an unique style that is recognizable from the start. Both are a free download, with the original version catching the eye of MISHKA. With incredible production, Hi$to and Black Zheep are amazing talents worth the attention they are getting, and world's more. 
ON THE ROCKS: WEEKLY RECAP
Here's a recap of some of the best hip-hop covered this past week on EARMILK. Take a couple of minutes to stroll down memory lane and revisit a few of tracks brought to you earlier in the week. For those who may have been snoozing at the wheel, here's your chance to play catch up:
VIDEO OF THE WEEK
 Busta Rhymes - "Thank You" (Feat. Q-Tip, Kanye West, Lil Wayne)
PROJECT OF THE WEEK
A dark shadow ominously looms over Chicago's Southside streets; blocking the sun's warm rays, leaving nothing but a cold gust that seeps through one's flesh, right to the bone. Residents live between moments of terrifying horrors and tragic indifference, as madness has become status quo. In a way, their lives have intertwined with this opaque cloud, and it can be heard in their music. While almost every form of raw street music revel in breaking from generally accepted social ideologies or morals, Drill and other sounds resonating from the Second city, do it in the coldest way possible; there isn't much room for funny punchlines or an absurd number of video vixens, just business. Lil Bibby's, the Windy City's latest offering, Free Crack gives listeners just that, seventeen tracks of the toughest, most macho, gangbanging songs released this year.
Bibby doesn't look a day older than fifteen, yet his raspy, smoke tinged vocals make him sound like a full blown twenty five year old ex-con. On your first listen, it may come as a surprise to hear such a gruff voice coming out of this young man, but after a few tracks you will be accustomed to it and start to like it. It is a perfect contrast to the normally juvenile voices of other Chicago acts, like Chief Keef or Chance the Rapper, who sound like children next to this rugged, experienced, iced veined assassin.
--Bibby-Story-Prod-By-DJ-L--EM1213
Download:
Lil Bibby - Bibby Story Prod By DJ L
He only shares his anger towards his opposition, pity towards his impersonators, and pride towards his overcoming the obstacles once obstructing his path, whether or not his means are considered kosher. "Bibby Story" is one of the rare instances where he combines all three emotions, and it is definitely a standout track. Following immediately after the DJ intro, it properly summarizes his life, which has been short, but tumultuous already.
Download:
Lil Bibby - If You Knew
Including both underground and popular producers, the beats that Bibby chooses to rap over help to give the entire project a cohesive atmosphere. Even the normally sunny Hit-Boy production and the optimistic Ocarina of Time theme song find themselves transformed into menacing mobbing tracks. It is hard to imagine these songs being played at parties, but quite easy to see them being a soundtrack for criminal activity.
--Whole-Crew-Prod-By-Hit-Boy-Rey-Reel--EM1213
Download:
Lil Bibby - Whole Crew Prod By Hit-Boy Rey Reel
He has perfectly captured the essence of criminal life, including both the paranoia and heartlessness. If you are into that unrefined Chicago music, Bibby's Free Crack is the project for you. From his lyricism to the production, you will leave extremely satisfied. 
---
Lil Bibby
Free Crack
Self-Released
November 29, 2013
---
UPCOMING RELEASES
Childish Gambino 
Because The Internet
Liberator Music
December 10, 2013
---
R. Kelly
Black Panties
RCA Records
December 10, 2013
---
Rick Ross
Mastermind
Maybach Music Group/Def Jam
December 17, 2013
---