Our favorite Norwegian producer, Kygo, has created a magical remix of Ed Sheeran's original track, "I See Fire" which will be featured in The Hobbit: The Desolation of Smaug.  Ed Sheeran's original features his incredibly smooth vocals with acoustic guitar and violin, simple and beautiful. 
Kygo has found a way to keep this incredibly soft song true to its original ways, while introducing his tropical signature influences that radiate between Sheeran's crystal clear voice.  Kygo fuses together Sheeran's guitar with an electronic version of the melody, weaving in a solid beat that adds to the depth of the track. 
The beauty of Kygo's production is his ability to maintain the emotion that the original track emulates, adding a unique layer of electronic influence.  Kygo's remix puts a magical touch on this track, only fitting for a that will be featured in one of the most renowned fantasy series of all time.   
[soundcloud url="https://api.soundcloud.com/tracks/122899544" params="color=ff6600&auto_play=false&show_artwork=true" width="100%" height="166" iframe="true" /]
Released today, "I See Fire" (Kygo Remix) has already had nearly 10,000 plays on Soundcloud and the king of finding fresh new talent, Diplo, has taken notice of Kygo's talent, who began following him on Soundcloud today.  We have noted before and we'll note again, Kygo is one to watch.  Check out his other fantastic remixes including: Marvin Gaye – Sexual Healing (Kygo Remix), Ed Sheeran & Passenger – No Diggity vs. Thrift Shop (Kygo Remix), and Passenger – Let Her Go (Kygo Remix).  Check out Kygo's signature sound and incredible talent and head over to Hype Machine to give him some much deserved <3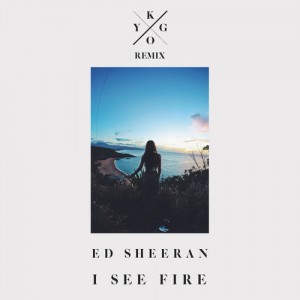 Ed Sheeran
"I See Fire" (Kygo Remix)