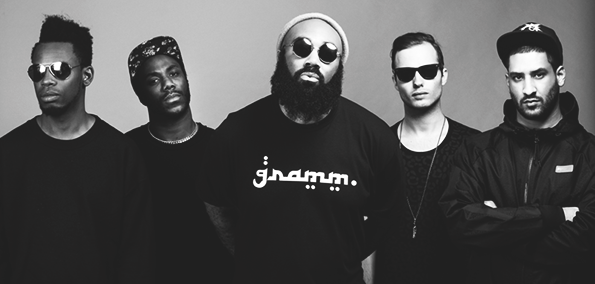 When the UK's new mercurial musical leaders, Murkage, premiered their Imperial Mixtape Vol. 1 exclusively on EARMILK, it was merely the appetizer for what was in store. The thirty minute long mix was full of the club bangers that have allowed them to consistently hold parties in some of Europe's biggest cities including Manchester, London, Berlin and Paris. We heard some of the years biggest tracks such as A$AP Ferg's "Work" remix and the DJ Cable edit of Jay Z's "Tom Ford", all seemingly mixed by their very own Klepto DJ, one of the most naturally gifted DJ's the UK has to offer.
The opening track from The Imperial Mixtape, was a little sneak peak of the single we present to you today, albeit that version was the Corporal F remix. In front of us right now we have the first single to be taken from their upcoming album, "La Plage". The song features a fellow Mancunian talent in the form of EARMILK favourite Bipolar Sunshine, who sings the catchy hook that compares their performances to a New Year celebration. Both Murkage Dave and Gaika show that, not only are they two amazingly talented emcee's, but they can also both can hold their own lyrically, as they deliver their lines with confidence and prowess, touching briefly upon politics, rockstar antics and what life in Murkage entails. "La Plage" has an engrossing beat, that fuses together an indie style guitar riff with some bangin' drums and some EDM-style synths creating an instant head nodding classic that can crossover from dancefloor banger to live show stopper.
This is the first single Murkage have released from their upcoming debut album, which is due for release next year. Having already been heralded by many as the sound of a new generation, in Manchester especially, it'd be hard for them not to get excited and perhaps egotistical. But the Murkage boys keep themselves humble and grounded, and even though their album is sounding like a classic, genre breaking body of work (I've heard the previews and trust me, I'm keeping it 100 right now!), they never have an air of arrogance about them. "La Plage" is officially released on the 4th December on Archetype, so until then, sit back and relax, stream the track below and watch the ever expanding Murkage empire continue to conquer the globe. The band also have their own individual twitter accounts so be sure to follow them @KleptoDJ, @MurkageDave, @GaikaSays, @Two_1ne and @AmatAmasAmo.
[soundcloud url="https://api.soundcloud.com/tracks/100733539" width="100%" height="166" iframe="true" /]
Murkage
"La Plage" (Feat. Bipolar Sunshine)
Archetype
4th December, 2013