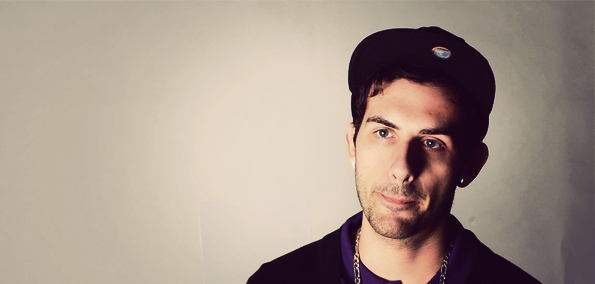 This past Wednesday Borgore, Steve Aoki, Waka Flocka Flame, and Dirtyphonics performed to a sold out show in Montreal. From women on poles during Borgore's set to the massive AOKI light system installed into the roof, this show was nothing short of amazing. This massive list of artists is currently on the Aokify America tour, you can check the remaining dates on the Tour's website.   
Borgore's set managed to hit a wide range of sound, from experimental trap to post modern dubstep and everything in between. As soon as the first song played there was a surge in energy resulting in a typical frenzy induced mosh pit. Easily stirred by a classic tune like "Nympho", it was the old tracks that had the place moving the most. 
Steve Aoki was the final performance and really brought out his entire production for the show. From eight (yes eight) separate cakes thrown into the crowd to five bottles of champagne sprayed on the front row it was quite the display. 
The entire show had a huge range of visual candy; Borgore's signature ice cream cones shot out confetti while Steve had a LED bubble that he was perched DJing from. Not to mention Borgore's drum performance for Waka Flocka's set and Steve's newly added Kryomen. This event certainly lit up Montreal for just a regular Wednesday night. 
I managed to catch up with Borgore after his set and talk about the tour so far, his label Buygore, Miley Cyrus and much more.
EARMILK: Hey man, it's great to have you here with EARMILK today. To start this off I wanted to direct this interview towards your label, Buygore. You have quite a mix of artists on the label and they've been releasing tracks constantly covering a wide range of sound. Is there any artist that really stands out to you right now or any release coming up you want your fans to know about?
Borgore: I think that everyone on my label is special, that's what's so crazy about it. We have rappers, we have house DJ's, we have trap, dubstep, everything and more. I would sign metal and country if I could. Just go to Buygore.com to get news first on upcoming releases and to stay informed on tours. Everything usually goes through the site as we keep it up to date first. 
EM: Do you have an email subscription or a fan group that someone could join if they wanted to? 
B: Yeah, just go to Buygore.com and you'll find everything you need. 
EM: You also keep fairly active on your social platforms, I know I always see your posts on Facebook of memes and viral videos. Do you spend a lot of your time on the internet finding these gifs and pictures or is a lot of it just stuff fans send you?  
B: Most of the stuff is just sent to me but often while I'm working I like to clean my head. You know how when you eat sushi, you eat ginger in between each roll to make a difference between tastes? I'll do the same thing, except I'll work on a song and just take a ten minute break on the internet, fuck around, then go back to the track.
EM: What is the first 5 things you do when you go online?
B: Twitter, Facebook, Instagram, Vine, Snapchat. 
EM: What about not just online, what do you usually do when you first open your laptop? Is it usually social sites first?
B: Well I like to listen to the last song I've been working on just to see if it still sounds the same way I left it. A lot of the time you'll work on a track, think it sounds incredible, leave it for eight hours then you'll wake up and it sounds horrible. A lot can change on your mindset at the time. 
EM: So you're half way through the Aokify America tour, what are some of the highlights you've had already traveling through North America? 
B: This is one of the best tours I've ever had. More than anything it's the people, I really like Steve and I really like Waka on the personal level. Each and every show is absolutely killer, I wouldn't expect anything else from such a versatile line up, it's a really strong list of artists we have performing. I'm just happy to see that everyone is genuinely good people on this tour, that's really important.   
EM: I totally agree, the line up for this tour is amazing, there is no local DJ that opens for the show. Tonight it was literally Dirtyphonics, Waka Flacka Flame, you and Steve Aoki with Pharrell on the occasional date. It's an absolutely insane line up. 
B: Yeah man, it's a festival lineup! A festival lineup inside a club, I don't know man, 50 dollars for this? What could you get better! Maybe like a Demi Lovato ticket? I don't know. 
EM: Are there any places you're really excited for in the next half of your tour? 
B: I was actually really excited to come to Canada since it's the first time I've come here with my full production. It's the first time I've had my densers, my ice cream cones, my whole entire gear is here. Usually it's just a fly date but this tour is the first time I've come with my boss to Canada. Yet every date on this tour is great, some times it's the small places that will surprise you the most. I didn't expect Columbia, Maryland to be the biggest show we had on this tour and it was just insane. Toronto was incredible, Montreal was amazing tonight, Canada is just killing it right now. This whole entire tour has been on point. 
EM: A lot of your older tracks you've rapped in, this is past the point when you were Shabira obviously, but more into dubstep. Did you ever want to be just a rapper or did you want to merge it with dubstep from the start?
B: I want to do everything of everything, I want to play punk rock, I just want to do everything. I want to make something people love. Doing the same thing your whole life everyday would be boring. I'm not working in an office because I don't want to be sitting in a cube all day. So that's why I make new music because I don't want to do the same shit every day. 
EM: With trying to make new music, do you think you ever focus on the fans perspective or act entirely out of your own will?
B: If it's a good enough song, even if it's polka, my fans will follow it because it's a good song. No one cares about genres anymore, it's 2013, almost 14 now. No one cares about genres, all people care about is if the song is good or not. 
EM: I understand, but at the same time from a bloggers perspective genres help us classify our music. But I do see what you mean, it's all about whatever makes you dance now. 
B: Or more importantly, whatever makes you feel. 
EM: *laughs* perfect. Alright, I had to do this, you probably get it a lot but how do you feel about Miley Cyrus right now? I know you did "Decisions" with her but I am genuinely interested to what you have to say.  
 B: Killin it! She's killin it, she's an absolute genius, smashing it right now, insane. 
EM: I can't argue that she's getting media attention and getting her name out there but she's also getting a fair share of negative criticism.
B: Jealousy's a bitch and she's making bitches jealous.
EM: If you could sum her up in one word, what would you say? 
B: Killinit. Two words. Put it in one word.  
EM: Alright, now some really quick questions to finish this off, what's the strangest fan you've ever seen? 
B: They're all weird. We're all weird, you know? 
EM: What's the most surprising turn out you've ever seen? Not necessarily on this tour but just in your whole career? 
B: In my whole life I've had this one show.. I didn't understand what I was doing but that's the only strange thing I've ever had at show, but that's what made it special. It was one show in particular that was very weird. 
EM: Where was the show? 
B: I'm not going to say, but it was just .. awkward. It wasn't in North America. I can tell you that. I'll leave you with just that. 
EM:Alright fair enough, what's the weirdest place you've ever been recognized? 
B: I've been recognized wearing my glasses, without my hat, in my pyjamas off a train in England in the middle of the station. I don't even understand how some people can recognize you. 
EM: What's your biggest regret so far?
B: I have no regrets. (Bogore's Manager: What about that one...)
EM: Lastly, what percent of milk do you usually drink? 
B: 3% 
EM: Perfect, thanks for being here with EARMILK, it was a pleasure man. Any last minute message to our readers or fans? 
B: Stay safe and happy, I don't know, do crazy shit that you're happy with!
 Make sure to check out