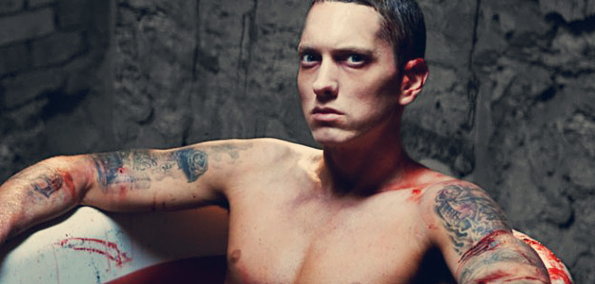 Amongst the hype of Eminem's latest album The Marshall Mathers LP 2, Em released a bonus cut that will be included in his Call Of Duty: Ghosts bundle pack deal. The track features Buckshot as a surprise guest and samples Black Moon's "I Got Cha Opin" in a scintillating display of lyrical prowess.
Taking it back to the old school, Mathers even pays homage to the late Proof and boasts about his incomparable MC skills. "They said I was a gimmick, now I'm the one that those guys mimic, now you fuckers don't want to go starting no argument, cause you know I'll win it, name a flow that's more authentic and don't front."  With MMLP2 receiving generally positive reviews and rumors floating around that this may be his last album, it's good to see Shady get back to the aggressive rhyming that he started with.  As he's proven time and time again, his command over syllables and rhymes scheme is unmatched.
"Know that if I get off to a rocky start, I'll always have a Rocky finish," he raps.  The Marshall Mathers LP 2 is available now.