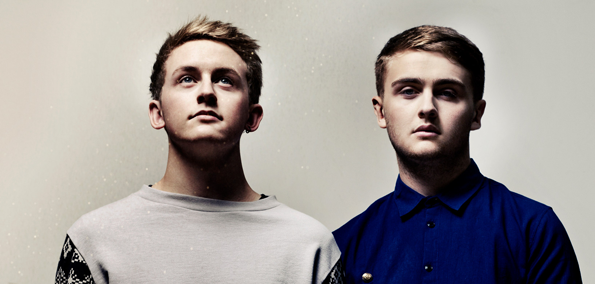 When we at EARMILK found out we had a chance to sit down with Howard and Guy Lawrence, the two brilliant young men behind Disclosure, we had a slight geek-out moment. They've made it big with their recent debut album, Settle, bringing catchy UK garage to the mainstream, while still keeping the twenty-something year old trendsetters on the internet buzzing about their every move. Hitting number one in the UK? Check. Sold out shows and over-crowded festival sets? Check. The future seems high for them, and the two boys gave us some of their time to talk to us before their set on the first day of HARD Summer Music Festival.
Earmilk: First off, thank you guys for taking the time to talk with us. Can you talk a little bit about the artwork that's become synonymous with your brand? Have you always had it?
Howard Lawrence: We've always had it. It was drawn by a friend of our manager's. She would go to all of our shows. We just thought it was cool, and on the sound cloud we started testing it and people seemed to really like it. We started pasting it on the faces of the singers on our tracks, then eventually putting it on ourselves.
EM: In terms of your performances, do you prefer the live setup or your DJ sets?
HL: We generally always DJ at clubs just because there isn't enough room for our live show, but we, as a group, are a live act.
EM: Are you planning any changes for your setup?
HL: Definitely. We've been developing it over the past couple of years. It's a massive step up from the last six months. We've added a lot of production and the setup is just much bigger in general, but the gist of it all is we play live instruments.
EM: Can you give us a quick layout of what each of you do when you play.
HL: I play all the chords and sub, bass guitar, and a bit of singing. Guy does most of the drums and a bit of sampling.
EM: We heard you guys have a bit of a hip-hop influence; caught that J-Dilla sample in "Grab Her!" Do you have any plans for hip-hop collaborations in the future?
Guy Lawrence: At the moment, we haven't been writing much at all. We've just been touring for so long now, and will continue to do so for the rest of the year so there's not a lot of writing going on right now. In the future, we definitely want to work with rappers over our stuff, not really hip-hop. I've listened to hip-hop all my life, so we'll definitely get involved at some stage.
[soundcloud url="http://api.soundcloud.com/tracks/95440567" params="" width=" 100%" height="166" iframe="true" /]
EM: Who are your biggest influences, hip-hop wise?
GL: J-Dilla is probably the main one. DJ Premiere is up there, as well. It's mainly all the acts associated with that type of sound. People like Busta Rhymes and Gang Starr, but also D'Angelo and Erykah Badu and the neo-soul stuff are a big part of it.
EM: One of the things we've noticed is that you're music started out less lyrical but has evolved into more vocal-focused productions. Do you think that helped resonate with a bigger crowd?
GL: Yeah, probably. We didn't change to get more fans or become more famous, it was just a natural progression. We started out making, not really "experimental", but just more club-based instrumental music. We did that and now we're moving on to the next thing. We wanted to do something with a bit more pop influence, something with more vocal and melody writing as opposed to just making beats.
[soundcloud url="http://api.soundcloud.com/tracks/94352318" params="" width=" 100%" height="166" iframe="true" /]
[soundcloud url="http://api.soundcloud.com/tracks/29532345" params="" width=" 100%" height="166" iframe="true" /]
EM: Is there anybody you guys want to work with, specifically?
GL: A lot of rappers and vocalists, but we're not really writing right now.
EM: What's your opinion on the DJ Mag Top 100? Do you think it will be as influential in the future as it has been in recent years?
GL: The chart? Or... 
HL: The Top 100 list of DJs
GL: I've never looked at it so it's not influential for me in any way. I judge DJs on their performance, not on what a magazine says. Are we in it? I don't think we are.
EM: People are free to nominate whoever they want.
GL: Oh, is it going on right now?
EM: It may have closed, we don't specifically. 
GL: [laughs] We're kind of unaware.
EM: Thanks, guys! Good luck on your set today. Looking forward to it.
GL: Thanks!