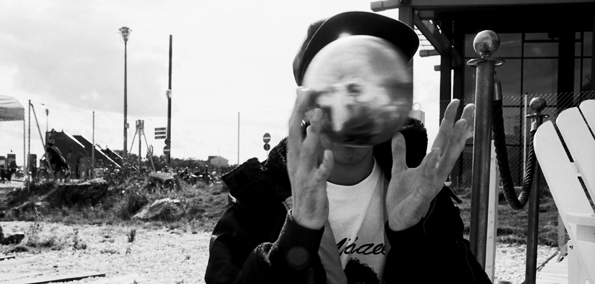 While both artists are fairly busy this year with tour duties, it seems Skrillex and Boys Noize were somehow able to find enough time to get back together and release another Dog Blood extended play, Middle Finger Pt. 2.   Releasing the majority of it on their soundcloud page, the EP is comprised of eight songs, five of which are essentially remixes of last year's banger, "Middle Finger."  But don't let that deter you from listening!  You should expect a pretty wild ride over the course of the EP, as every song borrows from a vast number of different genres and styles.  
On "Middle Finger Pt. 2" Dog Blood fully reworks the original, giving it (if you can believe it) an even more guttural, edgier electro house bounce.  Along with the increased edge, "Middle Finger Pt. 2" now has break-beats that  kick just as hard as the original's but also adds some extremely apropos dog barks and snarls to the mix.  On "Chella Ride," Dog Blood takes the break-beat motif even further, as the song sounds directly influenced by old-school freestyle tracks such as C&C Music Factory or even SNAP! (complete with a nice synth-y breakdown) before a soft transition into a dubstep rhythm.  This leads into the next Dog Blood original track, "Shred or Die."  As the name suggests, the song is heavily influenced by metal (way to go back to your roots Sonny!). Expect some heavy distortion petal guitars on top of a bass-tastic dubstep beat, for what I believe to be the most unique track on the EP.   
Dog Blood also dropped two very impressive remixes of "Middle Finger Pt. 2."  Particularly noteworthy is The M Machine's rework, which tones down the break-beat rhythms in favor of a more classical 4/4, electro-house approach.  The remix still contains all the edginess of the original, however, and fits in quite well with the rest of the EP.   I can't say the same for the Millions Like Us remix, which reinterprets "Middle Finger Pt. 2" into something more akin to a 2-step garage track.  But while it may not fit thematically the rest of the EP, it is still an great track with a very distinct sound.  
To be perfectly honest, what really impresses me most is that the boys could have easily waited to release these tracks on Beatport or iTunes,  Or, like most of the bigger names in the game today, they could have only released "teasers" of the tracks.  Instead, they posted something as impressive as this, with five great new tracks from some of the hottest names, for free.  If anything,  just for that simple fact, you owe it to yourself to have a listen.   So check it out below, and make sure to grab the entire EP (which will also include a remix of "Middle Finger Pt. 2" by Trapmasters and an instrumental version of "Shred or Die") when it becomes available later this month.
Dog Blood
Middle Finger Pt. 2
Boysnoize Records
8-7-2013