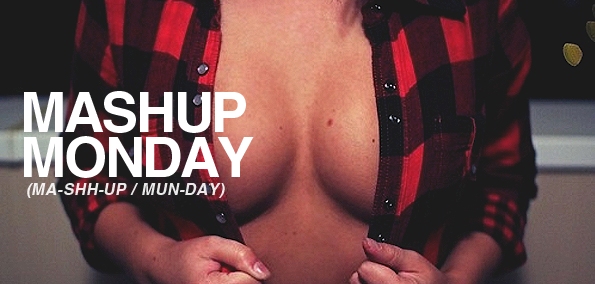 These are the mashes that are worth hearing, so stop your searching and instead settle down at your computer... turn up your speakers... and get ready for that sweet nectar that only EARMILK can give ya. Let's GO!
There's no greater feeling than being recommended a song by a fellow writer/listener because they know what type of tune you enjoy. There's a couple of people who regularly send me material, and 95% of the time they are spot-on with the recommendation. The first track on this list is one such recommendation, coming from fellow EARMILK writer Lindsay Herr. Consisting of an edit that includes Bondax's "All Inside" and a cover by Alice Jemima of Blackstreet's "No Diggity", DJ AA's edit is a sensual and spine-tingling song that hits all the right notes. This has been on repeat for me the past couple of days, and originally posted here.
DJ-AA---No-Diggity-(AA-All-Inside-Edit)-Bondax-x-Alice-Jemima--EM0713
Download:
DJ AA - No Diggity (AA 'All Inside' Edit) [Alice Jemima x Bondax]
If you've followed Mashup Monday for awhile, then you're no stranger to the man known as duncan gerow. This time around, we're graced with a combination of Rihanna and Evil Needle culminating in a smooth and hazy track which aptly keeps RiRi's "Pour It Up" title. Evil Needle's "Radiance" provides a backdrop that is perfect for a light smoke session, while Rihanna gives the song an edgier sound with her luscious voice. Having been shouted out by Soulection recently, Gerow is certainly making his name known. Perhaps one of the most aggressive, yet aurally pleasing, mashups on the list is Nate Belasco's pairing of Kanye West and Tame Impala. As Nate says in his Soundcloud description, '"Black Skinhead" sounds eerily similar to Tame Impala's "Elephant". This mashup makes both songs better!" Yes Nate, I completely agree. 

Duncan-Gerow---Pour-It-Up-(Rihanna-x-Evil-Needle)--EM0713
Download:
duncan gerow - Pour It Up (Rihanna x Evil Needle)
Nate-Belasco---Black-Skinhead-vs-Elephant-(Kanye-West-x-Tame-Impala)--EM0713
Download:
Nate Belasco - Black Skinhead vs Elephant (Kanye West x Tame Impala)
Next, I want to apologize to Mitch Mash for omitting his wonderful "Paradise Lost" mashup. I had meant to post it up last week, but accidentally overlooked it in my 'download' folder. An unfortunate mistake, but one that (thankfully) can be remedied today. The samples used are an eclectic bunch ranging from Daniel Ryan Music, Brand New, some quotations from a minor snippets of Notorious B.I.G., and the artistic inclusion of quotations from Dogma. "Paradise Lost" is stunning with its range of sound, and how it seems to connect you with emotionally. This may not be one that you try to sing along to, or one that just gets stuck in your head; rather it's like a fine wine that you allow to breathe and consume only for special occasions.
Mitch-Mash---Paradise-Lost-(Brand-New-x-Daniel-Ryan)--EM0713
Download:
Mitch-Mash - Paradise Lost (Brand New vs Daniel Ryan)
For a final suggestion, I recommend taking a listen to an older mashup album that was released the summer of last year. Done by TenDJiz, CommoNasm is an impressive collection of 10 mashups that brings together Common with Nas overlaid on top of Soviet soul and jazz instrumental samples. Not something you'd think about putting together every day, but damn is it done well. That's all for now amigos. Check below for even more mashups, and hit up the comments section with your opinions, suggestions, feedback, etc. Enjoy the rest of your week!
CommoNasm:
[soundcloud url="http://api.soundcloud.com/playlists/2191297" params="" width=" 100%" height="450" iframe="true" /]
All The Rest:
The-White-Panda---Under-Treasure-(Queen-David-Bowie-x-Bruno-Mars)--EM0713
Download:
The White Panda - Under Treasure (Queen & David Bowie x Bruno Mars)
The-Hood-Internet---Mom-Jeans-2.0-(ShowYouSuck-x-Them-Jeans-x-James-Pants)--EM0713
Download:
The Hood Internet - Mom Jeans 2.0 (ShowYouSuck x Them Jeans x James Pants)
Lance-Herbstrong---Finally-Moving-(Pretty-Lights-x-Jimi-Hendrix-x-Etta-James)--EM0713
Download:
Lance Herbstrong - Lance Herbstrong - Finally Moving (Pretty Lights x Jimi Hendrix x Etta James)
Shahar-Varshal---Chasing-Heels-(Snow-Patrol-x-Tears-for-Fears)--EM0713
Download:
Shahar Varshal - Chasing Heels- tears For Fears vs Snow Patrol Mashup Mix
PJ-Carmack---Touch-the-Lines-(Robin-Thicke-x-Kanye-West)--EM0713
Download:
PJ Carmack - Touch the Lines (Robin Thicke x Kanye West)
MF-Rex---Shimmy-Shimmy-Samba-(Ugly-Duckling-x-Jackson-Sisters-x-ODB-more)--EM0713
Download:
MF Rex (featuring Ol Dirty Bastard, Ugly Duckling, Jackson Sisters) - Shimmy Shimmy Samba (Automatic Reaction Cut-Up)
Socialytes---Lets-Do-It-(Socialytes-x-Bloodhouse-Gang-x-Richard-Reynolds-x-GGB)--EM0713
Download:
Socialytes - Let's Do It (Socialytes x Bloodhouse Gang x Richard Reynolds x GGB)
EatBeatz---Hits-From-A-Preacher-(Cypress-Hill-x-Dusty-Springfield)--EM0713
Download:
EatBeatz - Hits From A Preacher (Cypress Hill x Dusty Springfield)
Phil-Finlay---Clash-Locked-Out-of-Heaven-(Bruno-Mars-x-Alesso)--EM0713
Download:
Phil Finlay - Clash Locked Out Of Heaven (Bruno Mars x Alesso)
Calvin-Harris-ft.-Ayah-Marar---Thinking-About-You-(Phil-Finlay-vs-Josh-Robyn-Edit)--EM0713
Download:
Calvin Harris ft. Ayah Marar - Thinking About You (Phil Finlay vs Josh Robyn Edit)
S.I.R.---La-La-La-Say-It-Right-(Naughty-Boy-ft.-Sam-Smith-x-Nelly-Furtado)-Reggae-Version--EM0713
Download:
S.I.R. - La La La (Say It Right!) [Naughty Boy ft. Sam Smith x Nelly Furtado)
Sjoersje---Summer-Dreamin-(Pet-Shop-Boys-x-Musikk-ft.-John-Rock)--EM0713
Download:
Sjoersje - Summer Dreamin' (Pet Shop Boys x Musikk ft. John Rock)
Andrew-Rayel---Just-Aeon-of-Revenge-(Andrew-Rayel-x-Tiesto-x-Kirsty-Hawkshaw)--EM0713
Download:
Andrew Rayel - Just Aeon of Revenge (Andrew Rayel x Tiesto x Kirsty Hawkshaw)
PJ-Carmack---Running-to-Mars-(Jay-Sean-x-Youngblood-Hawke)--EM0713
Download:
PJ Carmack - Running to Mars (Jay Sean x Youngblood Hawke)
Mike-Tompkins---Feel-Again-Dog-Days-(One-Republic-x-One-Republic)--EM0713
Download:
Mike Tompkins - Feel Again & Dog Days (One Republic x One Republic) [Cover]
Mashd-N-Kutcher---Trapped-In-Trouble-(Taylor-Swift-vs.-Hardwell)--EM0713
Download:
Mashd 'N Kutcher - Trapped In Trouble (Taylor Swift x Hardwell)
Leo-Lauretti---Vipers-Code-Sparks-(WW-Ummet-Ozcan-x-Hardwell-x-Matthew-Koma)--EM0713
Download:
Leo Lauretti - Viper's Code Sparks (W&W & Ummet Ozcan x Hardwell x Matthew Koma)