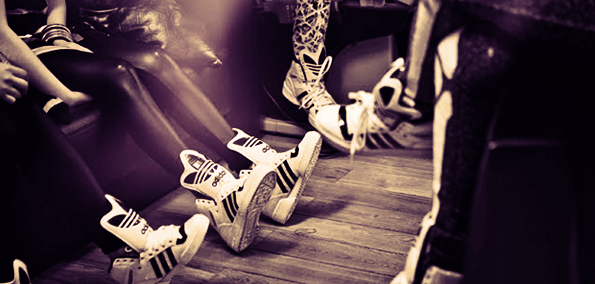 With bootleg packs effectively serving as the business card for up and coming artists, creativity is key to blend together current charting anthems with classics that will leave waves of fans satisfied. Now that the summer is in full swing, Canadian DJ & producer Joe Ghost has provided Earmilk readers with an exclusive look at his pack of 12 new festival bootlegs. With his monstrous liftoff track "Are You Ready" winning support from the likes of Hardwell, Deniz Koyu, and Michael Woods, Joe Ghost is no stranger to arranging big-room productions.
Our favourite mix in the pack comes from the combination of Armin van Buuren's melodic chart topper "This Is What It Feels Like" that weaves its way into the energy of this summer's #1 main stage killer, "Animals" by Martin Garrix. Another standout is the cleverly titled "Who Cango Harder", which samples classics from Tujamo and Daft Punk before dropping into the raw minimalistic approach of Pelari. Not to be forgotten is the infectious Lana Del Rey hit "Young and Beautiful" that spirals into the heavy marching drums of Blasterjaxx's "Koala".
Check out a few of our other favorites from the pack below, and head over to Joe Ghost's Facebook page for the free download.
Young-and-Beautiful-Koala-(Joe-Ghost-MashUp)--EM0713
Stream:
Lana Del Rey vs Blasterjaxx
- Young and Beautiful Koala (Joe Ghost MashUp)
Who-Cango-Harder-(Joe-Ghost-MashUp)--EM0713
Stream:
Tujamo vs Pelari vs Daft Punk
-
Footrocker-Reload-Ready-(Joe-Ghost-MashUp)--EM0713
Stream:
Joe Ghost & Hardwell vs Sebastian Ingrosso & Tommy Trash vs Mighty Fools
-
Crazy-Rattle-Clap-(Joe-Ghost-MashUp)--EM0713
Stream:
Joe Ghost vs Bingo Players vs Skitzofrenix
-
Animals-Feel-Like-(Joe-Ghost-MashUp)--EM0713
Stream:
Martin Garrix vs Armin Van Buuren
-
Joe Ghost
Festival Bootlegs 2013