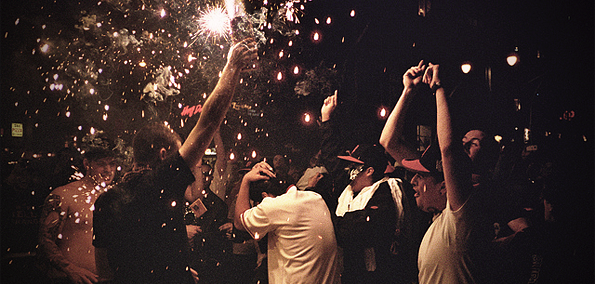 To say that Henry Steinway is a busy man is an understatement. Under his Clockwork moniker, he's delivered a bouncy brand of electro house to stages at EDC, Ultra, and Holy Ship!!, while breathing new life into one of the year's most played out tracks with his upcoming remix of "Reload". But it might be his darker, more mysterious alias of RL Grime that gains him the most attention this season. While it may be the less common of the two personalities, he's managed to dish out some of the most played out crossover tracks with "Trap On Acid" as well as his big-room remix of Benny Benassi's classic "Satisfaction".
Coming to us this week is a five-track High Beams offering that steers away from the half-tempo mainstage melodies and serves up a true hybrid of electronic and hip hop beats. Kicking off is "Pockets", which throws a Fabolous sample over a hollow drum, with high hats stirred in tastefully rather than what's usually expected in the genre. Next up is "Shells", which might be the most genre-defying of the release, only breaking the hypnotic topline to crash in the big-room drum. "Secondary" features vocals from Problem to drop a verse over a downright wacky beat, on this one it's tough to determine who's keeping up with who. While "Cliq Cliq" is simple in its offering, but the Flosstradamus-like echo on the synth would be enough to fill out any tent. Finally comes "Heard Me", with a heavy bassline and a tinny melody that, if played over a 4/4 tempo, could easily be mistaken for the murkiest of UK underground garage.
While those caught up in trap fever might be caught off guard by this EP, it is a forward step to experimentation between electronic music and hip hop. For a style that is the butt end of every joke to move forward, bringing new sounds to the table will be key to its progress and respect. RL Grime is doing exactly that. 
RL Grime
High Beams EP
Fool's Gold Records
2013-07-16