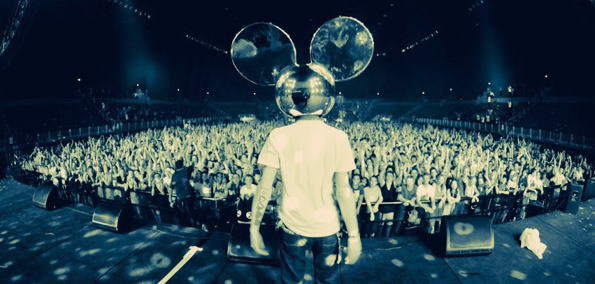 The infamous Deadmau5 discreetly leaked two new tracks on his Soundcloud today. For being so outspoken, the unannounced posting of "Suckfest9001" and "You There?" is pretty surprising.
"Suckfest9001" delivers on the complextro style that the mau5 originally gained his fame from: the beats hit hard on the 1, 2, and 3 counts, then alternate to a see-sawing pattern in the next measure, all playing over a stuttered, strobbing synth.
[soundcloud url="http://api.soundcloud.com/tracks/98727303" params="" width=" 100%" height="166" iframe="true" /]
"You There" repeatedly teases the listener by building up a classically robotic, noddy, Deadmau5-style lead, and when it's time to expect a change in melody or composition, the beat just goes silent for a full second until a dark voice comes back in to lead the return of the beat, asking "Are You There?" Slowly fading into a laid back and trance-like progression, this track starts out cheeky but ends leaving us feeling satisfied.
[soundcloud url="http://api.soundcloud.com/tracks/98725551" params="" width=" 100%" height="166" iframe="true" /]