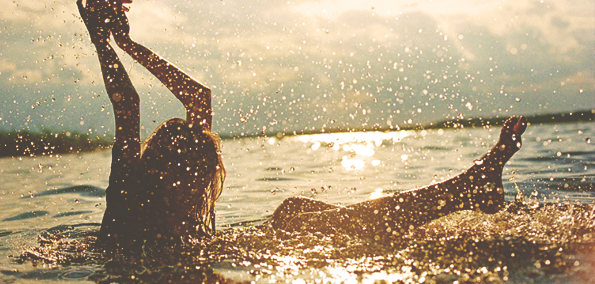 Whatever else is said about the California Wives + My Gold Mask tour that kicks off tomorrow, the bands can always fall back on the notion that they mix well together in the studio. These aren't the biggest bands you've ever heard of—they're far from it, most likely—but California Wives and My Gold Mask have managed a couple of remixes that would rival that of any collaborative works you're favorite superstars could muster.
Both remixes strip down each song and rebuild it with their own respective flavors, highlighting the differences between the band's styles and magnifying their individual skills. Where the "Marianne" rendition slows the tempo down, the rework of "Some Secrets" does the opposite. If it happens in the future, the pair would make a great A & B side to a seven inch, as the two exhibit enough emotional variation to hold a better audience, from a variety standpoint at least, than the majority of the hundreds of EP's that get sent to me each week.
---
California Wives - "Marianne" (My Gold Mask Remix)
---
My Gold Mask - "Some Secrets" (California Wives Remix)
---
It's summer, which means festivals, new music, and concerts—along with a fair dose of relaxing. If these remixes are any indication of the quality of the upcoming tour, I'm all in. Check the dates below, and if you can make a show—go. Trust me on that.
TOUR: CALIFORNIA WIVES + MY GOLD MASK
06/20 – Detroit, MI @ Magic Stick Lounge
06/21 – Chicago, IL @ The Hideout
06/24 – Washington, DC @ Black Cat
06/25 – Philadelphia, PA @ Kung Fu Necktie
06/26 – Boston, MA @ The Middle East
06/27 – Brooklyn, NY @ Knitting Factory
06/29 – Pittsburgh, PA @ Garfield Artworks
06/30 – Toronto, ON @ Drake Hotel
07/01 – Buffalo, NY @ Ninth Ward
07/02 – Columbus, OH @ Double Happiness
07/04 – Cincinnati, OH @ MOTR Pub
07/05 – Milwaukee, WI @ The Cactus Club
07/08 – Des Moines, IA @ Vaudeville Mews
07/09 – Minneapolis, MN @ 7th Street Entry
07/10 – Kansas City, MO @ The Record Bar
07/11 – Lawrence, KS @ Replay
07/12 – Denver, CO @ Lions Lair
07/13 – Salt Lake City, UT @ Kilby Court
07/16 – Seattle, WA @ Barboza
07/17 – Portland, OR @ White Eagle
07/20 – Los Angeles, CA @ Bootleg Theatre  
07/21 – San Diego, CA @ Soda Bar
07/23 – Phoenix, AZ @ The Rhythm Room
07/24 – Tucson, AZ @ Plush
07/26 – Dallas, TX @ Club Dada #
07/30 – New Orleans, LA @ Siberia
07/31 – Atlanta, GA @ Eddies Attic #
08/03 – St. Louis, MO @ Plush #
All Dates with MY GOLD MASK except "#"
---