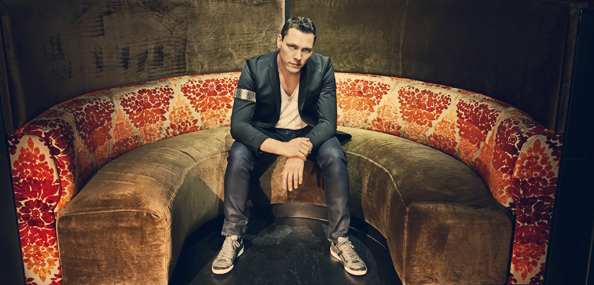 Tiësto is a superstar whose taste we have watched ebb and flow throughout his career. Currently at the crossroads of club hits, festival jumpers and mainstream radio, the Dutch producer has come a long way from his start in the early heyday of trance. Those who follow Tij have looked forward to his hand-picked annual compilation series CLUB LIFE, which unlike many dance music albums is an unmixed assortment that features a combination of greatest hits from the past year and new exclusive tracks. This year's edition, CLUB LIFE Vol 3: Stockholm, seeks to embody the city it represents (as Miami and Vegas did), and serve as a marker of the trends we've seen and the anthems will see for the rest of the year. Like Tiësto's current style and the dance music community as a whole, this album feels like it's standing at an intersection deciding which direction to take: Mainstream? Electro? Trance? CLUB LIFE Vol 3: Stockholm offers us them all, leaving the listener to decide what route to take.
Tiësto unveiled multiple singles ahead of schedule. While many of his tracks on the compilation may be familiar to fans, including remixes of mega-hits "Clarity," "Sweet Nothing," and "I Love It," these new releases are all original collaborations. Now the productions are out today on multiple platforms as both singles and on the album.
As the leadoff track from the compilation, "Paradise" teams up with Revealed Recordings whiz kid Dyro. With surging electro arpeggios, the track breaks down into a lyricless guitar riff that eventually evolves into a tried and tested Tiësto formula of big-room happy melodies.
Paradise-(Original-Mix)--EM0613
Stream:
Tiesto & Dyro - Paradise (Original Mix)
The first single off the compilation entitled "Take Me" features the vocals of indie electronic singer-songwriter Kyler England, and is probably the most reminiscent of what was successful on the previous edition of Club Life Miami. England's vocals on "Take Me" have the most depth on the album and also have the most seamless pairing with the instrumental breaks, allowing this to really sound like one full well-done composition. 
Baggi-Begovic-feat.-Tab-Compromise-Original-Mix--EM0613
Stream:
Baggi Begovic feat. Tab - Compromise (Original Mix)
Love-And-Run-(Original-Mix)--EM0613
Stream:
Tiesto, Mark Alston, Baggi Begovic & Jason Taylor feat. Teddy Geiger - Love And Run (Original Mix)
Zedd-feat.-Foxes-Clarity-Tiesto-Remix--EM0613
Stream:
Zedd feat. Foxes - Clarity (Tiesto Remix)
One of the impressive qualities about the CLUB LIFE series is the faith it gives to new talent. Any compilation with such great exposure could potentially catapult a young artist into stardom, and serves as a place where greats like Tiesto can put their support behind artists. One of the standout tracks on Stockholm is a collaboration between Tij and a young Colombian producer named Moska. Using his seemingly innate sense for trance and electro house, Moska helped to remix an absolute classic with its original producer which is a huge honor. The new take on "Century" is different, and doesn't go too far to take away the good elements from the original.
On "Shocker" with DJ Punish, listeners are given an original that fits the vibe to many of Tiësto's 2013 finales: an anthemic build that drops into a flurry of electro bleeps, with a synth melody reminiscent of Quintino's still relevant 2011 hit "Epic".
Shocker-(Original-Mix)--EM0613
Stream:
Tiesto & DJ Punish - Shocker (Original Mix)
On "Back To The Acid", Tiësto teams up with fellow Dutch producer MOTI, dropping an acid-influenced bassline groove. The track spirals downward before a repeating vocal sample eventually pulls back the bouncy rhythm – a nice experiment from a seasoned vet.
Back-To-The-Acid-(Original-Mix)--EM0613
Stream:
Tiesto & MOTi - Back To The Acid (Original Mix)
United-(Tiesto-Blasterjaxx-Remix)--EM0613
Stream:
Tiesto, Quintino & Alvaro - United (Tiesto & Blasterjaxx Remix)
Compilation records are always an interesting artist study. Whether you enjoy this album or not, it's safe to say this is a snapshot of musical history with Tiësto's signature on it.
 Full Tracklisting:
Tiësto & Dyro – Paradise

Tiësto – Take Me ft. Kyler England

Baggi Begovic – Compromise ft. Tab

Hardwell – Apollo ft. Amba Shepherd (Hardwell's Club Life Edit)

Tiësto, Mark Alston, Baggi Begovic, & Jason Taylor – Love and Run ft. Teddy Geiger 

Zedd ft. Foxes – Clarity (Tiësto Remix)

Calvin Harris – Sweet Nothing ft. Florence Welch (Tiësto and Ken Loi Re-Remix)

Icona Pop – I Love It (Tiësto's Club Life Remix)

Passion Pit – Carried Away (Tiësto Remix)

Moguai – Champs

Alesso vs. OneRepublic – If I Lose Myself

Pelari - Cango

Tiësto & Calvin Harris – Century (Tiësto & Moska Remix)

Tiësto & DJ Punish – Shocker

Tiësto & MOTi – Back To The Acid

Tiësto, Quintino & Alvaro – United (Tiësto & Blasterjaxx Remix)