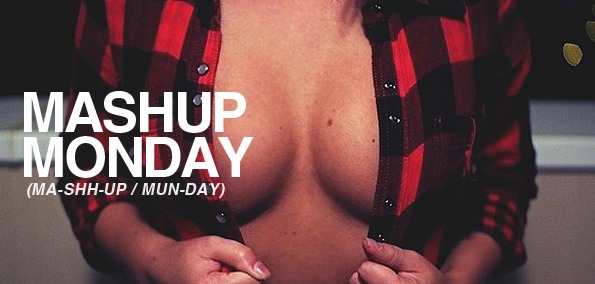 These are the mashes that are worth hearing, so stop your searching and instead settle down at your computer... turn up your speakers... and get ready for that sweet nectar that only EARMILK can give ya. Let's GO!
As mentioned in last week's edition, we begin with a mashup album that employs Bon Iver as the main central theme through its 11 tracks. Totaling slightly under 50 minutes, the masterminds behind B.I.M.A. - ToToM, SpareElbowSkin, Fissunix, and DJ Colatron - do a superb job of mixing up the usage of Bon Iver samples so as not to make it predictable and monotonous. With other samples including Men At Work, Lana Del Rey, Sia, Florence and The Machine, Coldplay, and more, you're transported from sound to sound as tastefully as Bon Iver's self-titled sophomore album was amazing. While not every track is an absolute gem, some of my personal favorites include ToToM's light and fun "Short State + Long Dog = Minnesota", as well his wonderfully tranquil "Calgary Me", and Colatron's synth heavy "Une Bonne Erreur". Listen to all the tracks below, and grab the download here.
[soundcloud url="http://api.soundcloud.com/playlists/6512044" params="" width=" 100%" height="450" iframe="true" /]
With B.I.M.A. out of the way, we turn our attention back to the single tracks that stood out. Starting us off is an interesting cover rendition of Justin Timberlake's "Cry Me A River" over Oliver's "Memories of the Future" as done by Monarchy. You may remember these guys from their take on Phoenix and Lana Del Rey a couple months back, but I'm not sure if this second cover is as strong as "Video Games" vs "Alive". But hey, they took a risk and it works, so for that effort I applaud them. Plus, if you can sing falsetto like that...well then you win in my book.

[soundcloud url="http://api.soundcloud.com/tracks/95859786" params="" width=" 100%" height="166" iframe="true" /]
Another track that I enjoyed was Kasum's "Medicine Time" which made full use of Daughter's lovely "Medicine" as well as The Chainsmokers' remix of "Medicine". Add in Imagine Dragons "It's Time" and you're left with a suave and memorable mashup. Granted, Imagine Dragons' vocals didn't get off to the greatest of starts, Kasum smooths out that minor blip, and before you know it you're swept up in the rhythmic instrumental. I was a little surprised to hear the energy shift to a more energetic feel at the 3:30 mark seeing as the track had established itself as a quite relaxed mashup, but I wasn't overly turned off by the change.
Medicine-Time-(Kasum-Mashup)--EM0613
Download:
Kasum - Medicine Time (Daughter x The Chainsmokers x Imagine Dragons)
Many more tracks can be found below including from the likes of Ricky Cervantes, DJ Topsider, and Ryan Nellis. I quite like Nellis' combination of Santa Esmeralda and Yes, mainly because the quick tempo guitar strumming...reminds me of The Gypsy Kings (cough cough, someone should try to include them in a mashup). But I leave you to listening, as I prepare myself for hang-gliding. And as always, leave any track suggestions and your track preferences in the comments.
Ryan-Nellis---Owner-of-a-Misunderstood-Heart-(Santa-Esmeralda-x-Yes)--EM0613
Download:
Ryan Nellis - Owner of a Misunderstood Heart (Santa Esmeralda vs. Yes)
Ricky-Cervantes---TWRK-MCHNE-(UZ-CRNKN-x-TWRK-x-DJ-SNAKE-ALESIA)--EM0613
Download:
Ricky Cervantes & Auxidental - TWRK MCHNE (UZ & CRNKN v. TWRK v. DJ SNAKE & ALESIA)
DJ-Topsider---Beach-Cruiser-(Rich-Boy-Polow-da-Don-x-DOLE)--EM0613
Download:
DJ Topsider - Beach Cruiser (Rich Boy & Polow da Don x DOLĆE)
Kastra---I-Need-Your-Alienz-(DallasK-x-Ellie-Goulding-x-Calvin-Harris)--EM0613
Download:
DallasK vs. Calvin Harris & Ellie Goulding, Nicky Romero - I Need Your Alienz (Kastra Bootleg)
Techie-Mashups---High-(Passion-Pit-x-Cee-Lo-Green)--EM0613
Download:
Techie Mashups - High (Passion Pit x Cee Lo Green)
Sebwax---Never-Gonna-Leave-A-Lonely-Boy-(The-Black-Keys-x-SIA)--EM0613
Download:
sebwax - Never Gonna Leave A Lonely Boy (The Black Keys x SIA)
Mr.-Hemphill---Fuckin-Problems-x-Night-Call-(Kavinsky-x-AAP-Rocky-x-Drake-x-Kendrick-Lamar-x-2-Chainz)--EM0613
Download:
Mr. Hemphill - Fucking Problems x Night Call (Kavinsky x A$AP Rocky x Drake x Kendrick Lamar x 2 Chainz)
F_cking-Got-The-Life-(GTA-Mashup)--EM0613
Download:
Korn vs. GTA - Fucking Got The Life (GTA Mashup)
GiObAT---Lets-Fuck-I-Follow-Rivers-(Christian-Marchi-x-Lykke-Li)--EM0613
Download:
Lykke Li vs Christian Marchi - Let's fuck I follow rivers (GiObAT Mashup)
HOHME---Reload-the-Sun-(Savoy-x-Sebastian-Ingrosso-x-Tommy-Trash-x-Heather-Bright)--EM0613
Download:
HOHME - Reload the Sun (Savoy x Sebastian Ingrosso x Tommy Trash x Heather Bright)