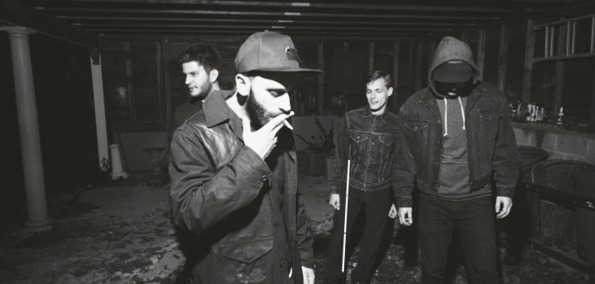 Childhood friends, Sam, Casey, and Noah, better known as X Ambassadors, grew up in a small-town in upstate New York where they began making music that challenged the norm. While kids were listening to folk and country these guys were pushing boundaries, making music inspired by the likes of The Stooges and The Staple Singers. When high school ended the threesome looked to the bright city lights and made the move to the musical hub, we call New York City. Along the way they picked up their fourth member, LA raised drummer Adam Levin. This move proved substantial as it solidified their sound into a groove-fueled take on alt-pop and spearheaded them into their first deal with KIDinaKORNER/Interscope Records. 
Calling their sound a cross between The Police and MGMT, these guys have an unstoppable bond that reflects in both the band's sprit and sound. Their debut album, Love Songs Drug Songs. was produced in collaboration with KIDinaKORNER founder Alex Da Kid (the man behind Dr. Dre, Nicki Minaj, Eminem, just to name a few), and Dan Reynolds – lead singer of Imagine Dragons. (They are currently on tour opening up for Imagine Dragons.) The new EP "finds the Brooklyn-based foursome building off their singular chemistry to create a collection of songs both stylish and soulful." I had a chance to catch up with frontman, Sam Harris to find out more about their debut album, their record deal, and their decision to make the move to New York City. 
Earmilk: Hey Guys, thanks for taking some time to chat with the Earmilk Kids. Let's kick things off with some insight into the insanely lovable "Unconsolable" and how this song came to be?
Sam Harris: "Unconsolable" is a song we've had for a couple years now, actually. We had done a different version of it on our first self-released EP that was a lot bigger, more bombastic... More of a "produced" sound. Then we started playing the song acoustically and found that stripping it down to its bare essentials made it hit a little harder-- it was more intimate, a bit cooler too.  As a matter of fact, it was a live video of the acoustic rendition of "Unconsolable" that first brought us to the attention of Dan [Reynolds of Imagine Dragons] and Alex [Da Kid, KIDinaKORNER Records]. So when it came time to re-do it for Love Songs Drug Songs, it seemed like the right direction to go in.
Thinking about the song itself, I look at it as a feeble attempt to piece together my childhood a little bit.  I think I'm still in the process of figuring out where it's all landed me... How I'm constantly haunted and inspired by the town I grew up in, what it was like growing up the way Casey and I did, etc.  Also the song focuses a lot on repetition. The act itself, and the reasons behind it-- repetition has always been a fascination of mine. Why do we constantly find ourselves getting into the same old shit over and over again? Where does it all stem from? But overall, I think "Unconsolable" is about recognizing that there are a good deal of us in the world who are all trying to figure out the same things, so there's no need to feel isolated. To me, there's something comforting in the idea we're all confused and miserable together. Camaraderie in confusion? Then again, I could be totally wrong... maybe its really about an ex-girlfriend or my dead dog or something. Haha.
[soundcloud url="http://api.soundcloud.com/tracks/91151090" params="" width=" 100%" height="166" iframe="true" /]
EM: What was the recording process like with Imagine Dragons frontman Dan Reynolds and KIDinaKORNER's Alex Da Kid as producers? How does that collaboration come through in your new EP Love Songs Drug Songs?
SH: Dan and Alex are both extremely driven, talented people who are so incredible to be around. These guys are where they are for a reason- their work ethic is undeniable and they are very particular, each in their own way.  Alex was VERY hands-on when we were recording the tracks he produced; constantly chipping away at parts and structure with the rest of the band, while always encouraging me to write stronger lyrics and vocal melodies. Just a simple, "I think we can do better", and I would come up with a million more ideas for him. He and Dan both are the type of people you WANT to work hard for, simply because you know how hard they work themselves. Ultimately, when something is right, it's right and you can feel that; their role mainly was to push us further and faster towards that goal. I think their contributions to our EP can be heard loud and clear on songs like Love Songs Drug Songs and "Stranger"-- loud, bombastic beats, a strong sense of melodic structure, and concise, simple song-writing.
EM: Let's backtrack, how did you link up with Dan in the first place? 
SH:  Dan was doing a show in Norfolk, VA-- a small town that has become our home-away-from-home, when he had to be driven to the hospital for a bad throat cold. While in transit, he asked the driver what he'd been listening to lately and the guy showed him our acoustic version of "Unconsolable" we had done for this blog called Altar TV.  Apparently, he freaked out and immediately called Alex who then set up a phone conference with us back in New York. We all spoke once on the phone, then I met with Alex in London over the holidays for a drink and before we knew it, we had signed to his KIDinaKORNER label and were in the studio cutting the EP. This all happened over the course of just 3 months, during which we cut the EP in two weeks. 
EM:  Another standout on the EP is "Stranger," can you provide us with some background on the song writing process for this explosive track?
SH:  That was the one song Dan worked on with us when we were all actually in the studio together- we had this awesome beat that Alex and the rest of the band had concocted, and all I had was the verse melody and the line "I'll wait for you, I'll wait for you."  I was floundering with the rest of the track, not really sure what direction I wanted to take it in-- when Dan came in, he pushed me to go with my first instincts and make it this kind of pseudo-R&B, Michael Jackson-y track with lots of falsetto and poly-rhythmic punctuation.  It was such a breath of fresh air when we figured out that was where the song needed to go. We all wanted a track on the EP that showed off our love for R&B, and that one takes the cake for us.
[soundcloud url="http://api.soundcloud.com/tracks/91151094" params="" width=" 100%" height="166" iframe="true" /]
EM:  I know growing up you guys bonded over a love for punk, rock & roll, soul, and hip-hop, can you tell me some of the artists that influenced you along the way?
SH:  Noah and I have known each other since we were both 6, so we're lucky enough to have shared most of our biggest musical revelations throughout our lives. The first record the two of us bought together was "The Score" by the Fugees, which is still hands down one of the best hip-hop albums ever. We went crazy over that record AND Wyclef's first solo record, "The Carnival".  The way both of those albums were structured was so incredible to us-- they felt like movies with their recurring characters and themes, their stories that all wove together, and Lauryn, Pras, and Wyclef playing off each other and transporting us completely into their crazy fucking world. From the Fugees, we moved on to other groups like Tribe Called Quest, De La Soul, Black Star, Outkast, etc. (maybe there was a little Will Smith in there... not gonna lie, "Big Willie Style" was a pretty monumental one for us too). Then, from the ages of 10-14, the two of us absolutely worshipped the Red Hot Chili Peppers. That was the first band I ever truly fell in love with and the first band the two of us truly bonded over. I think "Scar Tissue" was the first song we ever played together. We lived and breathed that band from when we were like, 10 to 14. In high school, I remember moving on and falling in love with classic stuff like The Stooges (Fun House in particular), the MC5, Sam Cooke, Biggie, Wu-Tang, Nick Drake, The Velvet Underground... Basically anything I could get my hands on (and, truthfully, anything that would make me look more sophisticated to my girlfriend). But the more we all look back on the stuff we used to listen to, it's totally the early, dorkier musical phases that seem to be the most relevant now. I'm not ashamed to say that most of my musical education really came from seeing what songs the girls went the craziest for at middle school dances. It was always "Baby I Got Your Money" by ODB.
EM:  What album/s have been on your mind lately?
SH:  Justin Timberlake's new record is amazing, I LOVE that Emeli Sande record, James Blake's "Overgrown" is devestatingly beautiful, Miguel and Frank Ocean have changed the face of R&B with both their incredible albums, Kendrick Lamar's new record is killing the game, and I've been obsessing over this Mavis Staples record "Live at the Hideout." She just seems like the greatest human being on the planet. I want to hang out with her all the time.
EM: How did growing up in NYC play a role in the band's sound and career?
SH:  We actually grew up in Ithaca, NY about 5 hours upstate (except for Adam, who's from LA). Pretty much the complete opposite of growing up in New York City. But growing up in a place like Ithaca has had a HUGE impact on our sound and, specifically, on my writing.  I think it was Faulkner that said he always hated his hometown, but that's precisely why he always had to go back and write about it. I feel the same way about Ithaca. For so many years it was my prison, or at least that's what my dumb, hormone-addled teenage mind was telling me it was. I couldn't wait to move to New York City; this magical place where everyone listened to good music and where people wouldn't make fun of me for wearing girl's bellbottoms and t-shirts that were way too small for me (a look I stole from the Kings of Leon... and which, by the way, I looked totally awesome in). It was so incredibly stupid. Now of course, I cherish the fact that I grew up in a small town where all anyone ever listened to was Top 40 and where no one gave a shit that Vampire Weekend was playing a secret show at Boom Boom Room. They wanted to see like, Method Man & Redman or fucking Dave Matthews. And they wanted a huge stadium show where there was no hope of actually being able to move or see what was going on, no need for exclusivity. Ignorance is bliss when you're that age, and I really didn't need to be thrust into the latter quite yet. So as a band, we've always wanted to make music that wouldn't ever run the risk of pigeon-holing us-- having to be stuck in one place and in one scene, never being able to go reach other people and places, is our worst nightmare. It's also probably why we'll never really be a band that's super cool.
EM:  In three words how would you best describe your music?
SH:  No Pigeon Holes
Quick Questions
EM:  What would you say is your "guilty pleasure?"
SH:  No pleasure should be guilty! But sometimes, I listen to my own band... (Wow. I feel 100% guilty about that one. Shouldn't have even said it. But I did, so there.)
EM:  What is one item you can't live without?
SH:  My stupid iPhone.
EM: What is your favorite TV show at the moment?
SH:  GAME OF THRONES!!! LONG LIVE THE KING IN THE NORTH!!!!