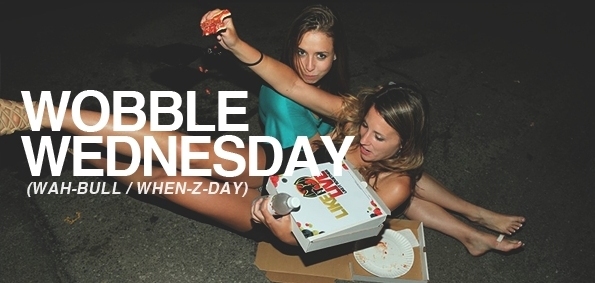 As always, another week of Future tunes, UK Bass, Filth, DnB, and Trap. The filth is heavier, the future is less abstract, and the UK bass is more sub-oriented. I mixed up the drum 'n' bass section with a couple super heavy tracks and a couple chill ones. The trap is...well, it's trap. I'm still waiting to see where this genre goes and if it's really here to stay.
Per your request, all the tracks are downloadable this week (except one of the dnb tunes). I've provided links for the lazy, but don't let that deter you from visiting the pages of artists you enjoy in these posts. Grab and go as you please, but stay longer every now and then.
This week we have two mixes to hit both the future and filth ends of the spectrum. For the first mix, I'm pleased to introduce Four Tet's FabricLive 59 set. The mix was posted on Earmilk two years ago, but not in its entirety. Below you'll find the whole thing in all its glory. It's chill future garage, so be warned.
Mix two is a heavy drum 'n' bass mix from DC Breaks to promote the upcoming Ram Records show at Fabric Live on May 17th. Be sure to check it out if you're in the area. It surely won't disappoint.
TOO FUTURE
Japanese harp plucks and floor toms with a nice reverbed and chorused vocal. How can you not like this? 
.
Groovy future garage tune.
This is a tricky one. It's pretty weird, but it has a four-to-the-floor beat and a heavy baseline.
UK BASS
Classic filth as it was meant to sound according to the great creators, Skream & Benga. Now, before you go off on "OMG BUT DUBSTEP HAS CHANGED SO MUCH WHAT IS THIS STUFF WHERE IS THE TRUE  FILTH", I agree with you. By no means does that erase the history and the potential for more adaptation of the original sound, though.
Sub wobbler from Reso that really needs a woofer to hit its full potential. Your computer speakers won't cut it, but maybe your headphones will.
FILTH
Flux said it best the first time. Now it's time to restate the obvious with a revisit to this age-old classic.
Butch Clancy is really pumping out the tracks, and good quality tracks, too. Great shit from a great guy. Download his remix of Rihanna's "Stay" here.
This tune really is razor sharp. Well, maybe that paper cut I got while listening to it was just a coincidence, but it definitely put me in existential mode for a quick minute.
Screaming bass growls from one of Earmilk's readers, JCRNDA.
If you've made it this far down the list, then you're in for a treat. This track is beautifully melodic and has sound samples that could make a baby coo.
DRUM 'N' BASS
Starts off heavy metal, drops into a filthy, fast-paced dnb monster.
I honestly didn't know dnb could get this insane. As my mother would say, "For pete's sake, TURN THAT RACKET DOWN!" But you and I know "TURNUP!" is the name of the game. Download it here.
"Sandy" refers to how rinsed this is with hihats, shakers, and snares. A truly wonderful sound if you're in the mood for spacey dnb with a tinge of roughness.
This one is an awesome combination of juke, drum 'n' bass, and trap. Solid tune right here.
TRAP
Melodic trap with a heavy festival vibe.
Obviously you know gLAdiator, but Stooki Sound are relatively new. This track shows the power they bring to the table, and boy does it sound good. Download it here.
Labeled as "indian Trap", this is another track submitted by Earmilk readers. Tune In Crew's remix of indie artist Tibbie Young makes full use of the wide range of percussive drums (i.e., djembes, congas, bongos, etc). I love a good hand-drum rhythm in any track.
Crizzly always comes up hard with the remixes. Thanks to him, there's finally a "Thrift Shop" remix I don't want to shutoff immediately. Download it here.
Don't know what to say about him/her/them. ₲RIϺ's soundcloud picture is just a blacked out square and he/she/they only have three tracks up. Nevertheless, the songs hit hard and I'm sure their 37 followers enjoy them.
Synthy trap, perfect for any set.
MIXES OF THE WEEK
Another future mix from easily one of the greatest electronic music composers in the game today. Four Tet is a technically impeccable producer with dreams bigger than our minds can comprehend. His FabricLive 59 mix is the epitome of his abilities as not only a producer, but as a DJ as well. I hope you enjoy it as much as I do. It's one of the few Fabric mixes I've actually bought the physical CD for. Also, I apologize, but you'll have to go to the soundcloud directly, as there is no embeding link available for it.
The lineup for the upcoming Ram Records show at Fabric Live includes legends like Andy C, Cyantific, Loadstar, and Blade Runner. If you can't make it to the show on May 17th, I'm sure they'll release a few mixes from the big names. Here is the event page.