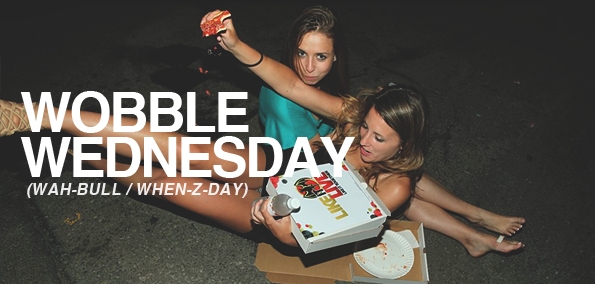 I hope everybody that had the fortune of going to Coachella did so with full force. There's no time for slacking off at a festival like that. In many ways it's like a 5K run uphill, only your music is replaced by 100 subs, 500 speakers, and a song selection that probably couldn't fit on a 64 GB iPhone. I was having a discussion earlier about the biggest festival in existance. My friend thinks it's Global Gathering or EDC, I say Tomorrowland or Ultra. If you've got any ideas, feel free to share. I'd love to settle the debate.
This week is more of a random assortment of tunes I came across sporadically throughout the week. Nothing much to say about the selection, other than I hope at least some of you are using the tracks in your sets or even just playing them out to yourself. As always, I'd love to hear the tunes you guys are listening to, mixing, or making. Got a new EP you've been working on for two years in your grandparents' basement? That mix you've redone about 74 times? How about that playlist you've meticulously crafted to narrate your hotboxing adventures? Send that shit over. Audience participation makes writing these posts infinitely more fun. I'll begin this week with a little promo mix courtesy of the all-powerful and omnipresent @@. Cheers!
FUTURE
If you're not on board with Disclosure, there's not much I can do for you. Even if you sort of like them, or just "don't listen to them," that's fine. It's the people who hate them that I worry about. I met such a person the other day. Sufficed to say, that person will not be invited to my quinceañera.
Totally Enormous Extinct Dinosaurs (T.E.E.D.) is another one of those technical guys that knows exactly what he's doing. This track has a serious deep house bassline, fitting perfectly for a lounge gig.
I'd be remise if I didn't include something too weird for you guys. I think this Freddy Todd track will do the trick.
A member of the Brainfeeder label, TOKiMONSTA's range of productions is pretty expansive. In this one, she dabbles in the future house/garage genre. She's pretty cute too, so there's that.
UK BASS
Preview for the new Friction x Skream track, "Kingpin". It goes back to the grime roots with some verses courtesy of UK's leading MCs, Scrufizzer, P Money and Riko Dan. It's just a preview, but be on the lookout for the full version soon.
This one comes from the Netherlands and hits super hard. It's probably meant to be played in a dank basement or around people who want to get down and dirty.
FILTH
Terravita is known for their outright gritty and synthy sounds. This remix maintains that image.
Arps and chords, soundscapes and female vocals. VenaCava.
Super heavy dubstep remix of an already pretty solid track.
I can't tell if it's electrohouse or dubstep. It has elements of both, and develops into a super heavy track, but the introduction makes me think electro.
Neurohop, a new genre I have yet to hit in the Wobble. These aren't your grandmas wubs.
DRUM 'N' BASS
Half of the upcoming release by GERWIN on the IM:LTD label. Seriously deep vibes on this one. The track links directly to their soundcloud with purchase info. Grab it for the good of all mankind.
More of that dark dnb fresh off Hibea's forthecoming release. These two remixes are, in my opinion, better than the originals. Grab the vinyl on April 29th, if not only for those.
TRAP
Transposed vocal samples go with deep trap better than milk goes with cookies, or marathoning through a TV series on Netflix goes with malnutrition and a lack of showering. This remix is just as dirty.
A dope verse on a dope beat with a dope chorus. A$AP Ferg is another member of the A$AP mob. His flow is pretty solid. Keep an eye out for him.
I really wish the full version of this was out. Biggie has been making numerous appearances on trap tracks. Just goes to show you that people don't easily forget their forefathers.
Simon says, "Play this shit out whenever you can!"
Marching band timing + tribal drums + Kendrick Lamar's "Backseat Freestyle" = one helluvah remix
Everything that's been released from Dirty Duck Audio has been a hit. They really know their shit. Check out this Gold Top remix of "Killer In You".
If anybody has developed with the times, it's Caspa. His new album, Alpha Omega, is massive. This Antiserum x Mayhem remix is really dope as well.
MIX OF THE WEEK
Richie Hawtin (known by many for his Plastikman performances) is to music performance technology as Martin Luther King was to the civil rights movement in America. Where other people didn't want to believe it/take it seriously, Hawtin just fucking did it because he believed it was the right thing. Look at what we have now. More devices and contraptions than we can ever dream of owning or even mastering. More options for beginners in the game, and even more live sound setups.
Enjoy this 70 minute Boiler Room mix, where you can see how extensive his DJ setup is. If I'm not mistaken, he's using a laptop, a Native Instruments Maschine, three Traktor Kontrol X1s, and a Xone 92 mixer with all four channels active. Just...wow. If you're in the mood for more, here is my favorite interview of him where he talks music, life, his career and influences, and the future of it all.