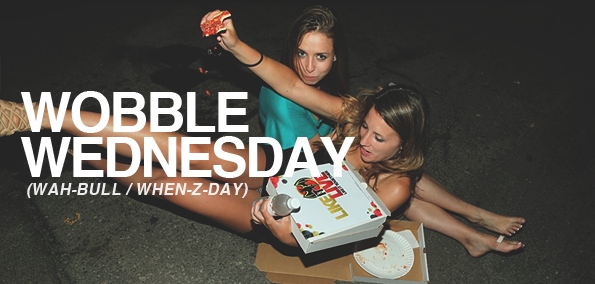 Kicking it with XXYYXX, Mister Lies, and Pink Noise Ordinance this weekend was more than just an honor; it was downright amazing. These guys are at the very front of the underground future scene, spearheading the free-hand sampling game with their strange sounds and wonky song structure. When you get to see such talent up close and personal, it really inspires you. It shows you that going with what sounds good to YOU is what really matters. Don't be afraid to just toss around a bell, slap a vocoder on a bongo, or reverb the piss out of that transposed Barry White sample. I guarantee you'll come out with something you never expected.
While we're on the topic, I feel it's important to share with you my own feelings and frustrations about the production game. If it's one thing I can tell you, it's to NOT. GIVE. UP. Your progress may seem slow and your tracks may sound shitty at first, but sucking at something is the first step to being kinda good at something (thanks Jake). Push through the frustations and the sweat and tears (hopefully there isn't much blood) and you'll see your progress grow exponentially. Nobody is born with 100% production proficiency; it's got to be earned through hard work and persistence.
This week's art feature comes from Jacob Solomon, a Kenyan native.
FUTURE
Organized brain sounds from Pink Noise Ordinance. This kid produces all his own stuff, preparing us all for the coming technocolypse.
Flying Lotus's Brainfeeder label peddles some of the weirdest artists/sounds/tracks you'll ever hear. All you Adult Swim fanatics know about this stuff.
Chill vibes for the upcoming holiday. Light up, lay back, and lock in to this new Spacemanmusic track.
Solid Shlohmo remix of Jeremih's "Fuck U all the time".
More chill vibes, this time from Hackman. Download via XLR8R.
A more upbeat, off-tune future garage track from Sid LeRock. Great for a set introduction. Download via XLR8R.
You've seen plenty of Jakwob tracks in the WW post, but this is an Etherwood remix that sounds like a chill Dub Phizix track with beautiful vocals.
UK BASS
More on that classic dungeon dubstep sound. Two tracks from Matta.
Commodo is a legend in the dubstep scene. This track tells you why.
Enough wobbles in this one to shut down Wobble Wednesday all together. Slow, groovy beat with a kickin' bassline.
FILTH
RUN DMT's tracks always hit the spot, but this Singularity remix steps it up a notch. I don't usually like rap vocals over my dubstep, but this one is done well.
Riot Ten labeled this one as a "trap re-work", but I think it possesses enough characteristics of filth to earn it a spot in this section. Probably a good transition from filth to trap and vice-versa.
I loved Citizen Cope before I dove head first into EDM, so this one holds a special place in my book. Figure always comes out with the most unexpected remixes, and yet they all sound amazing.
DRUM 'N' BASS
Starts off with a similar sound to Muse, but drops into a filthy drumstep tune likened to that of Excision and Figure.
TRAP
The classic SNL "banger" twisted with those appregiated trap snares and looped vocals. It'll have you head-bobbing and on the hunt for chicks in no time. Clark Kent did a great job remixing this one. Grab the free download.
On the heavier side of booty bass with a 2-step trap feel. Vocal loop is pretty funny.
Nobody knows who these guys are. The mystery surrounding them amplifies the affect they have on the crowd, especially when one person asks, "Damn son, where'd you find this?" and the answer is as good a guess as any.
Pretty much the straw that broke your childhood's back. Download via Zippyshare.
Downlink gives us this tune with the promise that without a proper sub, the song "will not make sense." As I always tell you, throw on your cans or plug in the sub and blast this one. Slow, ridin' dirty trap.
So what's the deal with Lil Wayne? Is he all good, health-wise? Whatever the case may be, this Chasing Dragons remix is some dope jump-up trap.
Another Lil Wayne remix, this one from Filthy Disco.
MIX OF THE WEEK
I have a tendency to neglect the filthier side of 140, so this week's mix is dedicated to bringing you all up to speed on where the sound has gone since 2010.
To promote his upcoming show with Fabriclive x Dub Police, Posij has released this short mix of gritty 140 bass music to get you all in the mood. You can read the full article about the event here.
Tracklist
Posij - Laserfilth


D2 - Ace


Posij - Revolt


Posij - Empty Lungs


Noisia ft. Giovanca - My World (Posij Remix)


Posij - 28 hz Scream


Two Fingers - Razorback (Posij Remix)


Posij & Borrel - Cv Promode


Posij - ???


Konichi - Mongrel


The Upbeats & Noisia - Clamber


Noisia & Phace - MPD


Posij - Close Call