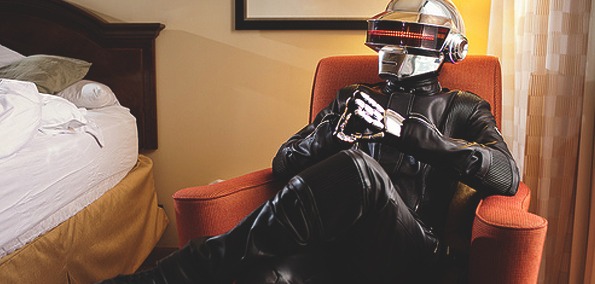 Ah, so Daft Punk was at Coachella after all! Years of speculating whether or not the French dance music duo would ever descend upon Indio's Polo Fields are now quieted with the surprise debut of their teaser trailer for "Get Lucky", the lead single off their upcoming album Random Access Memories. The video was shown across all stage screens at the festival on Saturday night.
According to an in-depth interview conducted by Rolling Stone's Jonah Weiner, both Thomas Bangalter and Guy-Manuel de Homem-Christo were, indeed, actually at the SoCal music and arts fest physically as much as they were electronically. They stood in the VIP section, sans the leather uniform, watching their video debut alongside unknowing festival-goers. 
"Get Lucky" features Pharrell singing to Nile Rodgers on rhythm guitar, flanked by all the vintage vocoders that make Daft Punk so quintessentially Daft Punk.
http://www.youtube.com/watch?v=CGP2rkuEDl4
The rest of the album is stacked with guest appearances such as The Strokes' Julian Casablancas, Animal Collective's Panda Bear, Giorgio Moroder, and more. You can expect heavy influences from the past to dominate the sound of Random Access Memories as Homem-Christo shared with Weiner: "The Seventies and the Eighties are the tastiest era for us… It's not that we can't make crazy futuristic sounding stuff, but we wanted to play with the past."
There are no plans for a tour following the album's release, but being Daft Punk, their involvement in creative projects (like signing onto Kanye's next album) sees no signs of stopping. We leave you with the tracklist of Random Access Memories, which is available off the iTunes pre-order site, and defer to Weiner's interview for the fullest lowdown on Daft Punk to date. 
Tracklist:
1. "Give Life Back to Music" (featuring Nile Rodgers)
2. "The Game of Love"

3. "Giorgio by Moroder" (featuring Giorgio Moroder)

4. "Within" (featuring Chilly Gonzales)

5. "Instant Crush" (featuring Julian Casablancas)

6. "Lose Yourself to Dance" (featuring Pharrell Williams and Nile Rodgers)

7. "Touch" (featuring Paul Williams)

8. "Get Lucky" (featuring Pharrell Williams and Nile Rodgers)

9. "Beyond"

10. "Motherhood"

11. "Fragments of Time" (featuring Todd Edwards)

12. "Doin' It Right" (featuring Panda Bear)

13. "Contact" (featuring DJ Falcon)