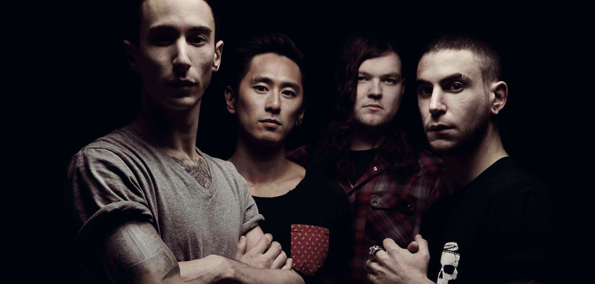 Today is the tenth instalment in our influencer series. We've teamed up with Wavo, the social network for music, to feature top 10 charts from artists and influencers from around the world.   Curators are chosen based on their unique impact on modern music and culture.
UK electronic act Modestep are up on deck today.  Modestep have set themselves apart in the crowded UK dubstep scene by incorporating powerful live elements and stadium rock vibes.  The four-piece act was formed by brothers Tony and Josh Friend in 2010 with J Matthew Curtis and more recently guitarist Nick Tsang.  They first made a name for themselves mixing hard-hitting dubstep with soulful vocals and their unique sound led them to a string of hit UK singles.  Increasingly their music has taken on more and more of an anthemic quality as they've incorporated live rock elements into their music, most notably in "To The Stars" and "Time."  Modestep have started making serious waves in the US with wild performances, outrageous videos and most recently a powerful cover of Coldplay's Paradise city which instantly went viral.
Their influencer chart is big and ravey…. There's headbanging tracks like  Partysquad's Oh My big and tons of melodic buildups and ferocious drops like Koven's remix of Hadouken!'s Levitate.  Even when the guys go progressive with Armin van Buuren it's heavy…  Turn the bass up for this chart.
We've also got two tickets to giveaway to their  show in LA at 
Club Nokia
 April 18th with  
Mimosa, Dirty Phonics and DJ Mugs.    To enter to win just heart your favourite track in the chart or tell us which is your favourite in the comments!
Listen to the chart below and Josh Friend's commentary after.

Powered by Wavo.
1. Bring back the sound ft. Spyda (FuntCase Remix) – The Autobots & Dead Audio
Massive fan of FuntCase and I love the work he has done on this remix! Dark, filthy, tear-out dancefloor filler!
2. Axion (KOAN Sound remix) – Reso
The production in this track is absolutely next level, incredible sound design and KOAN sound seem to be getting better and better with every track they release.
3. Oh My (Club Mix) Partysquad
Amazing vocal hook followed by a nasty trap drop, always smashes up the rave!
4. Soundbwoy – Stylo G
Nice chilled out track with reggae vibes and vocals from Stylo G, followed by a bouncy drop that is reminiscent of an old west coast hip hop track. 
5. Bricksquad Anthem – Antiserum and Mayhem
Not a massive fan of trap, but I absolutely love the energy in this track, it always goes off when we play this one out!
6. Levitate (Koven Remix) – Hadouken!
One of my favourite producers at the moment, Koven is the master of mixing melody with ferocious drops. His remix of this Hadouken! track is one of my top tracks at the moment. 
7. Document One – Already Lost
Our new signing Document One are lining up to take over next year, this track from them proves how they mix beautiful vocals and melodies with face melting drops.
8. Tribal Dance – Farkas
Carnival vibes on this, anti climatic drop and bass line pressure throughout!
9. D# Fat – Armin van Buuren, W&W
Probably the only progressive house track to get played in our set and it's for a reason. Beautiful synths and dancefloor smasher when it drops!
10. Los Angeles Feat. Modestep – Dirtyphonics
Our recent collaboration with Dirtyphonics out now of their album Irreverence, vocal hook from Josh followed by the signature Dirtyphonics drum and bass sound!
 Modestep on Twitter
Modestep on Facebook