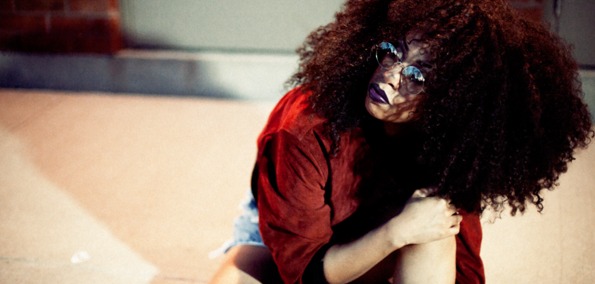 For those of you who are unfamiliar with the name, Rochelle Jordan is an R&B songstress from Toronto, whose unique take on the genre captured my ears and my imagination. The first time I heard of Rochelle, was when she appeared on Red Bull's youtube 'Hashtag$' series, in the episode '#Don'tCallIt AltR&B'. After watching her interview and hearing a snippet of her track "Shotgun", I immediately put her name into google to find more music by her and get a better picture of her sound.
What I heard made the hairs on my neck stand up. Very rarely do I hear a new artist that makes me sit up a listen so intently, making me replay their tracks just to listen more thoroughly. But that's what happened when I listened to Pressure for the first time. It's hard to describe the sound that she has, it's most definitely R&B, but in parts it almost feels experimental, the way the beats and synths collide. Her long time friend and producer KLSH, based out of Los Angeles, covers the production on the album. 
On first hearing, the thing that stood out to me was her voice. The way she switched between different pitches so effortlessly reminded me of the late great Aaliyah. In fact, on her Soundcloud you can find her own mix of Aaliyah songs she has covered. The second thing that stood out to me was how tight the production is. The beats chosen for "Pressure" are matched perfectly to Rochelle's voice, and the whole vibe of the album is laid back. Lyrically, she touches upon some of the more typical R&B scenarios such as love and the pain of break ups. But it's the lyrics that she's written and more importantly the way she delivers them, which can make the listener relate to her situation.
Coming from a city such as Toronto, who has produced the likes of Drake and fellow R&B sensation The Weeknd, some might think there is a certain pressure to succeed. But Rochelle is already gaining support and respect from fellow artists like Jessie Ware, who shouted Rochelle out at her recent Toronto show. By being independent ("Pressure" is available on her bandcamp for as much as you want to pay), her work rate is massive, and the desire to put out new music is strong.  If she keeps putting out quality material like the tracks found on "Pressure" and her Soundcloud/Bandcamp, there is no doubt she's on the path to becoming a huge sensation. You can stream "Pressure" below, and if you visit her Bandcamp (link below) you can 'name your price' to purchase her album for whatever you see fit. In my personal opinion, this album is worth as much as you would pay for a new album from any major label artist.
[soundcloud url="http://api.soundcloud.com/playlists/2347391" params="" width=" 100%" height="450" iframe="true" /]