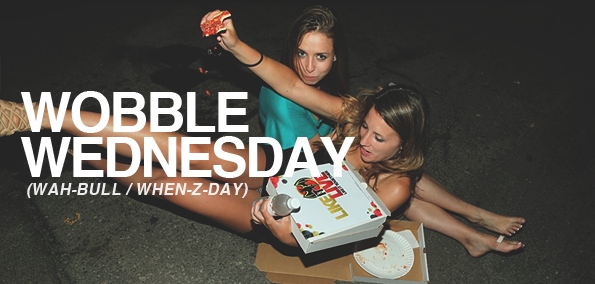 Saw Breakbot in San Diego this week. Heard some funky disco that really inspired me for the upcoming mass exodus to future garage and tech house. The 70s are back and better than ever, minus the rollerskates and parachute pants. Actually, I've seen both at shows, so nothing really suprises me nowadays.
There's a lot of bass this week, especially in the trap and drum and bass sections. Pay close attention to the Hyroglifics and "All Of Me" (Sidestep Remix). This week is rather short, but the tracks are massive. I know I'll be using a few of them for my own sets.
FUTURE
Tranquil and calming, like a beautiful unpopulated beach in the Caribbean.
Pulsating bass with a myriad of rim clicks played like a set of bongos at a slam poetry reading.
Solitary-by-Menjaben---5A---128--EM0413
Download: Menjaben - Soliatry
If you aren't a Claude VonStroke fan by now, you've been missing out. This guy destroys the tent at every festival he plays, and has a pretty serious underground following. F*ck me if these 007 vibes aren't enough to show you why.
Showed this one to my friends last night. They instantly pulled out their cell phones to write it down. That's a good enough indicator that this track is an absolute banger. You'll probably see this one at the front of the tech house train, coming soon to a club near you.
You may be surprised to see a TC track in the future section, but this April Fool's "prank " is no joke. It's got some serious funk, earning itself a spot up here.
FILTH
Why must all the best hype-up tracks be posted as previews?! Can't wait for the full version of this one.
This one's got a meaner growl than Old Man Henry's guard dog.
Together-by-Noisestorm--EM0413
Download: Noisestorm - Together
Basically just a bunch of sounds thrown together in a bowl then given a proper shake, except the result is an organized march with a rhythmic drum line.
Mountaintop filth. Sort of like a half-step juke (there's gotta be a genre for that) take on filthy dubstep.
Spag Heddy is another one of those up-and-comers who throws me back every time. Monster production right here.
DRUM 'N' BASS
These two Skru tracks take me back to the classic jungle sound, where the breaks actually mattered.
Starts off with very hollow breaks, but kicks in something filthy about halfway in.
Sounds like it belongs on Metalheadz Records.
Bright and upbeat drum and bass with a great growl.
This sound should really be considered its own genre at this point. Punchy kicks and meaningful verses paired with enough deep dark bass to scare even the bravest of elderly neighbors.
A nice liquid drum and bass track. I don't post enough of these.
TRAP
As hilarious as the end of "Trap Funeral" is, this song actually has a very catchy hook and an even rowdier bass line. You'll notice some familiar loops in here.
Diplo and GrandTheft (not to be confused with GTA) have been a production dream team for a while now. You may have heard this one at Ultra, but in case you didn't, here it is.
Perfect track for the middle of a festival set.
You know music production comes naturally when you can make a simple "fun edit" for your sets that turns out to be an absolute banger.
I think we can add Figure to the hardstyle trap bandwagon now, though he hasn't lost his filth touch.
MIX OF THE WEEK
Future House & Garage/Tech House
From the very talented decks of Jules Juke, this week's mix is filled with future house and garage goodness sprinkled with some familiar classics.
TRACKLIST
ViLLΛGE ft Wonda - Memories of U 
Ginuwine - In Those Jeans (Murlo Remix) 
Tevin Campbell - Can We Talk (Druid Cloak's Broked n Cloak'd Remix) 
Miguel - How Many Drinks (Figgy Remix) 
Lauryn Hill - Doo Wop (Pedestrian & Maribou State Remix) 
Cosmic Revenge - No One Like You (Kastle Remix) 
Usher - Climax (Figgy Remix) 
Rihanna - Loveee Song feat. Future (Brenmar Club Edit) 
Tyler Lefebvre - Finally (Sweater Beats Remix)