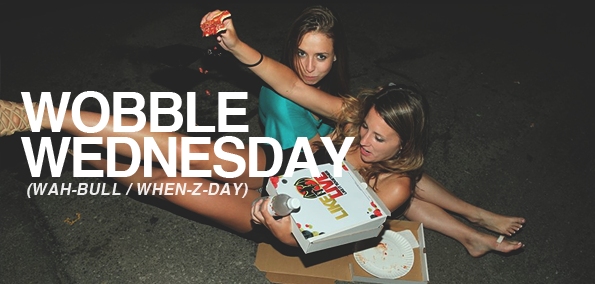 I just got finished listening to @@'s "Harlem Shake" remix, and I've gotta hand it to that kid—he knows how to take what everybody's thinking and make a hilarious mockery of it. It's always great to see the good-hearted trolls come through the woodwork (See: Dillon Francis). It's jokes like these that make hunting for music a pleasure. When I come across a track like @@'s remix, I can't help but stop what I'm doing and appreciate it like a fine wine...if that wine was filled with air horns and ridiculous loops.
I heard you liked the future garage tunes last week, so I added more. The set starts off slow with the Qelaion and Boxcutter tracks, but picks up to a nice jogging pace with DrDr and MyMind. Next up we've got some great 2-step tracks and a couple reggae dub-influenced tunes, followed by that dirty-dirty you guys always fiend after me for. Moving on, we have the weekly drum-and-bass and trap tunes, some of which will blow your Birkenstocks off. This week's mix comes courtesy of RWD.FM's fowl king—Birdmaster Kevin. Needless to say, it's bouncy as all hell.
TOO FUTURE
Breezy and calming. A great way to start the week, as it's not too repetitive but maintains a level of mood synchronicity (just made that up, but sounds pretty legit, doesn't it).
Boxcutter is an IDM producer, much like Squarepusher and Four Tet. This track is a great example of the kind of beats he futzes with.
Love the beat and rhythm on these next three. I don't want to ruin them with my words. Just listen and appreciate the sweet bass juice.
Another Four Tet track for you. Notice how his songs can get rather repetitive, but avoid becoming stale. This is great when you're playing long sets that gradually progress with a slow ebb and flow.
I wish I could give you more than just a preview, because this is a seriously funky tune. Take it all in while it lasts, and I'll try to follow up with the whole version. You can grab the full EP on Beatport.
Perfect mix of sub bass, funky synth rhythms, and inventive sounds fashioned by the mastermind known as Mr. Bill. This track even has a video showing how he made it from start to finish. A solid find for all you budding (and established) producers (Warning: it's 10 hours long).
UK BASS
Starts off slow, but kicks in about a minute-and-a-half into it. This one has a LOT of sub power to it—that nice rolling bass.
The snares and kicks are reminiscent of the Dub Phizix sound. Just bass-y enough to feel it without being overpowered by it.
The bass is introduced in stages, getting heavier with each measure. Distant vocals are scattered throughout, making this a truly dark tune.
These two Widdler tracks have a serious dub vibe to them. Not the abbreviation for "dubstep," rather the true reggae "dub" sound, you feel me? What makes it dub, you ask? Well by definition, "the instrumental tracks are typically drenched in sound effects such as echo, reverberation, with instruments and vocals dropping in and out of the mix… and the prominent use of bass guitar" (source). Tell me that's not Widdler right here.
FILTH
Remix of Daughter's "Medicine". Beautiful rework with some heavy dubstep notes, like the early Zeds Dead slow stuff with a more electro twist.
Melodic and heavy with a drop that would make the eldest of women jump out of their seats.
Let the heavy flow through you. "It's all BANG, BANG, bloody BANG to me! FAHK OFF!"
DRUM 'N' BASS
Exactly what I expect from a monster like Specimen A. Fast and heavy, this would go nicely with a glass of red jungle juice at that abandoned-warehouse party you're friend has been trying to get you to hit up.
It's not grime! It's not hip-hop! NO! IT'S DNB SHIT!!! Dark shit at that.
Fresh off GoodLooking Records (a.k.a. GLR), this Phat Playaz track has the classic underground dnb sound with plenty of cymbal and 16th notes on the snares.
TRAP
Chill trap beat with Dell Harris, Villa, and Rome Fortune on the mic.
I wanted to post the original, but it's rather old. Instead, here's the newer UZ remix. As always, it's a banger.
Reminds me of Birdy Nam Nam. The two definitely go well together.
From the makers of that crazy Jungle mix I gave you in Week 7.
Not the newest of remixes, but a banger nonetheless. This is great for transitions from real southern trap to that new hardcore-style (not "hardstyle") trap.
The intro sounds a lot like a Beastie Boys beat, but quickly goes into some swing trap. I guess that's a thing now.
MIX OF THE WEEK
HOUSE/IDM
Yet another crucial member of the RWD.FM crew, Birdmaster Kevin comes at us this week with a bouncy house set filled with plenty of future tunes and IDM. The mix has a nice spring/summer vibe to it. After all, this guy is all about the bird sounds. Enjoy this week's birdhouse beats and catch BMK's Bird Facts every Tuesday from 8pm-10pm on RWD.FM.