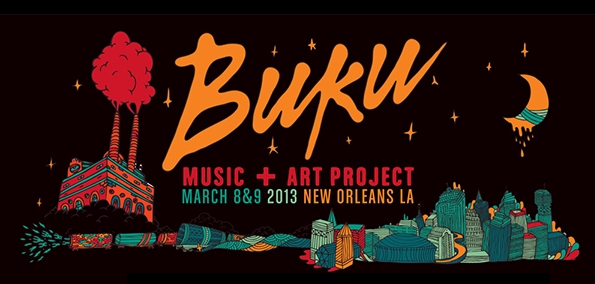 The eve of BUKU Music + Art Project has creeped up on us, and we, the EARMILK staff, couldn't be happier. Sporting a robust lineup of hip-hop artists and electronic artists, the organizers of BUKU have created a festival that usually signifies the start of festival season. Taking place in the historic city of New Orleans, BUKU boasts 4 unique stages and a VIP-only riverboat that promises great music, great atmoshphere, and one hell of a time. Tickets are pretty scarce (official site lists single-day Friday VIP passes as available), so click the link below and start scouring the web for tickets.
UPDATE: BUKU organizers have re-released a limited supply of General Admission tickets here. GRAB THEM HERE
Check out an official BUKU video, and get to know some of the artists that will be playing each day below.
March 8, 2013
With artists such as Kid Cudi, Shlomo, Earl Sweatshirt, St. Lucia, Birdy Nam Nam, Flying Lotus, Japandroids, and many more performing tomorrow, BUKU certainly isn't messing around on the first day. Cudi and St. Lucia grace the Power Plant stage, while the Float Den stage hosts festival favorite Zedd as well as Shlomo, Flying Lotus, and Birdy Nam Nam. It's a safe bet to say that the music will be vibrant, and the drinks will be flowing.
March 9, 2013
If you were excited for Friday's lineup, then Saturday's lineup is the equivalent of the nectar of the gods. With sets from Kendrick Lamar, STS9, Nero, Ryan Hemsworth, Trinidad James, Major Lazer, RAC, Icona Pop, Flosstradamus, Dillon Francis, and countless others, the energy shall be climactic. If I were actually going to BUKU, then it'd be near insanity to miss the performances of Kendrick, RAC, Ryan Hemsworth, and STS9. Icona Pop and Action Bronson would be other artists I'd have trouble justifying missing out on.