A. Mazing is what this is. 
Polymath Alejandro Chal, better known by his stage name A. Chal, has just dropped what may be one of the best EPs of the year. We're only two months in, and the blogosphere tends to talk up music to the point of off-shooting its quality, but this really is good stuff.
The seven-track EP, titled Ballroom Riots, plays out like the emotional wringing out of  a man unable to escape the endless party culture that once nurtured him. All he has left is to document his escape from ballroom riots (see: "Ballroom Riots), cryptic romance (see: "Roses On Your Silhouette"), and celebrity worship (see: "Touch Me Like I'm Famous"). 
There are some missteps along the way, but one listen to Ballroom Riots suggests that missteps are what have raised Chal's talents to where they are now - something that A. seems to embrace. After all, on the final track "On N On," which features Alex Burnett, Chal cooly sings, "The drama, the drama, I love it."
[soundcloud url="http://api.soundcloud.com/playlists/3775769" params="" width=" 100%" height="450" iframe="true" /]
You can download the EP via Mediafire. Or check out the hypnotic trailer for the EP below (which A. Chal also co-directed).
---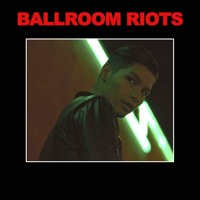 ---