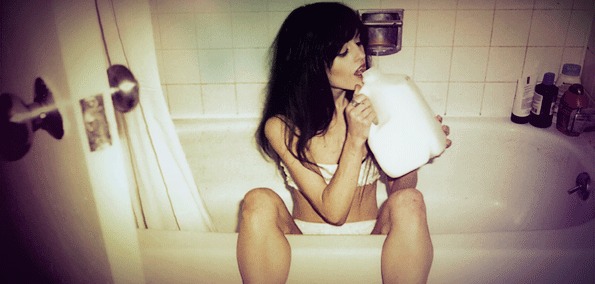 Shannon Esper and Jake Rabinach are two ex-lovers living in Brooklyn, four blocks apart from one another. After their breakup they formed the Echo Friendly and their story is what won me over. Shannon and Jake have been acquaintances since they were children. They both attended the same elementary and junior high, yet they weren't exactly friends. In the summer of 2009 they linked up on a movie called Open Five. Their story goes a little something like this, "That's how we met, and then we were friends, and then we dated, and then we stopped dating, and then we started dating…" That's what brings us to the present time. There is a power in music; that is, that no matter what your past holds, the bond of music stands the test of time.
I was fortunate enough to catch the twosome and their band at New York City's Mercury Lounge on Valentine's Day. With a small crowd of a little over 100 people it was intimate, it was inviting, it was a night well spent. Their sound is a mixture of the melodic vibe of The xx, the driving rock influence of Broken Social Scene, with the dynamic pop duo feel of Mates of State. You might remember their song "Same Mistakes" from the Golden Globe-winning show "Girls." The song calls attention to our ups and downs, in life and the age-old question of when you will grow the fuck up. The duo weaves in and out vocally, between misdeeds that are melancholic, reciting, "I never did grow up/ Feels like I never will" and confessional "My friends are such a drag/ They think I'm such a flake" that all round about "I haven't changed a bit/ I make the same mistakes" in a candid moment of self-effacing awareness that's vital for any forward thrust. Their vocals seamlessly complemented each other from track to track. Seeing their interaction on stage was interesting to experience, especially on a day like Valentine's Day. You could see that the duo have a history, but they looked more like friends loving what they were doing, that being bringing good music and good vibes. 
From start to finish I loved every second of their set. They opened with "Worried" and played other favorites like "There's A Part Of Me Nobody Sees But You," and "Supplies for Arson". Never had I once experienced such a unique, visceral performance on stage. Here are two individuals, completely opening up to an audience of strangers, spilling their guts about their break up, faults, insecurities, and their struggles along the path to recovery.  Seeing these ex-lovers on stage reminded me of John Cusack's opening lines in High Fidelity: "What came first, the music or the misery? People worry about kids playing with guns, or watching violent videos, that some sort of culture of violence will take them over. Nobody worries about kids listening to thousands, literally thousands of songs about heartbreak, rejection, pain, misery and loss. Did I listen to pop music because I was miserable? Or was I miserable because I listened to pop music?" The Echo Friendly provides a unique look at breakups, forming a constructive means of recovery during a time of confusion and agony. With such a raw and unique sound propelled by a compelling story fit for a dramatic television series, we can expect big things to come from these two.