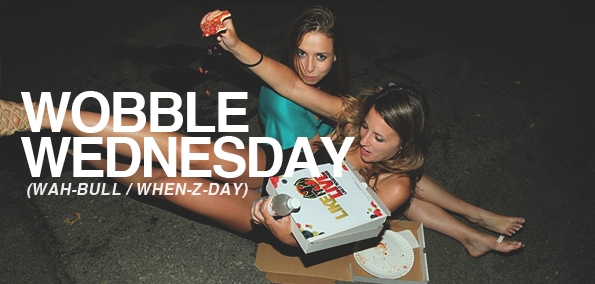 I've got a whole slew of fresh tunes for you this week. In my search for a comprehensive and diverse Wobble Wednesday, I noticed that we lacked a chill side. That's why I hope you enjoy the new category: Future Beats. Don't worry, your weekly dose of filth and freshness hasn't been compromised. I just want to appeal to everybody's tastes and interests. Be sure to check out the "White Noise" feat. AlunaGeorge track from Disclosure, it's my favorite of the week.
I would also like to extend a welcoming hand to any artists/painters/sketchers/etc who would like to have their work featured in the weekly Wobble. You can contact me at the email provided at the bottom of my posts, or on Twitter, @BeerCanDid. Have a great week and don't let the Harlem Shake rustle your jimmies too badly.
FUTURE BEATS
To start off the Future Beats groove, I wanted to give you a real heady tune. Reminds me of Bonobo- and Emancipator-type stuff. This Monokle track is fire. Enjoy it, because there's certainly more where that came from!
This DJ Joe Block track has a weird chill-trap feel to it. Very nice and calming.
This is some French House tuneage for you to get jiggy with. Has a nice summer sound while maintaining a level of dark mystery (probably a result of the chord progressions).
I absolutely love this track. It has a really nice minimal techno sound paired with house vocals. Great for a bar or lounge set. One of those tracks played as background music but which catches your attention instantly.
UK BASS
This is ripped from the Royal-T Rinse FM mix, so you can get a taste of a proper mix and spin-back. I really enjoyed this tune. Reminds me of Bowser's Castle.
Xavier Rudd – Lioness Eye [VIDEO, 7:38]
One-man dubstep band with two didgeridoos. What more can I say?
FILTH
Starting off this week's Filth with some party bass. Heavy buildup with an even crazier drop.
Beautiful vocals, house-y buildup, heavy drop, complex body. Like a beautiful girl or a properly-aged scotch. Actually, it's nothing like a girl or a scotch, but don't worry, it makes sense if you don't think about it too hard.
Another heavy remix for your faces.
Your weekly Skrillex/Datsik/American Filth track.
DRUM 'N' BASS
This one starts off heavily rhythmic and gritty. Drops into an almost Calyx and Teebee body with more layering than a seven-layer cake (as that would only be seven layers).
Classic DnB sound. Really hits the spot, as GLR artists always does.
Good follow-up to the previous LTJ rework. More vocals though. These two tracks would go well together.
TRAP/JUKE
I've been fiending for a solid "Hustlin" remix. Gotta count on Luke Da Duke to deliver such a diverse edit. This track evolves three times, each stage crazier than the last.
Heavy on the dirty-dirty groove. This is a great festival track, as the bass pretty much destroys everything in its subby path.
Another great festival track from the good graces of D!RTY AUD!O and Tarantula Man. Blast this one.
Here's some Juke/Footwork/Philly Club. Whatever you want to call it, it's new and it's awesome. I'll try to throw a track or two in each week from now on.
BONUS! My favorite "Harlem Shake" video so far:
MIX OF THE WEEK
We've got a big mix this week. Some old school house vinyl mixed with low end wubs, courtesy of the main man, Dan, in Allston (@Dan_inallston). Goes very well with the "Future Beats" feel I'm aiming for this week.
"Whole lotta house & techno & garage to wobble to. Mostly vinyl with a few digital freebies and forthcoming dubs. Recorded straight from the mixer, one take, no post-processing; so let's just say there's a decent amount of the 'human element' with some of these blends.  Oh well. My b. I apologize, I guess." - Dan, in Allston
Tracklist
Recondite - Jaded [Acid Test]

Melo & Kaiten - Leary [dub]

Anthony Naples - Mad Disrespect [Mister Saturday Night]

Midland & Breach - Somewhere [Nakednaked]

Dusky - Henry 85 [simple]

Duke Dumont - The Giver (locked groove remix) [whitelabel]

Prince Club & Steve Huerta - Can't Let Go [Amadeus - freebie]

Quentin Harris - Beautiful Black Women (Zed Bias remix) [Swamp 81 - freebie]

George Fitzgerald - Needs You [Hypercolour]

Jacques Greene - (Baby I Don't Know) What You Want [Night Slugs]

Ordinary People - Baby You Make My Heart Sing [Social Circles]

Blawan - Bodies [Hingefinger]

Animal Youth - Crackle [Lobster Boy]

My Nu Leng - Waltaknocks [Lnuk - freebie]

Jon Convex ft. DBridge - Stay [3024]

William J - Handzup [dub]

George Fitzgerald - Hearts [Man Make Music]