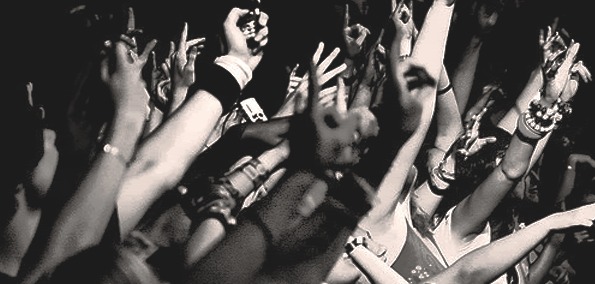 I always enjoy when local artists advance their careers in this increasingly competitive and cutthroat industry, which is exactly what's happened with the electro house trio AndDrop!. This team, comprised of Joe Wiseman, along with brothers Harris and Sylvain Kauffman, has taken their college dreams and turned them into a reality. Having recently been signed to the promising new label Techibeats Records, AndDrop!  wows us today with Booglaloo, their debut EP out now on Beatport. To give you a bit more insight about the guys, read on for an exclusive interview and full EP stream.
Earmilk: I know you recently moved to San Francisco, has this had any effect on your music (good, bad or otherwise)?
AndDrop!: Definitely helped us network and meet some great people in the scene. In our first two years we weren't too far away in Berkeley, but being in "The City" has gotten us way more attention. Although we made a name for ourselves in college, having credibility in a big city like SF helps out. 
Earmilk: What's the biggest lesson you've learned so far and from what experience did it come?
AndDrop!: The biggest lesson we've learned so far is to just stay persistent and keep focused on what we want to achieve as artists. We recently had a conversation with Bassjackers after a gig in SF. They reminded us that if you put enough time and energy into your craft, you'll eventually find yourself with a "Mush Mush." Let's see if we can achieve that!
Earmilk: What's one thing you wish someone had told you when it comes to producing electronic music?
AndDrop!: We're entirely self taught producers. When we first started making music in the dorms at Berkeley, it was all trial and error. If someone more experienced could have shown us the basics early on, it could have saved us a lot of time learning the functions of every single parameter on every synth and plugin. That said, it's always fun to listen to our early tracks and see how far we've come.
Earmilk: How does it feel to be signed?
AndDrop!: Really awesome. We love our family at Techibeats. Definitely is great to know that a lot of people support our work and will help us spread it to the world. 
Earmilk: What were your inspirations for this EP and why these tracks? Were they just the ones on hand at the time or was there a method to the madness?
AndDrop!: We really got into the whole Melbourne house scene last spring. We just kind of stumbled upon it at a time when our productions were sounding the best they ever had and we felt ready to share our sound with the world. We were playing out tunes from guys like J-Trick, Deorro, Reece Low, Zoolanda, Jayyfresh, etc. and it seems as though the sound has blown up quite recently. It just all kind of fell in place and made sense for what direction we wanted to take our sound.
Earmilk: At points Boogaloo really touches on this new subgenre/sound in electro house, best characterized by artists like TJR and Will Sparks. Can you talk more about this?
AndDrop!: Yeah definitely it is kind of an evolved version of Dutch House, but most of the artists dominating the sound are coming out of Australia. It has minimal elements at times, but progressive parts as well. It is groovy, funky, and just epitomizes everything great about electronic dance music. 
Earmilk: What equipment did you use to produce this EP?
AndDrop!: We do all our production in Logic. Almost all of our synth work is in Massive and Sylenth.
Earmilk: If you had 10K to spend on your craft, how would you spend it?
AndDrop!: A soundproof studio!
Earmilk: Favorite artists of the moment: 
AndDrop!: Reece Low, J-Trick, Disclosure

Earmilk: Favorite tracks of the moment: 
AndDrop!: Congorock ft. Sean Paul - Bless Di Nation (Torro Torro Remix), Sammy La Marca – Machine Gun (Swit Remix), Shadow Child – 23
With that in mind get your headphones on and take a listen to Booglaoo, a three track adventure into the hearts and minds of these young artists. Ranging from melodic to rage-worthy, this EP will be sure to get fans jumping (and cause new fans to join the ruckus). I'd start with the skittering melody of "Refuge," which carries a listener along until an unexpected drop into a stomping march of epic proportions. Bringing it up a notch, "Mile's Song" delivers on the promise of a new subgenre of electro house. You have everything from this slapping synth line to surprising woodblock elements, all layered together in a cohesive blend of scintillating sound. However, the track "Boogaloo" really takes the cake: the builds are tremendous and the drops repeat-worthy. In it you feel the true contrast of tech versus electro, making a unique song that gets better with each listen. Congratulations to AndDrop! for a stunning debut EP.
[soundcloud url="http://api.soundcloud.com/tracks/45962009" params="" width=" 100%" height="166" iframe="true" /]
[soundcloud url="http://api.soundcloud.com/tracks/73983058" params="" width=" 100%" height="166" iframe="true" /]
[soundcloud url="http://api.soundcloud.com/tracks/73985137" params="" width=" 100%" height="166" iframe="true" /]
AndDrop!
Boogaloo EP
Techibeats Records
1/7/13