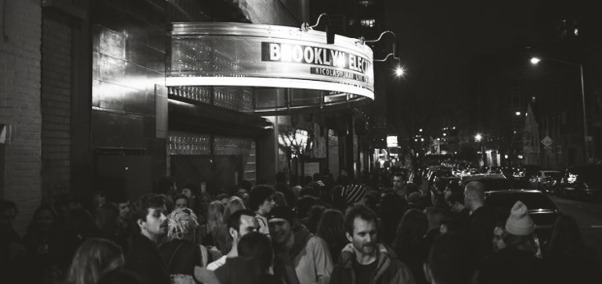 Even though Electronic Dance Music, EDM, has surfaced as the next big thing, the niche for underground dance music is thriving in a way of its own.
Brooklyn Electronic Music Festival
is a club-to-club festival focused around electronic music and visual arts. In its fifth year (
we did a review last year as well
), BEMF continues to showcase an array of artists, both established and up-and-coming, representing the eclectic forms of hip hop, bass, house, techno, and IDM amongst others. 
Deadboy, member of the UK label Numbers, filled the air early on with some nice funky 2-step and garage. He played a couple of crowd favorites, but what really hit well was a remix he played of Missy Elliot's "4 My People". MAW's track "Deep Inside" reminded people there's still a love for classic NY house. 
Omar S from Detroit represented a more straightforward look at house and techno. His somewhat early time slot wasn't exactly what the doctor ordered but he really entertained the crowd nonetheless. He played a couple jams from his excellent FXHE label like "Here's Your Trance Now Dance" and "S.E.X.". It was a great roller coaster of a set, going from deeper vibes and soulful house to harder, abstract Detroit techno. Highlight came when brought in the '95 Henry Street classic, Scotti Deep's "Brooklyn Beats". BAM!
Busy at the Williamsburg Music Hall, the largest venue of the festival, Photek played a hi-octane set to the festival goers. The DJ/producer made his name in the old school house days of the 90s, where he collaborated with a number of artists, including Chicago legend Robert Owens. On this night, though, he was rocking the place with big room electro, tech house, and breaks. The set sounded great on the superior sound system and really resonated well with crowd.
Jackmaster, co-founder of Numbers, showed off his diversity by mixing it up with some vocals, techno, electro, nu-disco, and deep house. The set was a lot of fun, primetime and rocking. Some tracks that rocked the audience were Daniel Ansorge's "Geffen", Floating Points' "Shark Chase",  and the awesome Todd Terje's "Inspector Norse". The rest of the set was just as playful, with some sampled house cuts and arpeggiated electro. 
BEMF was quite the success overall. Their forward-thinking attitude towards music seems to be the driving force of this festival, as it should be. The diversity of artists really meant that anyone and everyone could attend and find something they'd like and/or open up to something new. This meant that you could hear an avant-garde artist like Nicolas Jaar or the "queer rap" of Mykki Blanko or local New York house heroes Metro Area. I'm really looking forward to see where this festival goes next year, because it can only go further up from here!
Photo Credits: Oliver Correa & Amanda Rohowsky / HiFi Cartel