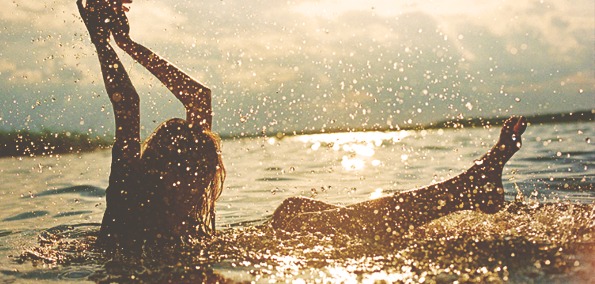 West Coast native Jeff Montalvo more widely recognized by his EDM moniker, Seven Lions, is breaking genre rules and defying boundaries these days. While primarily labeled a dubstep producer, Jeff doesn't consider himself confined to just dubstep, and is simultaneously pursuing other genres. His main concern lies in experimentation and finding out what turns his listeners on. With a new EP under his belt and a new label behind him, this enchanting producer doesn't seem to deliver anything less than perfection. Montalvo recently joined Skrillex's OWSLA label alongside some very fresh beat makers including, Birdy Nam Nam, Kill the Noise, Koan Sound, Zedd and Porter Robinson. Let's just say he has found himself in some very good company.
His Days to Come EP dropped a few weeks ago and the critics have been singing their praises. The entire album showcases his flawless production and knack for creating hauntingly captivating tracks. The 4 track EP packs a major punch, as each track differs in their own way, but still manages to stay cohesive. There is a certain vibe one feels when listening to his music. He takes you on a journey and entrances you with that sweet ole' bass. 
The first self titled track, "Days to Come" features the hauntingly beautiful vocals of Australian singer, Fiora. The only dubstep track on the album puts your mind and ears in rapture from start to finish. The track pulls you in with the exquisite vocals and then hits you with that deep melodic bass that boosted him into the spotlight. The lyrics perfectly capture the essence of Seven Lions unique style.  As Fiora sings of losing feelings to oblivion, I felt I lost all my stress to the beautiful production.
Next up "The Truth" a progressive house track that demonstrates a totally different side of Montalvo's ability. The progressive beat combined with simple dubstep elements interspersed throughout, effortlessly come together in this made-for-big-speakers track.
"Fractals" enters the world of Electro House. Beginning with those driving drums and delicate vocal snippets. Keeping with my rollercoaster metaphor, this would be Space Mountain. If you aren't familiar Space Mountain it is a space themed indoor rollercoaster. With that said, the track displays an oddly similar resemblance to the Magic Kingdom ride. You strap in for pre-launch, you are immersed in darkness with views only of the universe and space and suddenly blastoff as you rocket through the neon lights, galaxies of stars and shooting meteors. You press play, your feelings at ease with the shadowy vocals as your mind enters a deeper space, then at 1:31 you are launched into a cosmic voyage provided by a electro wobbles and tempo variations. The track puts Seven Lions mastery of genre defying on display.
Last stop on the ride a glitch hop track. "She Was" ft. Birds of Paradise is a beautiful collaboration. The track stays true to his magnetic vibe and fondness for blissfully unrecognizable vocals. Here he owns the glitch hop genre with superb production.
The entire EP proves the Seven Lions is not just a man of dubstep, he is a man with an insanely unique style whose craft should find its way into your playlists. Take a trip down the rabbit hole with Jeff's new EP and check out my interview with Jeff where he explains what's in store for the future and why he is not just a dubstep producer. 
Earmilk: For your fans that want to know more about Seven Lions, can you tell us a little about yourself? Where did the name come from?
Seven Lions: My name is Jeff. I live in Santa Barbara with my lovely wife. We have a dog named Khaleesi and a cat named Lucy-Fur (Clever huh?). I like Metal music and drinking good beer with my friends. The name "Seven Lions" came from a book written by my favorite author, Gene Wolfe. I am a big time fantasy novel geek, but I don't get too much time to read anymore.
EM: You have a very unique sound, in your own words how would you describe it?
SL: Hmm. That is a tough one. Honestly it's really hard to describe my own sound because I have such a unique relationship with it.
EM: I know you grew up surrounded by music, playing the drums, bass, and guitar, at what point did you decide music was going to be your career path?
SL: I never really planned on music being my career path. It has always been a hobby. One of the reasons this year has been so epic and overwhelming is because it's just taken off in that direction so I am going with it. I'll always make music whether it's a career or not.
EM: What's the music scene like in Santa Barbara?
SL: It's like a family. Very cool. Everyone knows each other and all the best parties are the ones that are never even promoted.
EM: Your new EP is blowing up! It's number one on Beatport's top 5 albums of the week. What do you think about that?
SL: I am so stoked. I was worried that people would just pick out the 1 dubstep song and leave the rest. The fact that people are interested in the EP as a whole really really makes me excited. I don't plan on moving away from mid tempo broken beat music like dubstep, but I do plan on going off in more interesting directions and that is really exciting to me as a musician. The response just gives me more inspiration to go further down the rabbit hole.
EM: How did you link up with the OWSLA crew? 
SL: My awesome management team hooked that up. Row met Sonny at a festival in  Germany and they hit it off.
EM: How would you compare your Days to Come EP with Polarize?
SL: Interesting question. I think they are very different. Polarize was a bit rushed as a whole because I just wanted to get the songs out there, if I could do it over I would have put "Isis" and "Tyven" as a separate release. At that time the only thing anyone had heard of mine was my remix of "You Got To Go". Days To Come was much more thought out as far as the release being one whole package with a theme. I want to continue on that road. I miss the days of getting a CD with an awesome piece of art and a theme that has depth. I want to try and bring that sense of cohesiveness back, it's hard to do it in the digital age though.
EM: What kind of creative process did you go through for the EP?
SL: It's pretty much the same process with every song. I write very linear, start with the intro/theme and then work through it from there. I tend to spend 3-4 weeks on one song. This year has been a big transition for me and I think that comes out a lot in the diversity of the EP.
EM: What's in store for the future of Seven Lions?
SL: We are working out plans for a tour next year and then hopefully after that I can spend some serious time in the studio and make some more music!
EM: Any final words you want to leave us with?
SL: Thanks for the great questions :)
EM: No thank you Jeff! Keep the good tunes coming our way :)!