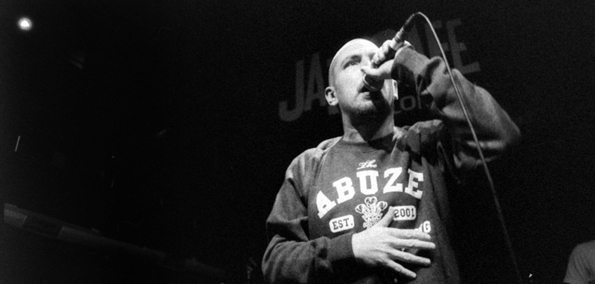 Looking at this interview, it's fairly easy to see why Jehst has the moniker he does. In true Brit style, Jehst's responses are littered with humour. The UK rap heavyweight dropped his newest project/concept album Kingdom Of Fear last month via YNR Productions, entirely produced by Jehst. US gonzo journalist Hunter S. Thompson is said to be the inspiration behind the album. Thompson is most renowned for his 1966 publication of Hells Angels: The Strange And Terrible Saga Of The Outlaw Motorcycle Gangs.  Kingdom Of Fear features vocals from a rather intriguing mystery MC (who name is yet to be revealed but the whisperings have been alluding to London MC Kashmere). Whomever the mystery MC actually may be, this is a formidable offering from Jehst and perhaps one the hottest UK releases of 2012.
Have a gander at this very British interview and then purchase a copy of the album. Well worth the £8.49.
EARMILK: You have been doing this for well over a decade now. Has the industry changed much?
Jesht: Does a bear shit in the woods?

EM: Has it changed for the better?
J: Well, personally, I've never much enjoyed the smell of bear shit...I leave that kind of stuff for the Simon Cowells and Colonel Gaddafis of this world. There's good and bad points to how the music industry has changed, but it's all pretty boring and too long to go into here... Especially when we could be talking about Jaffa Cakes. Or even Chocolate Digestives. Seriously though, the industry is a cold and desolate wasteland; a gothic marketplace where human souls are bought and sold on a daily basis. That reality is a constant.
EM: What separates UK music from its US counterparts?
J: The Atlantic Ocean.
EM: The 'Jehst is my Postman' campaign was marketing gold. Did people honestly believe you were a real postman?
J: They still do. I go jogging every morning in full Royal Mail regalia just to confuse my neighbours.

EM: Your 2011 album, The Dragon Of An Ordinary Family, was very well received. What did supporters love about it?
J: You'd have to ask them! I guess the fact that I just do what I do and stay true to my musical instincts rather than sell myself short re-hashing the same 'urban' bubblegum bullshit.

EM: Do you think this was your best work to date?
J: It's the perfect Christmas gift for all the family! Yeah, I guess I like to try and think that whatever I'm dropping next is a step up from the last record, otherwise, what's the point? Everyday's a school-day right?

EM: Is going completely mainstream a wish you have? Will we ever see Jehst making a straight pop song?

J: We all have different ideas about where the 'underground' ends and the 'mainstream' begins. You can make a record following a 'pop' formula but it won't necessarily become a popular record. I think all artists would like their records to be popular, but not necessarily to be seen as 'pop' artists. It's all subjective... If what you really mean is, will I ever sell myself out to the cause of the 1% Capitalist elite and build weapons for their propaganda war – as so many rappers continue to do – then the answer would have to be, hmmmmm… Pretty unlikely. Depends how broke I am...
EM: You produced your new project "Kingdom of Fear" (out now). What can you tell us about it? Who else is on the project?
J: Duke Rango and Dr Gonzilla, Son of The Samoan - they're the prime culprits responsible for this debauched mission statement. Then you've got all the usual hangers-on... It's a concept album inspired by the work of the late, great Hunter S. Thompson with me on production, Galactus from the Marvel comics on lead vocals and Vanilla Ice on tea-making duties. Shout out to MC Hammer for inspiration and spiritual guidance.

EM: What's next for Jehst?
J: Cod. Chips. Mushy peas.

EM: How would you like to end this interview?
J: With Ketchup. Peace.
---
---