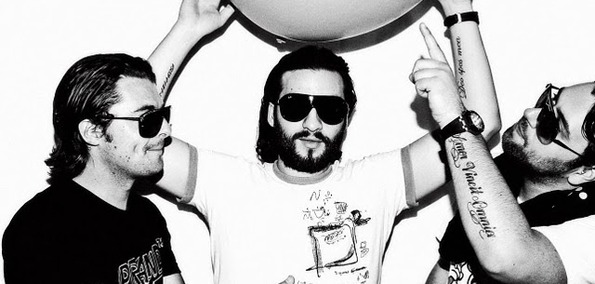 Swedish House Mafia has released their final album today on EMI Records, entitled "Until Now." The name itself pays homage to the trio's robust career by referencing their 2010 album "Until One." Not only was this the group's first full length house album, but it was also the first of its kind to be produced as an LP rather than a mixed work or EP. The move to release a dance album in this format was surely a sign of the changing marketability of house music, and may have been a tipping point for the huge developments we've seen in recent dance music culture. 
Swedish-House-Mafia---18-M-3ox-feat.-Heidrun-Beating-Of-My-Heart-(Matisse-Sadko-Instrumental)-_-The-Temper-Trap-Sweet-Disposition-(watermarked)--EM1012
Stream:Swedish House Mafia
 - M-3ox feat. Heidrun – Beating Of My Heart (Matisse & Sadko Instrumental) / The Temper Trap – Sweet Disposition
"Until Now" isn't necessarily for those looking for completely new songs -  it's more about having an collective history of Swedish House Mafia all in one place.  It includes many of their favorites as a group and as individual artists: new mashups that we've only heard mixed live before, as well as the new track "Lights" by Steve Angello & Third Party. In another nod to their debut album, the Deluxe version of this new release also includes many of the original tracks from "Until One," like Steve Angello and AN21 & Max Vangeli's remix of "The Island."  
Swedish-House-Mafia---12-Steve-Angello-Third-Party-Lights-(watermarked)--EM1012
Stream:Swedish House Mafia
 - Steve Angello & Third Party – Lights
This is SHM's last statement to be made as a group, and their last move to curate their sound for everyone to remember. And again, the trio is creating new norm, as they're calling this release a "soundtrack" rather than an album. Even in the dawn of their breakup, they've remained instrumental in guiding the EDM wave and its new listeners to expect powerful, hard hitting songs with unparamounted production. Beyond the newer releases like "Don't You Worry Child," the most iconic tracks on the final album from the group are still Axwell's remix of "Resurrection," and Matisse & Sadko's remix of "Beating of My Heart." These songs have defined the record breaking 2011 that Swedish House Mafia had: selling out Madison Square Garden in record time, and expanding their brand worldwide. 
As this release proves, the guys are still all about the experience they create. Now all we can do is to look forward to the ultimate finale in the group's history: One Last Tour.
Swedish-House-Mafia---04-Sebastian-Ingrosso-Alesso-feat.-Ryan-Tedder-Calling-(Lose-My-Mind)-(watermarked)--EM1012
Stream:Swedish House Mafia
- 04 Sebastian Ingrosso & Alesso feat. Ryan Tedder – Calling (Lose My Mind)
Swedish-House-Mafia---08-Michael-Calfan-Resurrection-(Axwells-Recut-Club-Version)-_-Coldplay-Paradise-(watermarked)--EM1012
Stream:Swedish House Mafia
- Michael Calfan – Resurrection (Axwell's Recut Club Version) / Coldplay – Paradise
Swedish-House-Mafia---15-Sebastian-Ingrosso-Tommy-Trash-Reload-(watermarked)--EM1012
Stream:Swedish House Mafia
- Sebastian Ingrosso & Tommy Trash – Reload
Swedish-House-Mafia---22-Swedish-House-Mafia-Save-The-World-_-Ferry-Corsten-Punk-(Arty-Rock-n-Rolla-Mix)-(watermarked)--EM1012
Stream:
- Swedish House Mafia – Save The World / Ferry Corsten – Punk (Arty Rock-n-Rolla Mix)