With the Indian Summer in almost full effect, Bay Area electronic music enthusiasts gathered for what would be Insomniac's first attempt at bringing the beloved Beyond Wonderland to Northern California. Almost 20,000 people poured onto the grounds adjoining the Oakland Coliseum, anxious to begin a night filled with more than 20 artists, otherworldly theatrical performances, and a literal smorgasbord of light and music.  The experience had been split into three stages - Queen's Domain (main house stage), Madhatter's Castle (secondary house stage) and Caterpillar's Garden (dubstep stage) – so I started my journey down the rabbit hole with W&W at Madhatter's Castle.
For an artist I have only briefly listened to, Willem van Hanegem and Wardt van der Harst of the Netherland's W&W were good – really good. These guys had the crowd doing some serious whoop whooping before the sun had even set! With high-energy climbs and stylish breaks, like the one they did into "The Motherfuckin Saga Continues," it's an act you won't want to miss, should you get the opportunity. Oh, and they closed with Tiesto's "Adagio For Strings," which can often be a copout but felt more like, "we're awesome enough to end with this." And they were.
A---130---WandW---Moscow-(Original-Mix)--EM0712
Stream:
W&W
- Moscow (Original Mix)
I've written a number of posts on Clockwork and couldn't contain my enthusiasm to see the American's hard electro performance for the first time.  Dashing to the Queen's Domain, I felt slightly surprised when the sultry beats of a moombahton-influenced set greeted my ears. But before I knew it, it got cray… I'm talking "BBBS' into "Polka Dots," touched with a "Bong My Bitch Up" mashup, and served with a side of "Make The Crowd Go" into "Rattle," kind of cray. The energy, song selection, and skill displayed throughout this set made it my favorite act of the night; the only thing that could have made it better would have been a time change to 12:30PM.
Emergency-(Clockwork-Remix)--EM1012
Stream:
Steve Aoki feat. Lil' Jon & Chiddy Bang
- Emergency (Clockwork Remix)
Bong-My-Bitch-Up-(Deniz-Koyu-x-Prodigy)--EM1012
Download:
Clockwork - Bong My Bitch Up (Deniz Koyu x Prodigy)
Given the nature of the next two artists, Mord Fustang and Shermanology, watching them back-to-back resulted in an interesting and contrasting experience. Mord laid down a heavy set, filled with many of his own productions and showcasing that signature, gritty electro sound. I also liked that his song selection paid homage to some of my favorite electro house producers: Deadmau5's "Professional Griefers," Boys Noize's new release "What You Want," and his finale "In The Air" by Morgan Page, Sultan & Ned Shepard and BT. Compare that to Dutch trio Shermanology who put together an act of energetic chart-toppers, capped off with uplifting live vocals. Sampling their songs, you'd find hits, such as "Rock The House," "Million Voices," – enter giant technicolor octopus randomly floating through the crowd, one of Insomniac's delightful theatrics – and "Save The World," along with their own tracks "Living For The City" and "Can't Stop Me Now." The difference between the sets made for a well rounded few hours: I got my dose of straight beats and bass plus a live rendition of the Beatport top 10.
In-The-Air-(Feat.-Angela-McCluskey)-(Mord-Fustang-Remix)--EM1012
Stream:Morgan Page, Sultan & Ned Shepard and BT - In The Air (Feat. Angela McCluskey) (Mord Fustang Remix)
Cant-Stop-Me-(Kryder-Staar-Remix)--EM1012
Stream:Shermanology
- Can't Stop Me (Kryder & Staar Remix)
My final three hours were spent traveling through the grounds, trying to catch a snippet of the last big acts. Chuckie – the Dutch artist never disappoints with his stomping playlists designed to make crowds lose their minds. Sander van Doorn – I wish I could have stayed longer and watched more of this master at work. Next time, he will be a priority for sure. Alesso – what can I say about the wunderkind other than I was almost trampled by adoring fans, rushing to the stage for his closer, "Calling."
[soundcloud url="http://api.soundcloud.com/tracks/49736303" iframe="true" /]
Shhhh-(Sander-van-Doorn-Edit)--EM1012
Stream:
Inpetto
- Shhhh! (Sander van Doorn Edit)
Alesso_feat._Matthew_Koma_-_Years_(Vocal_Extended_Mix)--EM1012
Stream:
Alesso, Matthew Koma
- Years (Vocal Extended Mix)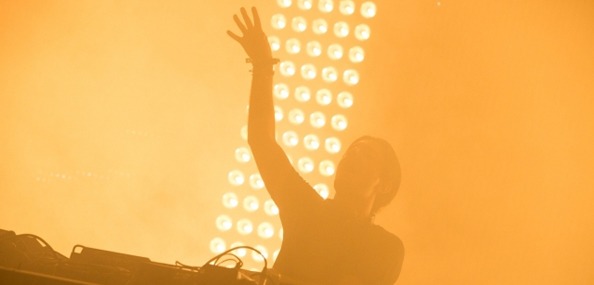 Photo credit: Le panda
Insomniac pulled it off, transplanting the Southern California staple, Beyond Wonderland, to the urban shores of the Bay Area. As our taxi sped towards the Bay Bridge, I hoped that tonight's success was only the first of many, bigger, better shows.