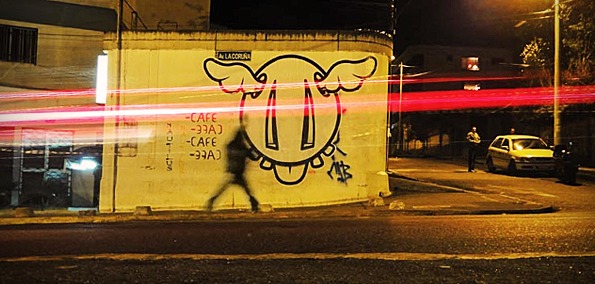 I'm not old (yet), but I can recall when the grime scene began to blow up over here in the UK more than a decade ago. It wasn't anywhere near as polished back then as it is now. So many youths seemed to rise up and take their rightful positions as aspiring mc's. I remember having to fiddle around with my radio antennae trying desperately to lock in a solid signal from an illegal pirate radio station. Being frustrated when the signal was frequently interrupted by and 80's pop song from a legal FM channel. Satellite station ChannelU was flooded with videos from local youths who got their homeboys to film them over an unrefined grime beat with a shaky camera. We didn't mind though. It was something like a revolution. The youth of Britain finally had a voice that was our own. No airbrushing. None of the glitz and glamour we were constantly being shown on the TV but never saw when we looked out of our own windows. Something we could relate to.
Since then, grime has given birth to some of Britain's most respected rappers. Dizzee Rascal, Shystie, Tinie Tempah, Ms. Dynamite, Tynchy Stryder... all of these artists beginnings are linked directly to this underrated genre of music and yet still, grime is relatively unknown on an international scale. That could be all set to change. UK grime MC Big Narstie's most recent Pain Is Love project copped a whopping 100,000 downloads in just 72 hours alone. Big Narstie is without a doubt, a champion of the grime culture and his fast growing popularity clearly shows this. It's not strictly his music but also his 'out there' personality which garners so much respect and attention. As he gets set to release his #PAIN EP, I relished the chance to chop it up with him. Despite my call interrupting his bath time, he was considerate enough to ask how my day was before beginning our rather lengthy chat.
EARMILK: For those who don't know, who is Big Narstie?
BN: The most electrifying guy in music entertainment right now. *Makes a gun noise*. On a million and nine. The sexiest fat kid in the industry. Also the people's champ. Voice of the common man. The guy of reasoning and reality and a guy that's 100% real. And a rebel still. I do outrageous things sometimes and not know that I'm doing it.
EM: You are known as much for your charisma as you are for your music. Is this you even when all of the cameras are gone and you are at home just chillin' with the fam?
BN: Ah... There's no 'turn off' switch to me.  There's no turn off switch to me at all. I can't just put it on and off. I think that's what's got me so far. At the beginning I was trying to hold it back and I think that was what was kinda messing me up. I wasn't really showing people me. I thought if I was to be my natural self, I thought that everyone would think I'm too weird and no really wanna deal with me. I'm like, six sandwiches short of a basket. I know I'm a bit crazy. I've clocked that since I've started fully being myself, it's been amazing. I can say things that everyone wants to say but are too scared to. I used to feel like I had to scrutinize the things that I say and also how I act. Since I've stopped doing that and just been a wild spirit, it's been awesome. So many people wanna say certain things but being politically correct stops them from doing it. You get me? You still have to be politically correct to an extent but truth is truth regardless of how it sounds, good or bad. Do you know what I mean? Yeah man so freein' the realness has been working wonders. There's a difference between freein' the realness and bein' a hater.
EM: And you're not a hater?
BN: I'm just freein' the realness. I don't drink Hatorade. I prefer flavoured water, lemon or strawberry. No Hatorade.
EM: Grime is a huge part of the UK music scene but it's still quite a controversial genre even over here. I've noticed that some people try and distance themselves from the grime movement. Why do you think this happens?
[soundcloud url="http://api.soundcloud.com/tracks/55001123" iframe="true" /]
BN: Have you ever seen Roots?
EM: Yes.
BN: You see now, these people who turn their back on grime and that, they were Kunta Kinte but they prefer to be Toby. Do you understand what I mean? Like, they lost their roots. They gave up themselves and also, they aint got no faith in their music. I say this a lot to people. Imagine of Bob Marley couldn't make reggae and made soca?  We'd have no identity. Imagine if 2pac and Biggie couldn't make it as hip hop stars and could only do r&b? Where would hip hop be? Do you know what I mean? And the only way anything can happen is faith. When you first started to be a journalist, not everything happened for you straight away. It wasn't easy to get interviews and so forth in the beginning. It's a lot of commission work isn't it? You put in a lot of work hoping to reap the benefits. No cuffs no crown, you get me? Music has come to a stage where I think a lot of people aint got faith in their [music]. Like – [people think] "So, Tynchy Stryder makes a commercial pop song, that's something I should do" – it doesn't work for everybody like that. The funny thing is that, the music Tynchy makes on the charts, nobody's playing in their car. Because the music's not in touch with the real people. I'm from Brixton. Look at where you're from. Then jump on the train and go to the West End. You're in a whole different world. It's not the world that we live in, you get me? In this world, everyone has got to do things they don't like to get to a better place. There's no problem with that. If you wanna get bigger, you got to do things. No-one's got a problem with that. The problem is when you are put in that position and you put in that hard work and sacrifice to get there, why wouldn't you bring the music you loved doing? The music you came up with? Your roots? Why wouldn't you do that? Why would you start making dubstep or trying to do commercial pop music?
[soundcloud url="http://api.soundcloud.com/tracks/55009142" iframe="true" /]
Grime is more than just music. Grime wasn't made in Faddingham Square. Grime was made in your local youth club. It's poverty music. That's how it was made. Poverty music off the streets of London. You get me? With great power comes great responsibility. I'm not saying that grime is the only music I make but that is my main, core music. Grime is my main music. It seems like grime is still mad racist. Dubstep's cool. If you go into a music shop you can find the dubstep section of music. Dubstep's only been made for what? Three years? You get me? Grime's been out for 10 years and that but just because it's run by black people and it's not... how can I say? "Professionally structured" you can go into a music shop and say "Where's your grime cd's?" You have to look under 'urban' or 'hip hop'. This is because man like Dizzee Rascal and Tinie Tempah and dem man dere, boom! They just abandoned it. The people that could make it more mainstream don't. So it's up to me. Grime's 140bpm. Most of the stuff you're hearing on the TV are 140bpm. So they're using the grime format but they like to say it's anything else but that. Not every artist comes from the struggle so you can't expect them to care about it. But artists who have come from the struggle, private radio stations, the whole underground scene... I think it's disgusting. As soon as you get in, just turn your back and close the door on it. It doesn't matter what ends you come from. If it's East London or South London, grime is grime music. By you pushing the music in the right way, you could stop a black kid from banging on the streets. They don't look at it that way. They just say "I'm just gettin' my check rudeboy. I gotta do me. Make the P's", you get me? But the revolution of the realness is happening right now. Cheeky Girls and all this kinky music... no-one don't like that anymore. Everyone wants to pump hip hop stuff. Everything has a timescale to it. When you sell out, how are you supposed to get back in? You sell out for 100 bags but you've got no hood respect. You know what's so funny? Most of these guys, they want the respect. They've got the money, but they'll change in the money for the respect because you've got the money but no-one cares about you. Everyone thinks you are a sell out. Do you still live with your parents?
EM: No.
BN: So you'll understand what I mean by this then. It's like, we all know that one day we're gonna have to leave home and move away from our parents, but it's how you do it. You've got to respect your parents and that. I've moved away from home but my home is still my home. I can always go back to my mum's house any time I want. It's the way you leave.  That's the whole thing with the grime scene. The way a man leaves the grime scene is disgusting. That's why there's no way for them to come back.
EM: Which UK artists do you admire?
BN: Adele. She makes me wanna cry.
EM: Your #PAIN EP is out October 14. What can we expect to hear from you on this project?
BN: Marks & Spencers music. Quality music. Music with substance. When I made my EP, I sat down, I smoked quite a lot of weed and I thought  "Do I wanna be that guy who just has a hot song for this year and in six or seven years on no-one remembers  or do I want that timeless music that you can play at family barbecues from here 'til the end of time?".  So, just timeless, quality music with meaning. A lot of people can say stuff and not actually mean it, they are just saying a lot of words. You get me? It's just pain in all senses. Universal pain, life pain, financial pain, housing pain. Just pain in general. You get me?
EM: I get you.
BN: Ah. Sorry. "You get me is my word". I say it all the time.
EM: You have got another word – "Gas". What's "Gas"?
BN: "Gas" is a hyperactive state of mind. You see me, I'm Jekyll and Hyde. There's two sides to me. There's hyperactive and then deep. That's it. I'm like a yo-yo. Up and down. I'm really, really hyperactive and excited or I can just be on a deep wave. If something happens that's exciting or funny , I just scream "Gas" and just start jumping and screaming.
EM: You go topless quite a lot in your videos. Do the ladies love that? Is that why you do it?
BN: Yeah. Secretly, I'm not gonna lie... When you go fat, you don't really go back. *sings sexy back*.
EM:  Who did it first, you or Ross?
BN: I think Ross got it off me. You see Ross, his belly looks green because of all the tats. Mines is just correct and oiled with cocoa butter and vitamin E. You get me? His tits are all hangin' down. My tits are perky and that. My man boobs are perky and that. You get me. My chest is confident. If you don't love yourself who else is gonna love you?
EM: That's real. Have you had any comparisons to any other artists?
BN: Everyone says I'm the new Rick Ross. The new Biggie obviously but that's just because I'm fat. That's awesome.
EM: Has anyone ever compared you to D12's Bizarre?
BN: Yeah. I've been called D12's Bizarre still. Coz he's a bit of a weirdo.
EM: Weirdo a bit harsh. He's a bit of an eccentric maybe.
BN: I wouldn't call myself eccentric, that's a bit too kinky. I think eccentric sounds mad kinky. I'm more mad. Crazy.
EM: After the #PAIN EP drops, what's next?
BN: Dropping a free mixtape with SBTV. By that time, I'm in a film called Krish & Lee. That'll be in the cinemas and stuff. My "Ultra Gas" video should be on TV this week. MTV BASE and some other channels. My "Superman" video will be coming out a month after, the end of October. Yeah man, that's a lot of hard work.
[soundcloud url="http://api.soundcloud.com/tracks/55001691" iframe="true" /]
EM: How would you like to wrap this interview up?
BN: Boom! It's been a pleasure. Thank you for interviewing me. Don't forget to get you #PAIN merchandise. Your bedsheets. Your hats. Your teeshirts. Jumpers. Baby grows at www.roadsound.co.uk. Love and peace and hairgrease. *sings* Oh baby!