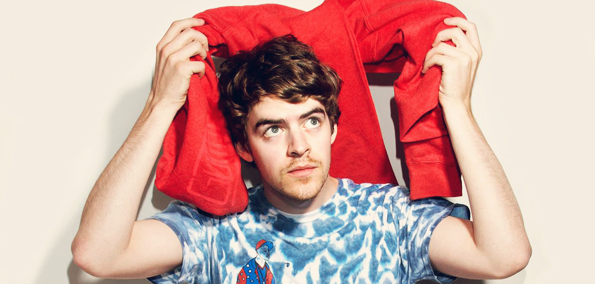 You'd have to be quite dense to not notice our affections for Canadian producer Ryan Hemsworth. We've only posted about him here, here, here and here so maybe that's saying something (three of them may or may not be from the last week alone...). With the release of his upcoming EP, Last Words, to be released today, Hemsworth has been building a healthy amount of focus on the drop. Earlier in the month, we were blessed with a video for his first single off the EP, "Charly Wingate", which debuted on Yourstru.ly. Featuring an endearing plethora of characters set against a paper-cutout seascape, the purple-hued arts and craft look pairs well with track's eclectic mosaic of hip hop tempos and dark trap samples.
Last Words will be Hemsworth's first label release via Wedidit, with incomparable remixes from Shlohomo, Sam Tiba & Canblaster, Supreme Cuts and Baauer. As we've come to love and appreciate Hemsworth for his production work with Deniro Farrar and his fastidious remixes of Grimes, Future and other boundary-pushing favorites, his nine-track offering explores new frontiers with infectious ambient landscapes.
 "Making an EP is limiting in how many tracks you can have and how long it can be," Hemsworth explains. "But I think it's a healthy challenge. I'm trying to put a whole bunch of feelings into under 25 minutes, in a way that can work in the club, bedroom, car, or wherever it's listened to. It's not what every artist intends to do with an EP but I find it fun to approach it that way. That's what I wanted, a bit of everything. Brightness, darkness, positive, negative, quiet, loud. Once the tracks are there, the other stuff slowly falls into place."
Last Words Tracklist
1. Charly Wingate
2. Colour & Movement
3. The Happy Mask Shop
4. Slurring
5. Overthinking
6. Charly's Mask Shop (Sam Tiba & Canblaster remix)
7. Colour & Movement (Shlohmo remix)
8. Slurring (Baauer Remix)
9. Overthinking (Supreme Cuts remix)