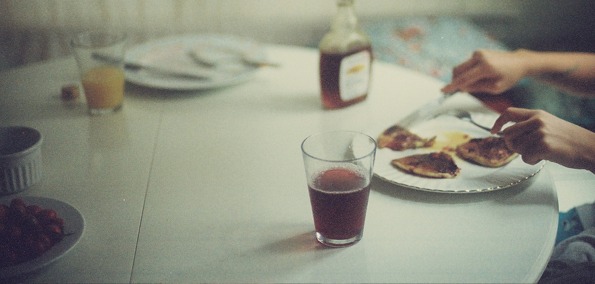 Lakosa and iO have been making big moves. With material forthcoming on labels like Audio Culture, Well Rounded Housing Projects and Fortified Audio, there's really no doubt about that. They each have their own potent, unique style, but their collaborations have been rightfully taking off.
Dropping today, their Home Early EP from Kerri Chandler's MadTech Records is poised to get steady rotation. Britain's deeper side of house meets a bass-driven bounce with remixes by dance specialist West Norwood Cassette Library and the grimy Pedro 123. As with Kerri Chandler, we couldn't resist asking this pair some questions, so dive into their answers and choice selections before the EP preview.
EARMILK: How did you guys connect?
Rob (iO): I hit up Stef up on Soundcloud after I heard one of his tunes on a Super Recordings compilation, must have been over a year or two ago. We started sharing music and eventually writing together. We only actually met face to face a month or so ago.
Stef (Lakosa): As much as I can remember I think it was via Soundcloud, enjoying each other's sounds and exchanging beats.
EM: You've got fairly different sounds - how would you say they differ and how do they complement each other?
iO: Yeh were definitely different, I think that's why it works though. He's really good at creating interesting compositions with only a few elements. I think maybe I add a bit of depth.. colour. But I don't know tbh hah.
Lakosa: I would say my sound at the moment is on a deep/minimal house approach trying to maintain as much warmth as possible. However, when myself and iO get together anything can happen which will show in our future projects. On a whole, our styles really complement each other and create something that I am really happy about.
EM: Each of you have done guest mixes for Mary Anne Hobbs - how did it feel being approached by someone like her?
iO: Pretty surreal. A definite boost for sure. Gave me a lot of inspiration to get writing and push things forward.
Lakosa: It was a wicked boost for what I was doing at the time, having someone like her playing my music on such an amazing and forward thinking show is always going to help you step your game up.
EM: Pedro 123, a remixer on your EP, is 17. When did you guys start producing and who really inspired you to get into it?
iO: I started producing electronic music when I was about 19 I think. (I don't think the software was really available until about then). Definitely influenced a lot by music I had been played by friends, Etienne de Crecy and other stuff like that lol.

Lakosa: Pedro has done me proud with transforming the original into something so current that everyone seems to be jumping on. As for production I started about 4/5 years ago and was deeply inspired by my dad and the music he has put out over the years.
One of my favorites: 
EM: The original and the remixes make creative use of the vocals. Who are some of your favorite vocalists to listen to in general?
iO: Yeh definitely agree with that. (Stef's got that covered)

Lakosa: My favorite vocalists to listen to are artists of the 90's such as Erykah Badu and Hip-Hop heads like A Tribe Called Quest, Mobb Deep, Grand Puba, Pete Rock & CL Smooth, Slum Village.....the list could go on.
EM: On a similar note - lots of clear house influences on this EP. Name one of your favorite house tunes and explain what it means to you.
iO: Yeh big time. I think that both Stef and I are on real house tip at the moment. Really influenced by a lot of early house for sure.. Underground Solution, Frankie Knuckles, and Black Box are some obvious ones I guess.. Black Box because they were so on point with vocal sampling.. (I think that stuff must have been pretty difficult back in 1989) This one from Reel 2 Real is really on the vibes for me though..
Lakosa: Left's "Please Don't Come Alone" (Delete a.k.a. Sergio Munoz Remix) is what I have really been enjoying playing out at the moment.. Just really feeling the groove of the track, love the keys and the vocal is so strange but works in a weird way! Every time it drops out of the breakdown people start moving!
http://www.youtube.com/watch?v=uQWY5D3h90g
EM: Thanks for answering our questions. What should we look out for next?
Both: Keep an eye out for projects on Well Rounded Housing Project, Phuture Shock Musik, Audio Culture.....again the list could go on!
Now, onto their fresh release. The original is unquestionably catchy with its expert treatment of the "Love and Happiness" vocals. Keys that seem to boil off give way to a springy low-end groove. The track ascends in such ethereally smooth fashion that it doesn't matter whether you're zoning out on headphones or on the dance floor.
The West Norwood Cassette Library remix flightily toys with the vocals and upgrades the cheerful companion bassline of the original. It's typically great WNCL golden age house fanfare until some disco leads really send the track soaring. Warning, may induce bouncing. Pedro 123 cranks up the tempo and the heat with a semi-shuffling rework. That second drop is just grunt-worthy. Don't miss these guys if you know what's (musically) good for you.
(KCMTDL003) MadTech Records: Lakosa and iO - Home Early EP
[soundcloud url="http://api.soundcloud.com/playlists/2295768"]