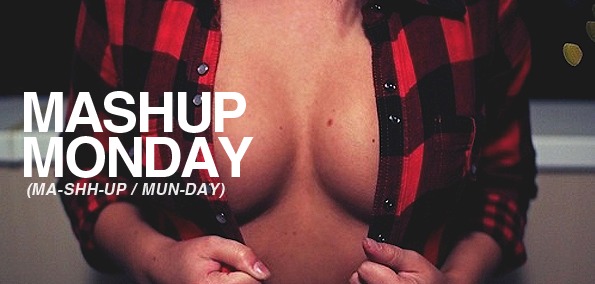 Mashup Monday - We're back again with some of the freshest mashes to start your week off right. These are the mashes that are worth hearing, so stop you're searching and instead settle down at your computer... turn up your speakers... and get ready for that sweet nectar that only EARMILK can give ya. Let's GO!
Another Monday, another premiere on EARMILK's Mashup Monday. Last week, we had a new track by 3LAU and this week we have No Pets Allowed's The Hungover Games available for stream. With official release scheduled for tomorrow, No Pets graciously agreed to EARMILK having the capability to stream the continuing chapter in his popular 3-track EPs (these include The World's Not Ending Yet and 808s and Spring Break). For this EP, NPA gives us some light EDM mashed together with Top 40 tracks that include samples from the likes of Pink, Chris Brown, Rihanna, One Direction, and more. It's quite an enjoyable little project, so make sure you tune in to NPA's soundcloud page for the download.
Outside of NPA's EP project, I was especially fond of the mashes done by DJ Schmolli, Bars Deep, TeeTs,  and Mashup Germany. Schmolli utilizes the extremely popular "Lights" by Ellie Goulding with a nice touch of Maroon 5. It's light-hearted, pairs extremely well together, and more importantly a great listen. Bars Deep sticks to his guns and combines old-school Tupac, with even older Jimi Hendrix, and some more current GRIZ. Definitely an interesting combination, but one that I think has extremely complementary sounds. TeeTs goes with my one of my favorite (sarcasm) singers - Katy Perry - and (thankfully) makes her better with Madeon's excellent new track "Finale". Fortunately, Katy doesn't seem to ruin Madeon's track so kudos to TeeTs for the pairing. And for Mashup Germany? It's very rare for one to go wrong with the sound that Mashup Germany has come to master. There is an eclectic assortment of samples but the continuity that Mashup Germany creates is what makes this mash stand out.
Final two tracks that I want to point out for consideration is a mashup done by a new artist to me, named mAGONe. People have expressed their wholehearted allegiance, or absolute disdain/loathe, for Skrillex but mAGONe really surprised me by pairing Skrillex with 30 Seconds to Mars. Skrillex doesn't overpower the track with his dubstep sound, and 30 Seconds is an exceptional sample to use. I certainly wouldn't be opposed to hearing more 30 Seconds, so if you have any drop them in an email. And to end this week's Mashup Monday, I use The Two Friends's "Both of Us Feel Good". With a soft and pleasant intro employing some Calvin Harris and Black Eyed Peas before transitioning to Five For Fighting's "100 Years" overlaid on B.O.B and Taylor Swift's "Both of Us". The Two Friends really outdid themselves with this one, so make sure you download this track and all the tracks you enjoy below.
Raise-The-Music-(Chris-Brown-x-Pink-x-Kesha)--EM0712
Stream:
No Pets Allowed
 - Raise The Music (Chris Brown x Pink x Kesha)
DJ-Schmolli---Payphone-Lights--EM0712
Download:
DJ Schmolli - Payphone Lights
Pressure-(Rihanna-Vocal-Edit)--EM0712
Stream:
No Pets Allowed
 - Pressure (Rihanna Vocal Edit)
Bars-Deep---Cali-Voodoo-(GRIZ-x-2Pac-x-Jimi-Hendrix)--EM0712
Download:
Bars Deep - Cali Voodoo (GRIZ / 2Pac / Jimi Hendrix )
Kid-Icarus-(Katy-Perry-x-One-Direction-x-Madeon)--EM0712
Stream:
No Pets Allowed
 - Kid Icarus (Katy Perry x One Direction x Madeon)
Fucking-Hurricane-(Skrillex-30-Seconds-To-Mars)--EM0712
Download:
mAGONe - Fucking Hurricane (Skrillex & 30 Seconds To Mars)
Mashup-Germany---I-Did-It-My-Way--EM0712
Download:
Mashup Germany - I did it my way
Madeon-x-Katy-Perry---Wide-Awake-for-the-Finale-(TeeTs-Mashup)--EM0712
Download:
TeeTs - Wide Awake for the Finale (Madeon x Katy Perry)
g4gorilla---Chasing-Power-(Snow-Patrol-x-DJ-Gnoc)--EM0712
Download:
snow patrol vs dj gnoc - Chasing Power (g4gorilla Mash)
Afrojack-x-Steve-Aoki---Rock-The-Beef-House-(Bring-The-Noise-Bootleg)--EM0712
Download:
Afrojack x Steve Aoki - Rock The Beef House (Bring The Noise Bootleg)
g4gorilla--Im-Back-With-Roses-(Outkast-x-Dean-Coleman)--EM0712
Download:
Outkast vs Dean Coleman & The Partysquad feat. Michael Bryan- I'm Back With Roses (g4gorilla Mash)
Both-Of-Us-Feel-Good-(2F-Mashup)--EM0712
Download:
The Two Friends - Both Of Us Feel Good (2F Mashup)
DJ-Schmolli---Endless-Summer-Of-69--EM0712
Download:
DJ Schmolli - Endless Summer Of 69
Ridgewood-Social-Club---212-Rattle--EM0712
Download:
Ridgewood Social Club - 212 Rattle
Usher-Vs-Mary-J-Blige-Drake---Wrong-Climax-(Robin-Skouteris-Mix)--EM0712
Download:
Usher Vs Mary J Blige & Drake - Wrong Climax (Robin Skouteris Mix)