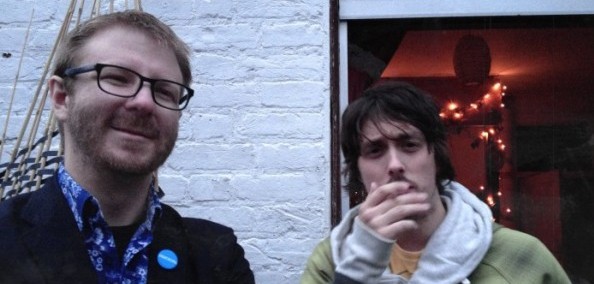 Poppy, synthy electronic music isn't exactly in the ballpark of music I usually cover. While I'm generally a subscriber of the darker, bassier side of electronic music, I'm not embarrassed to admit that I have always had a soft spot in my heart for the lighter side of electronic music—especially the 80's type of stuff. The genre is fairly ubiquitous; it's not difficult to run into something you like, no matter how cheesy it may be. Having said all of this, like most electronic genres, mediocrity drowns out the shining . It is not often that we hear intelligently and well produced release, infused with character, complexion, and a unique identity—something that takes you back in time while playing with musical techniques of the present. These distinct qualities separate the heat-of-the-moment club tracks from the unobjectionable works of musical vision. Before I ramble further, lets skip straight to the point. The collaboration Greeen Linez has a new LP coming out that exemplifies all of these characteristics I just touched on. See exhibit A:
Do you hear what I mean? "Palm Coast Highway" is just one track off of the new LP Things That Fade that feels like jumping in the DeLorean from Back To The Future and traveling to four different decades at once. The musical influences are clear, yet so deftly blended together to create this experience that leaves the listener with a feeling of nostalgia and awe of hearing a breakthrough sound for the first time. According to members Chris Greenberg (from the British electronic pop band Hong Kong In The 60s) and UK-born/Tokyo-based DJ/producer A Taut Line (aka Matt Lyne, co-founder of the Diskotopia label), the project combines the '90s dance music and R&B that soundtracked Chris and Matt's childhoods with the '70s/'80s jazz-funk and synthesizer soundtracks that they have obsessed over in the years since. 
Things That Fade is the first full length album for Greeen Linez, and features an eclectic variety of sounds and influences that seem to complement each other in odd ways throughout the whole album. The release is a peek into the musical influences and favorites of Chris and Matt, and is a sort of anthology to what you would see in their own music libraries. Individually, the songs jump in texture and sound to one another, but when the entire release is listened to end to end, it makes a lot more sense.
Things That Fade is set to release on 13 August 2012 on CD and digital formats.