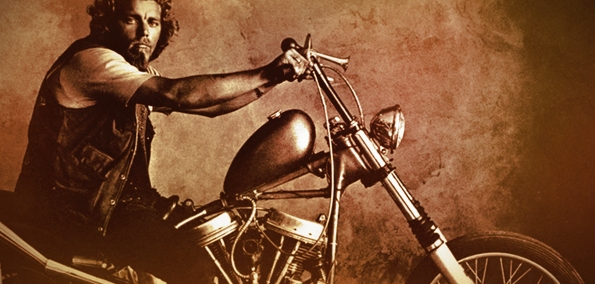 More than three hours of unreleased Can. Announcing something like that is, to some, like saying "hey, come here, come have an orgasm." I would have to say that I'm among these persons – after all, music and pleasure are nothing less than lovers. I'll write less this time, though. Promise.
Released by Mute Records five days ago, on June 18, The Lost Tapes box-set is every Can fan's dam-wet dream: unreleased material. Three discs. 3 hours, 15 minutes, 44 seconds. And as much as some hardcore people would prefer that these first and last values were inverted, I think this is pretty perfect.
In the case of Can, this box-set is particularly special for one simple reason: there's too few damn Can around. As every fan will say, their period that matters is between 1969-1975 (and I'm being kind here, 'cause most will actually cut that two years short). After that, Can becomes another band, a bad one. Of course, not that anyone can complain about a period of five years that saw things like Tago Mago and Ege Bamyasi, just to name two of them – one of the strongest one-two punches ever delivered in music.
Ever since those distant years, fans have had occasional moments of happiness – on average, one per decade. In 1976 with Unlimited Edition, a testament to band's glory that was already becoming former by then. Then 1981 came with the appropriately titled Delay 1968, the shelved planned debut Malcolm Mooney album. It would be fourteen years before Can fans had the chance to be excited again. The Peel Sessions was the first example of one of the band's most endurable strengths – its live shows. An aspect that was reinforced when, finally, 1999 saw the release of Can Live Music (Live 1971 – 1977), an amazing live album, even if poorly recorded.
Up until the recent announcement of The Lost Tapes, Can fandom had spent the last 12 years believing that was it. Even for those – most, myself included, obviously – that haven't actually followed this process, four albums of material isn't much to add to an, albeit brilliant, discography of five-six albums. Remember we live in the world of the forever unsatisfied.
Can---Evening-All-Day--EM0612
Download:
Can– Evening All Day
So, the most unexpected news became the most expected release. And even though if, by now, like an old man with a half-erection, we're happy with what we get, there's some of us still anal enough to be critic. I'm a happy member of such group. A satisfied one. The Lost Tapes, as the expectedly uneven-collection it intends to be, does not disappoint. Not even one single bit.
Because, of course, if you were expecting a cohesive work out of this, you're an idiot. As Mute Records website informs, this is "years of archived material, not outtakes, but rather tracks which had been shelved for a variety of reasons – soundtracks to films that were never released and tracks that didn't make it onto the final versions of albums due to space." (Even though there's some demos here too, liar liars.) This is supposed to be a great collection, not a great album.
And what a great collection the listener will expect it to be, when it starts with one of its best cuts, the spy-flick-soundtrack "Millionenspiel." The song is tight, a true punch in the face, but elegant at the same time, combining in a little less than 6 minutes all the great things Can is known for: the characteristic tape-edited improvisations, amazing on-the-spur melodic riffs and the organic-pulsing percussion.  It's so great I'm using the whole damn paragraph to talk about it, fuck it.
Actually, it probably is a soundtrack of some german production. Unfortunately, there's no info regarding the songs other than they come from the time period 1968-1977 and I assume that they're sequenced chronologically, somewhat; but it's unknown where they came from exactly, for which works they were intended, etc., however, so our best friend here is good guessing. That's a good thing though; not knowing if a song was supposed to enter this or that album helps us to not make any preconceptions about it. 
Then comes another great track, "Waiting for the Streetcar," which has Malcolm Mooney at its most catchy, dismissing a century-old array of pop producers by making us singing along out loudly the song's title-mantra in his ever-untrained marvelously-common screamy voice. The vibe is completely different by now, and precisely one of the box-set's main strengths lie in the ever-changing of pace, style and mood from one song to another. From the japanese free-jazz ambience of "Evening All Day" to the wonderful Monster Movie atmosphere of "Bubble Rap." Even though there's some clearly unfinished stuff, like "When Darkness Comes", disc one is the best of the set. (Other highlights include "Oscura Primavera" and "Deadly Doris", but you go find out for yourself adjectives that can describe them.)
Especially because of "Graublau," an authentic Can-jam (sue me) of cathartic sixteen minutes. It might not be "Halleluwah," but it can sit comfortably among the band's best epic jam-edited songs – and not only because it's great that it serves as proof of Can's brilliance, but also 'cause it shows how they were masters of the album-making art form since, despite being an amazing song, you can't see it thematically fitting none of their golden-era albums (as I believe it can only come from these prolific days and that the band from the later days would fail to recognize this as a great work).
Disc two is the worst in the collection; just because the songs aren't as good here as in the other two.  As cool as it is to hear someone taking a piss and flushing it, I would say that such misplaced attempt at conceptualization isn't exactly what I'm looking for in a box-set of unheard music. It's fun, though, to hear demo versions of Soundtracks' "Soul Desert" and Ege Bamyasi's "Sing Swan Song," in the form of "Desert" and "A Swan Is Born," respectively.
Also, Malcom Mooney-era songs like "True Story" and "Midnight Sky" are on the good side of things, even if they don't make me wonder what the band would've been like had he never left. I'll admit thatThe Lost Tapes does an impeccable job in defying anyone that doubts Malcolm Mooney's greatness; after all the set sufficiently expanded the array of Can songs he's in that are known to the public, and he's delivering nothing less than great work in most of them. It's just that I really can't imagine Can being as great as it was without Damo
And I capitalize on this moment to say that I'm not singling out anyone from the band in songs from their second line-up precisely because there's nothing quite as tight as it. 1970-1973 Can was not a band, it was a perfect sphere of sound impassable of deconstruction by no one other than themselves – on the stage. Disc two has some examples of bad songs from this era, but when they fail, they do it collectively.
Truly great songs on this disc are represented only by two cuts, "Dead Pigeon Suite" – which, to make things even better, has a great portion of "Vitamin C" in itself – and "Abra Cada Braxas", one of the moodier tracks on the whole box-set; another example of ahead-of-its-time Can, this time marrying its fundamental fast-paced percussion with an electronic ambient atmosphere that I don't remember being so well executed in any other of their songs.
(Obviously, the live version of "Spoon" is amazing; but if I need to reinforce that live Can is amazing…)
Download:
Can – Barnacles
And finally we're onto disc three. Band-founder Irmin Schmidt and collaborator Jono Podmore, the box-set sequencers, are well aware of most people's short attention spam, so it all starts with the fairly discreet intro "Godzilla Fragment" and the good demo "On the Way to Mother Sky." That paves the way for album's greatest sequence, composed of "Midnight Men," "Networks of Foam," "Messer, Scissors, Fork and Light," "Barnacles,"  "E.F.S. 108," and "Private Nocturnal" …you know, completely scrap what I said about disc one being the best of the set. I just realized that an album made of these listed songs could probably be on best-of lists of whichever year it might have been released, cohesion aside or not. "Alice" also belonging to this list actually, because it works perfectly as a closer.
Fuck me, I won't even review this like I planned 'cause if the first song took me a paragraph this would need a whole new text for itself – and I already fucked up my promise to keep this short. From Miles Davis fusion-influenced live jams to improvised ambient experiments that never fail to thrill, these songs summarize, again, several aspects of why Can was, is and will keep on being so great.
And this is only my fourth listen. I repeat: fuck. me. Funny thing is that I think that half of these songs are from the period 1973-1975. Here's for all people wrong in thinking that some of that golden-era genius hasn't survived somewhere.
Yeah, the disc closes with "One More Saturday Night" and "Mushroom," both live (the latter not being exactly unreleased, since it seems to be the same version found on the 40th year anniversary Edition of Tago Mago, albeit remixed.)
But damn, this last disc is good, really… damn.
Go fuckin' listen to this.
(Now we can only wait. The Lost Tapes is composed of approximately only 1/9 of all that was discovered in the Spoon archives. Maybe that's all that there is to it. Maybe not. I just hope that this time I don't have to wait actually ten years to get my next  much-needed dose of Can).
P.S.: Is it just me or does anyone else pleasantly feel like listening to a Tom Waits exercise with "E.F.S. 108?"