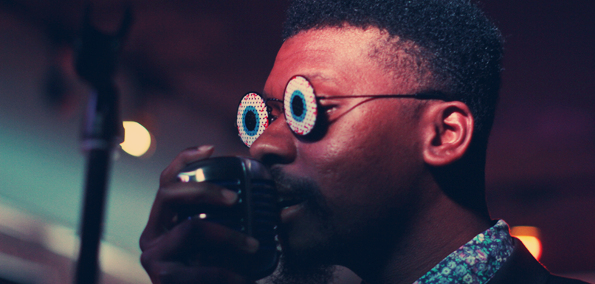 With his upcoming LP, △nything: thee.idea.machine on the way, ILLAV8R's ∂eƒ sound found time to link up with Swedish production team Sum Comfort Food to facilitate a Los Angeles-meets-Sweden collaboration that has spawned a mellow ode to the "Lady of Year".
Over some ultra-chill production provided by Sum Comfort Food,  ∂eƒ sound draws on his background as a spoken word artist as he effortlessly employs his whimsical lyrical delivery style. In a world where overproduced music practically rules the airwaves, it's always a treat to slow things down with an aural gem such as this one. Summer more than any other season is one that requires a proper soundtrack, and "Lady of the Year" would be a fitting addition to any warm weather mix.
∂eƒ sound's latest feature is included on Sum Comfort Food's latest self-titled EP which in addition to ∂eƒ sound includes fellow West Coast natives Warm Brew and Nelson Waters, as well as New School veteran Donwill (of Tanya Morgan). Presented by BamaLoveSoul.com, the EP is the first of two seven track giveaways listeners can expect from the Swedish production team this summer. Kick back relax and stream "Lady of The Year" below and grab a free copy of  Sum Comfort Food's seven track EP HERE.
∂eƒ sound's△nything: thee.idea.machine will be available July 24.
Lady-of-the-Year-Prod.-Sum-Comfort-Food--EM0612
Download:
∂eƒ Sound – Lady of the Year Prod. Sum Comfort Food