True fans of music spend countless hours searching for that next great song, album or artist, whether it be online or in a local record shop. The beautiful thing about music in today's age is that technology has created an infinite supply of great music that is available to us at the click of a mouse. How perfect is that? We can discover a brand new artist on the opposite side of the globe in seconds without a radio or a music television channel. It only makes sense that a website so dedicated to this gorgeous universe of music would want to celebrate the greatness and share it with anyone who is looking.
My name is Eric (Connecticutter), and I am your host of Straight from the Teet, where I will delve into 7 new albums per week as well as 1 randomly chosen throwback record and let you know which tracks I loved from the albums I listened to. I hope that my exploration through this never-ending sea of music will help satisfy that hunger for the brand new tracks you have been seeking.
---
MONDAY: Storm Corrosion - Storm Corrosion
TUESDAY: Beach House - Bloom
WEDNESDAY: Barcelona - Not Quite Yours
THURSDAY: Club Des Belugas - Forward
FRIDAY: Best Coast - The Only Place
SATURDAY: Líam - MMIX
SUNDAY: Dry The River - Shallow Bed
THROWBACK: Wixel - Slaapliedjes (2009)
---
Storm Corrosion - Storm Corrosion:
Steven Wilson has been one of, if not my favorite musician in the world since the first time I heard a Porcupine Tree song. Since the late 90's, Wilson has been all over the place making music in every which way possible. His solo career has taken massive leaps forward with critically acclaimed albums, his side project with Israeli rocker Aviv Geffen known as Blackfield has continued to put out solid material, he continues to release ambient gems under the name Bass Communion and his other side project No-Man still continues to be an emerging art pop duo along with Tim Bowness. Along with that, Wilson has taken on production for records by Opeth and Anathema as well as spearheading a remix record for the back catalogue of King Crimson's career. It really doesn't seem like Wilson ever gets a break but he sure doesn't seem to have any interest in stopping. The unfortunate side of all this extra work is that Porcupine Tree has been put on a short hiatus, giving more time to some other experimental projects such as the ones I mentioned. In Wilson's mind, he has infinite ideas that are more complex and creative then you could imagine and although Porcupine Tree is his main baby, he wants to be able to leak out these other ideas from his soul as well. Storm Corrosion is the experimental, progressive rock combination of Steven Wilson and fellow Opeth frontman Mikael Åkerfeldt. The album has been in the constructional phase for over a few years now and has led to insane amounts of excitement for fans of both artists. The collaboration between a master progressive rock musician and producer and a progressive metal bad-ass seemed like a genius plan but the album shows a less than great final product. The self-titled debut is basically a symphonic record of very minimal soundscapes. Both musicians have always made very loud and exciting forms of progressive rock music but this album bleeds out very silent, subtle fractions of progressive music instead. The songs are very long, very drawn out don't carry a true sense of passion that both musicians have survived on in the past. This album ends up being very sleep inducing and overly dull which is very odd for anything progressive in nature. The production on this album is also interesting as Wilson had a slight infatuation with surround sound ever since Porcupine Tree's Deadwing, so he decided to continue adding 5.1 surround mixing to the complex assortment of instrumentals, giving the album a very intriguing atmosphere of music. In the end though, the album just suffers from having really nothing to show for itself and even the surround sound is forgotten about since most people don't listen to music with that function in the first place. I hope Wilson will get back to work with Porcupine Tree as some of these side projects are beginning to wear thin. 
Storm-Corrosion---Happy--EM0512
Download:
Storm Corrosion - Happy
Storm-Corrosion---Lock-Howl--EM0512
Download:
Storm Corrosion - Lock Howl
---
Beach House - Bloom:
After two critically acclaimed albums and skyrocketing popularity on the indie circuit, Beach House is at it again with their fourth LP entitled Bloom. After Devotion, the duo's second album released in 2008, many people grew a fascination for the band and although everyone was unsure if they could outdo the record, Beach House surprised everyone with their next release, Teen Dream. Teen Dream was the culmination and undoubted perfection of the ideas that Victoria Legrand and Alex Scally have been venturing with and the album remains one of the greatest dream pop records I have ever listened to. The band was quick to start up songwriting for a follow-up and two years later, they have released Bloom. On their new album, the band focuses on those melodic undertones and swift guitar structures that they perfected on Teen Dream. Legrand's vocals are as gorgeous as ever as her voice just comes in with such a heavy impact that is ultimately the most powerful device on the entire record. The album ends up reminding me a lot of the 1980's pop sound as lots of very pop oriented keyboards come in which I was absolutely in love with. Scally continues his exquisite guitar playing too while drums seem to be a tad improved as well. Beach House continue to grow as one of the greatest bands around and it's amazing to think about the massive steps they have taken in such a short period of time from their debut record to now. I would be crazy to say that Bloom is better than Teen Dream but it does secure a very cemented position right below that album which is ultimately pretty substantial. Everything on this album is just gorgeous and it leaves you feeling like you were wrapped up in the warmest blanket known to mankind. I was, however, a bit confused as to why Beach House put a hidden track at the end of the concluding track of this record. I feel like nobody buys CD's anymore, especially people who are fans of Beach House. It's vinyl era again for god's sake! Although Beach House chooses to make their music in the same fashion and don't change much with their approach whatsoever, this album is still a top 5 overall so far for this year and even more likely a #1 candidate. Somehow, I'm not surprised by this at in the least bit.
Beach-House---Wild--EM0512
Download:
Beach House - Wild
Beach-House---Lazuli--EM0512
Download:
Beach House - Lazuli
---
Barcelona - Not Quite Yours:
"Indie" is a term that simply identifies something that is independent of a major record label or even independent of a label at all. Over the years though, so many bands have falsely been thrown into the genre of "indie", making the genre somewhat ridiculous. I think that the term has flown around far too freely which is very troubling and annoying because it ruins the genre. With that said, there are many bands that are truly indie by nature. Barcelona is an indie pop band from Seattle that formed in 2005. Their history is quite odd as even though they have been a formed band for 7 years now, the band has only released two LP's. Their first record Absolutes, was released in 2007 totally independently by the band themselves. The album went under the radar mostly and only came into fruition when their song "Please Don't Go" was used for a video featuring the Kuroshio Sea, the second largest aquarium tank in the entire world. The song was somehow perfect for the single shot video and people began to take notice of the band shortly after. The band even personally thanked the producers for using their song in the video because it literally got them on the music map. I was part of that group who had discovered them through that video and I couldn't be more glad that I did. The album was terrific and showed a very mature band with a genuine knowledge of how to make a terribly depressing record seem gorgeous at the same time. After five long years, the band finally have created their follow-up album Not Quite Yours. The record finds the band in a much more lighthearted spirit with much less piano driven tracks. The music is much more dulled down on this album and I regret to say the songwriting has become almost passionless. On the debut album we were given a glimpse into a depressed soul who was recounting the days leading into a loving relationship, the days during that relationship and then the ultimate loss of a female companion after a terrible car accident. Each lyrics recounts these terribly sad tales of each moment and you're left feeling terribly sad for the subject of the story. Not Quite Yours shows the band drawing upon very generic ideas that don't have the some power and magnitude of its predecessor. The instrumentals are all very effortless as well and lack a sense of true inspiration. On top of all that, the production seems to be infinite light years away from Absolutes which is a terrible downfall after a five year practice period. I'm terribly disappointed with the band's effort on this record especially since I am ultimately a fan ahead of being a critic. This is not the type of album I was counting on the band releasing years after something so undeniable.
Barcelona---Watching-Me--EM0512
Download:
Barcelona - Watching Me
Barcelona---Change--EM0512
Download:
Barcelona - Change
---
Club Des Belugas - Forward:
Club Des Belugas is a very traditional swing-jazz band that formed in 2002 in Germany. They have since become one of the leading nu-jazz projects within the country and some even say, all of Europe in general. The band plays a very time-honored type of jazz music, blending the roots of American jazz with 50's swing music as well as some modern electronic jazz as well. It's the kind of musical prescription that many traditionalists would happen to love, especially people who are fans of that lounge driven sound from the 1940's and 1950's. On the band's new album Forward, the band show a wide array of instrumentation and huge orchestrations of their abilities. The band is very musically gifted and when they combine those old school instruments such as upright bass, piano, trumpet, and saxophone with a slight modern spin it ends up being pretty fabulous. Some of the tracks off this album presented a very historic feeling to me and kind of put me into a very upscale jazz club in the golden age especially with the songs "Close Your Eyes" and "Sweet Lovin'". Other songs provide some reminiscence of singers such as Frank Sinatra such as "Is This Real" where the downtempo flavor is done with such classic elegance and the deep, male vocals add such a subtle ingredient, enriching the song to such a classic charm. My favorite songs though were the ones where all these different time periods were all combined into the same mixing bowl and we end up getting this crazy interesting blend of cultures. The track "Desperately Trying" does this to perfection and almost sounds like a James Bond theme in the making. Overall, this record is a very fun and enjoyable listen but it's a very situational listen. In other words, you have to be in the right place and have the right attitude in order to enjoy it. For me, I was either driving to work, at work, or relaxing at my computer late at night and I was never really in the correct mindset to truly enjoy the overall fun quality of the album. It's very old-fashioned and I think it will be going out to a very specific type of audience but I think if you are into that old school type of jazz music with a dash of swing music, this might be a fun record to check out. It's full of energy but I have to admit I'm just not fully involved with it so I can't really say it's something I'll be returning to anytime soon. Maybe one day though.
Club-Des-Belugas---Close-Your-Eyes-feat.-Iain-Mackenzie--EM0512
Download:
Club Des Belugas - Close Your Eyes Feat Iain Mackenzie
Club-Des-Belugas---Desperately-Trying-feat.-AnnaLuca-(Swing-Mix)--EM0512
Download:
Club Des Belugas - Desperately Trying Feat Annaluca (Swing Mix)
---
Best Coast - The Only Place:
So what was so good about Best Coast's debut record? Well, it was a grunge-pop record filled with teen angst and bitterness. Bethany Cosentino, the songwriter for the group, really showed her rebellious side on most of the album which played with failed relationships and seeming depression. The album wasn't technically anything special as it was very punk in nature and didn't have anything that hadn't ever been done before but her songwriting is where the album really took its notice. It was all very catchy and although the lyrics didn't present much of a fun atmosphere, the album was still a fun listen to a point. A few things have changed since their debut album as Ali Koehler has since left the band to pursue other musical ideas. Bobb Bruno has remained as the bassist but has also taken control of all percussion on the record which is very noticeable. The Only Place is a record that sort of messes with more mature material than its predecessor but somehow Cosentino's style just doesn't fit the mold of the direction they were trying to conquer. Everything on this album has been slowed down and re-characterized but that sucks out all the fun and intriguing plot lines that each track on their former album put forth. The lyrics still contain some ideas of failed love and drugs but we aren't left with a longing feeling we had when Crazy For You took a spin on the record player. The music is one of the largest negatives on this whole album which obviously says a lot. Number one, Bruno is plain and simply not a drummer. The drums on this album are possibly some of the flattest I have ever listened to. It's almost like listening to a middle school punk band where all the members have been learning their instruments for a year, tops. Best Coast made a mistake not replacing Koehler when she left because most of the excitement and energy, which ultimately came from the drums on Crazy For You, is totally lost on The Only Place. Second, the production on this new album is a game changer as well. It's important to understand what production quality can give or take away from an album. It's not always about the quality as a matter of fact, it's more of what type of sound the band is going for. On Crazy For You, Best Coast established themselves as a lo-fi band where Cosentino's vocals were sort of shifted around this really noisy, garage rock style of music. At times, they were mixed to the point where she was almost overpowered by the electric guitar and reverb from bass and drums. It was a perfect fit for a teen angst album that talked about rebellion and depression and even though production wasn't say as good as Nigel Godrich, it worked perfectly for Best Coast, On their new album, the production is the exact opposite. Everything is crystal clear and clean as can possibly be. After I heard this album the first time, I almost felt like I wanted to jump into a puddle of mud to remove all the insane cleanliness that plagues this record. When I think "Best Coast", I want dirty, rebellious, drug inhabited music with a twisted spirit not something you listen to in a blank, white room. Altogether, this album really fails to keep up with the first record and is a total let down. Just as a bonus, doesn't the end of "Last Year" where Cosentino is singing "la la la's" at the end of the track sound exactly like Marianne Faithfull in Metallica's "The Memory Remains"? That bothered me.
Best-Coast-Last-Year--EM0512
Download:
Best Coast - Last Year
Best-Coast---Do-You-Love-Me-Like-You-Used-To--EM0512
Download:
Best Coast - Do You Love Me Like You Used To
---
Líam - MMIX:
Líam was a German post rock group that experimented with lots of metal qualities as well as shoegaze. Their existence was very short-lived and after only one full length album, the band parted ways earlier this year. The band came into formation in 2007 as a solo project for Markus Siegenhort, a drummer whose metal background presented a very complex set of musical gifts behind the drum set. Shortly after a few EP's, Siegenhort decided to form a band under the name Líam so that his music could be played live. The band was put together quickly and gained a pretty decent reputation for their loud, powerful post-rock music that infused a very orchestral identity with something much more hardcore and in your face. The band was forced to split however when they all decided to move back to their home cities in order to pursue other dreams and aspirations. It's too bad though because MMIX, the band's lone long play record, shows some very big potential for a relatively new project. The album is very melodic in nature with lots of swayed guitar and blissful soundscapes. I was quick to compare the sound to Explosions In The Sky when they were in their prime, mostly because of the electric guitars that really bring in a hefty light to a dark ensemble. The drums on this album far outweigh most everything else as so much power and energy are put into each beat. They become the driving force behind the band's ego as most of the tracks, if not all, are very dark and loud almost like being in a never-ending nightmare. This band has a great deal of talent musically as they never truly miss the mark on any of the tracks here. They understand the patience it takes for post-rock music to build and fall as the ambiance generated anchors down each song before exploding into severe distress. This is a very respectable album within the post-rock world and it's really too bad to see the band have such a short-lived career. I guess we'll have to look for them in some different projects in then near future.
Download:
Líam - V
Download:
Líam - VII
---
Dry The River - Shallow Bed:
Dry The River is a brand new folk rock band from London who is really blasting off into the stratosphere of indie music. They released a few singles early in 2011 to some pretty widespread attention and the fan hood has only increased from there. The band has been described as a sort of gospel driven folk band with a sort of punk rock background musically which I think is ultimately very fair to say. Their songs mostly revolve around nature and life around us which bring out a very gospel-like quality. The band, which is made up of Peter Liddle as lead vocalist, Jon Warren who plays the drums, William Harvey who is a multi string formed instrumentalist, Matthew Taylor on lead guitar, and Scott Miller as bassist, does a tremendous job of pushing the boundaries of how a folk song should sound. They make terrific melodies while also bringing out a more heavy rock sound then most other folk rock music, basically separating themselves from the likes of your average indie folk band/artist. Shallow Bed is only the band's first full length record but it shows major signs of musical experience. The songs are all well written but the music is truly where the album really shines. Overall, the sound is great which had me very excited about the record almost all the way through, especially on songs like "Animal Skins", the intro track to the album. The song is just full of energetic passion as Liddle sings with such confidence over some straight forward, yet perfectly written melodies. Other songs such as "Bible Belt" show off a much more gospel driven influence as folk lyrics combine with a very philosophical approach to the lyrics. Both songs, although very different, share one major thing in common with one another and that is a musical approach that is unique and melodic. Dry The River may not be a very experimental band or doing anything that is going to change musical landscapes, but they do make very pretty, well thought out ballads. This band may be among the next of the best so keep your ears out for them.
Dry-The-River---Bible-Belt--EM0512
Download:
Dry The River - Bible Belt
Dry-The-River---Animal-Skins--EM0512
Download:
Dry The River - Animal Skins
---
Wixel - Slaapliedjes: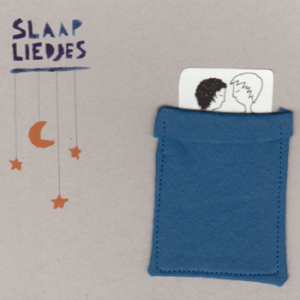 This week's random throwback record is an album by an incredibly talented ambient musician named Wim Maesschalck. Maesschalck has been making music under the name Wixel since about 2002. His music has always been a blend of guitar and ambiance through electronics and has always been massively complex. Most ambient music tends to be as minimal as humanly possible but Maesschalck does it differently. He plays his guitar as if it is a wind chime, with notes that ring out in flux over and over again but it's also done in a very subtle, gorgeous way. It all is very surreal and angelic as sounds blend together like they were made for one another. Maesschalck decided in 2008 that he wanted to try something different with his musical approach. His goal was to create one album a month for an entire year. The idea seemed simple but it was anything but that. Throughout 2009, Wixel would release 12 EP's, all of which were absolutely mesmerizing especially Slaapliedjes, which translates to "Sleep Songs". Each track consists of layers upon layers of electric guitar. Maesschalck wanted to experiment with each note and make each track as different as he could while also maintaining a sense of continuity from track to track. As he states, "It's hard to tell each song apart but when you break it down, every song on this album is totally different from one another which is why I named each track after stars". The idea of this album being made literally to sleep to is one of my favorite things about it. I can't help but get sleepy when these tracks present themselves to me and it's not because of boredom, it's because each track just soothes your soul in a way that most music has no idea how to. This album ends up being one of my favorite ambient records ever recorded as it's just too unbelievably gorgeous to overlook.
Download:
Wixel - Sher 25
Download:
Wixel - WOLF 359
---
After another great week of album listens, I am more than ready to start another. If anyone is interested in purchasing or simply hearing any of these albums online, I have linked them for you at the top of this page to make it simple. I hope you have enjoyed reading this weeks edition of Straight From The Teet and I look forward to bringing you a new group of records next week. Please leave comments here at the bottom and let me know what you liked or didn't like from this week's lineup. Have a great week!