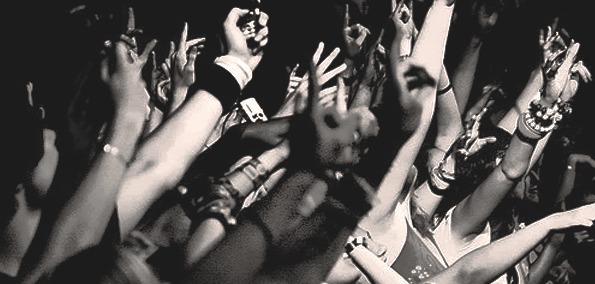 Lately I've been falling more and more in love with Boston's underground music scene. I'm sort of new to the whole thing, as a recent college graduate who's only been of age to enter clubs for two years or so, and it takes time to find niches that you actually dig in any city, even a fairly small one like Boston. Boston's Together festival has happened twice before, entering its third incarnation this year, and I've attended in incrementally larger doses with each recurrence: in 2010, I only attended one show (Sinden and Shuttle) and it was by accident. In 2011, I went to as many shows as I could on a college student's schedule, actually aware that there was a festival (catching Pantha du Prince, The Sight Below, Spectrum, Above & Beyond, Mary Anne Hobbs, Lorn, Mike Slott, and Take). Together isn't just about celebrating big touring acts — it also draws attention to Boston's existing electronic scene.
Only this year, freed from the homework binds of college and able to take a semi-vacation from my job, was I able to really process Together as a full entity, rather than a scattered selection of shows. Working with the promo team, hanging out at the Together HQ in Central Square, and attending daytime events (panels with titles like "Needles vs. Buttons: DJ Tech War," "Patently Stupid: Copyright and Technology," and "The New Canvas: Present and Future Art" and an installation hackathon at Somerville's Artisan's Asylum), I began to recognize a lot more of the faces that I saw around at night and really begin to feel like a part of something.
With early bird passes running at $85, it wasn't hard to get your money's worth if you were open to attending shows that you didn't necessarily know that much about before. Together brought a solid variety of bigger names and lesser-known talents and is still small enough that new discovery isn't a struggle (you're not necessarily packing your schedule with a million acts you already know about, so if you're open to a variety of music and atmospheres, Together is great). It's crazy the kind of people that any scene brings together, and I'm constantly amazed by the smart, creative types that Boston's scene draws (I guess we're a smart city), and sure, club interactions are not the most deep or significant, but brushing shoulders with people you actually respect in a dancing crowd feels like something special. So there's my cheesy shout-out to the awesome, productive people I've met this week and leading up to this week: I want to freak dance with your brains.
Monday kicked off the festival's evening events with a VIP party at Central Square's newest club addition, Naga, a spacious, pretty room that seems to have a bright future if they continue bringing good electronic music, particularly on the weekends (their weekend Crush party has killed it twice thus far, and Addison Groove will be stopping through on April 25). The VIP party featured Detroit deep house producer Kyle Hall, whose set I unfortunately missed because of loyalty to the night's other showcase by CVLT at the nearby Middlesex Lounge, one of my favorite regular Boston parties (first Mondays at Middlesex Lounge and third Saturdays at Machine).
I don't know if this is common with other local festivals, but I loved how Together meshed with the best existing Boston nights and let what already exists in the city shine instead of staging a simple takeover. The CVLT party brought dark rave vibes and a fashionably gothy crowd, with live sets from White Ring, Mascara, GL▲SS †33†H, The Planets Won't Let You Sleep Tonight, and Bathaus and DJ sets from residents El Poser, Ionnokx, and Punketta. If you're ever feeling sinister, you can always find information on upcoming CVLT events at dustri.al.
Tuesday's party pick also occupied Middlesex Lounge, a reunion of the Hearthrob parties of days when I was too young to walk (or at least drink). Headlined by garage pioneer Todd Edwards, the energy at this party was off the hook, with the Hearthrob DJs @LILINTERNET, Dev/Null, Morgan Louis, and Baltimorodor and the Nu Life DJs Rizzla, Blk.Adonis, and D'hana dropping a wide variety of highly kinetic tracks that kept the crowd moving well past curfew. As far as being an actual dance party, I think Hearthrob's showcase won the festival – it packed the Middlesex and everyone was ready to go all out.
Much to my chagrin, on Wednesday night my body decided – fully of its of its own volition, with no direction from my brain – that instead of going out yet again, it should probably get a full night's sleep, so I missed sets from DJ Rashad, 6th Borough Project, and, Khan/Joe Nice, and Biodiesel. Probably good, since this enabled me to have some semblance of a perky countenance for Thursday's Ninja Tune label showcase at Great Scott with Starkey, FaltyDL, and noteworthy tag-team openers Nooka Jones and Nihal Ramchandani. Starkey and FaltyDL filled the room with sweaty bodies and progressively heavier basslines. While this show was totally up my alley and I'm glad it's where I ended up, I was sad to miss Break 3000 at Make It New, Middlesex Lounge's weekly techno party and John B at Elements, Phoenix Landing's 13-year-old drum and bass weekly. Thursday Together also brought Feed Me/Kill The Noise, Break Science/Gramatik/Paul Basic, and Poirier to Boston.
Friday can safely be said to have covered the entire spectrum of music that would qualify to be part of Together, with tempting headliners Big Freedia (sissy bounce), Mala (UK-style dubstep), and Oneohtrix Point Never (with Teebs for a night of peaceful ambience). I started the evening with Big Freedia, whose show is more of a crazy performance than a musical event, with human nature revealed at its finest as so many booties were shaken in the air on stage that they were almost completely desexualized. Since Brighton Music Hall shows tend to end on the early side, it was also possible to make a speedy bike ride over to Good Life to catch dubstep figurehead Mala, who comprises half of the ubiquitous Digital Mystikz production duo alongside Coki and is an essential part of any dubstep lexicon. Opener Moldy, based in Boston but with roots in various locations, also kept it old-school. As is usually the case when they book a big name, Good Life was packed to the brim and the basement where Mala played basically felt like a weird bass music sauna with an 80:20 male:female ratio, but the music hit the spot to the point where any atmospheric issues added to rather than detracted from the situation. I guess you're sort of supposed to listen to darker, more minimal dubstep in a place like this, at almost-overwhelmingly-high volume.
Saturday served as my Together finale, although Sunday had tempting bookings of RJD2 and Voices of Black. During the day, the Get Together occupied an empty Central Square storefront with a series of local vendors, art installations, awesome beanbag chairs, and, of course, DJ sets. The evening's choice a tough one, between Treasure Fingers and Photek, but out of allegiance to the monthly Genesis party at Machine that Photek was playing, the true path became clear. Just before nightlife hours, Machine also hosted an event called WHIRL that showcased interactive art pieces, many of which were responsive to music, as well as a couple of laid-back DJ sets. 
Photek's DJ-Kicks mix was released by !K7 Records just before the party, making his appearance at Genesis a release party. For some this may have led to some confusion, since Photek's set was a whole lot different from his DJ-Kicks and the presence of MC Armanni Reign layered on even more insanity. The music was across the board, ranging from his signature drum-and-bass to dubstep to moombahton (with the uniting thread being heavy intensity), and since Photek has been working for a while (his first release was in 1997), it's not surprising that he's adaptable. The party was enhanced by the decor that the Genesis crew always provides, with slime and strange orbs dangling from the ceiling. Artistic atmospheric enhancements beyond just a visual screen or items around the stage or DJ booth are seriously underrated.
While Together is still a growing festival, this year I was ensured more than ever that it's got big things coming for it in the future. There's definitely a lot brewing in Boston's music scene right now. Go discover and support the local music scene in your city (whether you're in Boston or not), not just the big touring acts, people work really hard to keep these nights alive and thriving to create fulfilling party experiences for those of us who aren't satisfied with getting wasted at your typical club or bar. Electronic music serves as more than just something to listen to: it creates a nightlife with smart undertones for people to gather around to try to find something a bit more transcendent, surrounded by cool, interesting people.