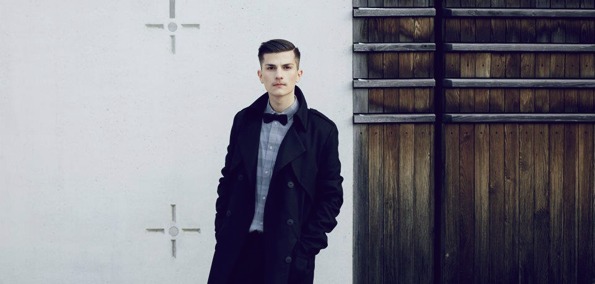 This year is starting off very well for one of the most innovative and musically most promising producers of techno music - not only in his home country Germany but also in the rest of the world. He grew up and lives in Hamburg and is just 19 years old. His tracks are characterized by simplicity and an enormous quality which could be defined as perfection. His sound is very distinctive, new and fresh which provided him a decent amount of regard inside of the scene. We are talking about Etnik.
His first own original release was the Drops and Flops EP on rot10 at the end of 2010 followed by the massive 303 Minds EP four months later on the same label for which he was able to elate remixers like Polymath and Vakkuum with his music and abilities. Etnik is, according to his own statement, a perfectionist. The time that he works on a track easily extends to two years before he thinks that the record is good enough to be presented publicly. Both his musical and his fashionable style perhaps could be described best as elegant: reduced to the basics with a very high degree of class and esteem.
Recently, Etnik got a bit more attention which was mainly caused by a shoutout of this year's Grammy winner Skrillex who seemed to be very impressed by Etnik's musical skills and his style even though he works on a completely different side of the EDM spectrum. In this context, Skrillex shared Etnik's newest remix of the track "Summer" by the Berlin-based indie duo I Heart Sharks:
[soundcloud url="http://api.soundcloud.com/tracks/37786482" iframe="true" /]
Dem Slackers also mentioned him recently in a video interview when he was asked who might be a prominent and outstanding character in the techno scene at the moment. He justified his answer with the fact that Etnik might expand the borders of techno and that he brings the music to a broader mass in the underground. Shortly after the shoutout by Skrillex, Etnik released another great remix of Joe Goddard's "Gabriel" - this time as a gift for the support he gets from his fans:
Joe Goddard - Gabriel (Etnik Remix)
Download:
Joe Goddard - Gabriel (Etnik Remix)
For the future, Etnik has a multitude of mind-blowing originals in the stock. You can convince yourself by listening to a lot of sort previews on his soundcloud page. The huge amount of official remixes for Polymath, Keith & Supabeatz but also for a long list of artists from outside the techno and electro business that were released in the past two years speaks for itself: Etnik satisfies. Everytime anew. This year a free EP called Vino is in the pipeline on Trashbags which should turn up in the near future. Furthermore, Etnik will start a tour to Australia and the USA because besides his staggering abilities as a producer he is a tremendous DJ. Below are some tracks to prove that he definitely has his own style on the one hand but on the other hand an astonishing versatility. Keep both eyes on him if you want to know, what future and advanced techno really means: И!
[soundcloud url="http://api.soundcloud.com/tracks/30706752" iframe="true" /]
[soundcloud url="http://api.soundcloud.com/tracks/35430627" iframe="true" /]
[soundcloud url="http://api.soundcloud.com/tracks/23758001" iframe="true" /]
[soundcloud url="http://api.soundcloud.com/tracks/28599316" iframe="true" /]
[soundcloud url="http://api.soundcloud.com/tracks/35963323" iframe="true" /]
Download:
Etnik - Vino
Download:
Etnik - Clouseau
Gesaffelstein - Variations (Etnik Remix)
Download:
Gesaffelstein - Variations (Etnik Remix)