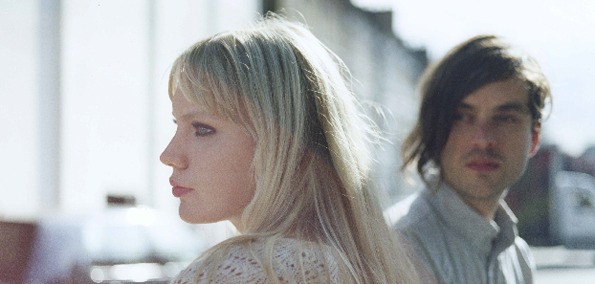 A description of UK's Big Deal can be illustrated in the form of a strawberry wafer. Just like the perfect amount of strawberry filling and thin vanilla wafers, the delicious layers in Big Deal are complimented by Alice Costelloe and Kacey Underwood. On January 24th, the pair will release their debut album Lights Out under Mute Records. This is the same label with M83, Goldfrapp and Maps under their wings. If you haven't heard of Big Deal, their association with Mute should give preconceived expectations of quality music.
The story behind Big Deal is somewhat of fate. While Underwood was teaching guitar at an all girls' school, he met Costelloe's mother who suggested him to meet her daughter for more guitar help. The two began making music after that and the beautiful chemistry between Underwood and Costelloe began to ignite.
In a week,their 12 tracks album Lights Out will be released into the comforts of our own iTunes library. This will most likely be played countless times in your bedroom ,car, or anywhere in peace. Lights Out is a collection of  stories told through intricate feelings and musically played with the simplicity of an electric and acoustic guitar. Each yearning is confessed through Costelloe's breezy vocals, backed up with the effortless tones of Underwood. Their innocent lyrics forge a personal attachment to the pair that no one but their honest expressions can touch. This empowerment is similar to another beloved duo, Beach House. A favorite line is found in "Talk", when Costelloe pours out "All I want to do is talk, but seeing you fucks me up.". Besides the relatable lyrics, Lights Out is accompanied by gentle strokes of the guitar. At times, the sound is crisp and clear but at times, it is fuzzy and more complex. One particular track that stood out is, "Seraphine". It begins with Underwood singing on top of an electronically droning effect. This is where the electric guitar takes a toll, escorting the repetitive chorus  of " Nothing lasts forever..Does it tonight?". 
Quite frankly, the lack of instruments in their production makes Lights Out an easy listen. There is an emotional rawness in the album, both musically and lyrically. Big Deal has officially wheeled us in with their sentimental charm and you can enjoy this also. Below is track number 2, "Chairs" from Lights Out. Don't hesistate to preorder the album.
Download:
Big Deal - Chair