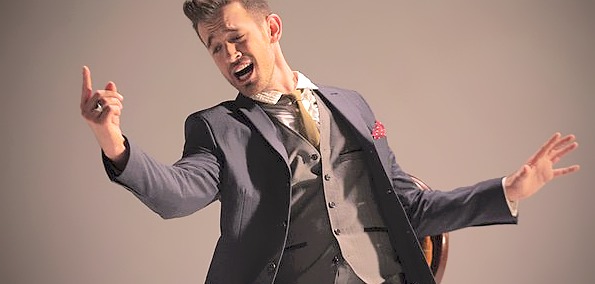 About a month ago we introduced you to 'The Next Big Thing' in Leonard Friend, who's sound is a Justin Timberlake/Michael Jackson hybrid built to make you dance, whatever your level of expertise. The only downside to his music is that your girlfriend will likely be thinking of him and not yourself as the two of you dance the night away - but not to worry - you'll always be there for her to fall back on.
As we stated in November, Leonard Friend has the potential to be - and will be - one of the breakout pop icons of 2012. He is a much needed breath of fresh air in a pop industry that has been plagued in recent years by producers and record labels interested in money, rather than quality, and we would like nothing else than to see an artist like Leonard Friend help to bring the monster that is the Top 40 back into it's cave, refreshing its memory of what great pop/dance music once was, and still can be.
On Friday he released the music video for his debut single "Serious Music", showcasing his dance moves and pink shoes. Directed by Andrew Wonder, the video is a stark contrast of typical videos for this style of music, as it strays away from the oft-exploited scantily-clad broads, focusing instead on the artist dancing, a chair, and nothing else.
Watch: Leonard Friend - "Serious Music"
http://www.youtube.com/watch?v=BNzce63bkA0&feature=related
Download:
Leonard Friend - Serious Music
Leonard was kind enough to do a video-cast of himself for Earmilk, talking about the video, the idea behind it, and a torn ACL. Check it out below, as well as a stream of his single "The Whole Thing," which you can download on his Facebook Page.
Watch: "Serious Music" Video Intro
http://www.youtube.com/watch?v=SVwUuACBrGY
(Facebook) Download: Leonard Friend - The Whole Thing
Leonard Friend's debut EP Lynyrd Frynd is set to be released January 31st, so be sure to check back in to Earmilk for that, as well as more updates in the ensuing months. In addition, to score yourself "I knew about him before he was big" hipster points, follow him on his:
Lynyrd Frynd EP release date: January 31, 2012
Lynyrd Frynd Tracklist:

01. The Whole Thing
02. Everything For The Sake of Everything
03. Serious Music
04. The Last Gentleman
05. Mrs. Friend
06. Adults
07. The Year I Die
_____________________________