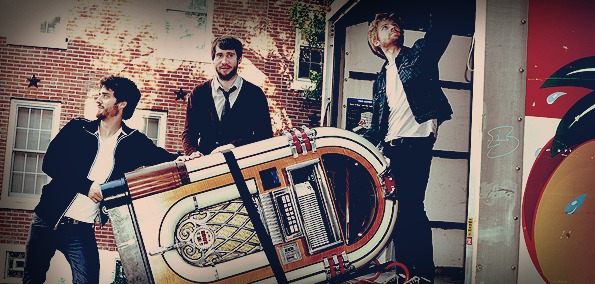 Good food, good entertainment, and good music at a great price, anyone can agree that Brooklyn Bowl is an all-around favorite. As on every Friday evening, this bowling alley/music venue hosted a lively act from Washington D.C.'s Jukebox the Ghost.
Jukebox the Ghost is a trio band and for more details, below is an interview. The three members are Ben Thornewill (vocals and piano), Tommy Siegel (vocals and guitar), and Jesse Kristin (drums). This band is known for an excessive amount of touring which naturally nurtured them into fantastic entertainers. From a previous experience of seeing them at Bowery Ballroom, I could not turn down another opportunity. This is why December 2nd at Brooklyn Bowl was a must attend with opening acts from Deleted Scenes and The Spinto Band.
Brooklyn Bowl filled up when the evening's headlining band came on, Jukebox The Ghost. There was much anticipation for the brief 10 minutes after they finished setting the stage. I'm not sure about you guys but waiting for the act after seeing the band always kills me. The tease is just too much but within seconds of their appearance, all of my worries and stress left the room. Everyone produced happy gestures as the music from Jukebox the Ghost fed our endorphins. From Jesse's joyous drumming to Tommy and Ben's puppet like head rocks, they attained a hardcore yet catchy pop vibe. Tommy kept declaring how their music movements are heading towards the route of a wedding band. They proved that potential with classical covers of songs like "I Love You Always Forever" by Donna Lewis. Along with beloved cover songs, Jukebox included a couple new tracks on their setlist. One that stuck with me is titled "Somebody". These boys will have a new album next year and I am very excited. For now, get to know them through the words of Ben in the attached interview.
Jukebox20the20Ghost20-20Hold20It20In1
Download:
Jukebox The Ghost - Hold It In
EARMILK: Tell me, Jukebox The Ghost, it sounds like a mad lib. Where did you guys come up with this band name?
Ben Thornewill: It should be. Well, it's different word by word. Jukebox is from a Captain Beefheart lyric, Ghost is from a Nabokov novel. Drummer wanted us to be "the" band and we just put it altogether. It was Google-searchable, looked good in writing, and every band name sucks until you get used to it anyway. So it doesn't really matter.

EM: How long did it take for you guys to get used to it?
BT: The band name? Well, once we decided on it, that was it, done. We had another band, we were called Sunday Mail before, three years ago. We thought that was a terrible band name.
EM: Is that also from song lyrics?
BT: I can't even remember where that's from anymore, so no. I don't know.
EM: You guys are from the D.C. area ..
BT: We all went to college in D.C., met there and formed the band there.
EM: What year was that?
BT: Jesse the drummer and I met in 2003. We met Tommy in 2004, graduated in 2007 and have been touring ever since.
EM: And you all have homes in Brooklyn now?
BT: Yes, it started this summer. Not too far from here (Williamsburg, Brooklyn).
EM: Do you have local bands that you support from the D.C. area and Brooklyn?
BT: Yeah, Deleted Scenes are from D.C.. They're the first band on this tour. These United States are good friends of ours, from D.C.. We were also in Philly for a couple of years so lots of music from that scene. Well, bands from everywhere is what it comes down to.
EM: You've been touring A LOT!
BT: We have been doing 150 shows a year, so yes!
EM: You guys were on a cruise ship?
BT: We did one at that started this year and one this fall with G.Love & Special Sauce, Michael Franti and a bunch of reggae type bands.
EM: What was that experience like?
BT: Amazing. To be at sea, hang out and play music for three days while taking you to Mexico and back, it's fantastic.
EM: Do you prefer playing on a boat or land now?
BT:  (slight hesitation) Land but it's nice to have an exception.
EM: Any cruise tours coming up?
BT: Not that I know of, fingers crossed.
EM: There is a new album coming out, tell us about it.
BT: We've been in studio since early August and we've been touring off and on. We're working with a guy name Dan Romer who's from Brooklyn. It's going to be a really really good record, far better than any of our other two.
EM: Do you have an expected release date?
BT: We're looking at April/May. We'll probably finish it in the next couple of weeks and it just takes some time to get it out.
EM: Can you describe the sounds from this album?
BT:It's sort of a balance between the first two records. The songs are better and a little more controlled. We don't have the pressure to make an amazing record to be signed. It's just us creating what we want to create, making the music that we want to make. It's coming out really well.
EM: Is it still very upbeat?
BT: Oh yeah, we're still the same band.
EM: Are you collaborating with any other artists on here?
BT: We may have some people guest on it...
EM: It's a secret, isn't it?
BT: Well, none of it is done so I don't want to, you know, say anything that might not be true.
EM: Should we expect a single soon?
BT: I'm not sure on soon but early spring, Febuary or March, something will happen.
EM: Now, you and Tommy have different ways of writing. Can you explain this?
BT: Tommy is very lyrics first and I am very music first.
EM: That was actually my next question, are you music or lyrics first?
BT: When I'm at my best, all of it just comes at once. It kind of happens together. I'll sit down, I'll play and I'll sing. Tommy is much more lyrics. He's always working on lyrics, figuring the lyrics out and crafting something in that way.
EM: And Jesse?
BT: Jesse writes but not for the band. He has a great ear for production. He plays a huge part of the sound and who we are.
EM: Mm.. remixes!
BT: Ah.
EM: I've heard many remixes of your songs. Which are your favorites?
BT: They're all different and crazy. The "Good Day" remix is probably a favorite.
EM: One from RAC?
BT: They did two but yes, "Good Day" by RAC mix.
Download:
Jukebox The Ghost - Good Day (RAC Maury Mix)
EM: And no bass players still. Any plans on changing that?
BT: Nope, this is just who we are.
EM: What are your future plans?
BT: Making records and touring. Touring more in the states and on board.
EM: If your music could be the soundtrack of a movie, what would it be?
BT: Oh man, it depends on what it is. Unfortunately, we've been in a kid's movie, "Diary of a Wimpy Kid". Thats one extreme.
EM: What would you want it to be?
BT: Some epic feel good movie with everything coming together towards the end.
EM: And your favorite movies are?
BT: I just re-watched "Annie Hall" for the 20,000 time. It is spectacular. I loved Avatar and I know that's so cliche but so good.
Latest Video of "Half Crazy"